Michael Augello, CEO of i-Tech Support, is excited to attend Acumatica Summit 2018. He cites the opportunity to collaborate with his fellow Partners as a major benefit. He also has a few more and shares them with us today.
"Collaboration" is a major theme at Acumatica. We believe in teamwork, partnership, and cooperation within our Acumatica ecosystem as we work to continually improve our cloud ERP platform and products. Acumatica Summit 2018 – coming January 28-February 2, 2018 – is our premier cloud ERP event that provides us with the opportunity to collaborate with customers, partners, and developers in one place at one time.
This is my third post in our series about partners attending Acumatica Summit 2018. Acumatica partner Michael Augello, CEO of i-Tech Support, addresses why he's returning for a third year and how collaboration plays a big part in his plans to be at Acumatica Summit 2018.
You can go back and read our first post on Acumatica Partner Kensium and our second post on Acumatica Partner PC Bennett. Plus, you'll also want to register for Acumatica Summit 2018 if you haven't already done so – it will be here before you know it!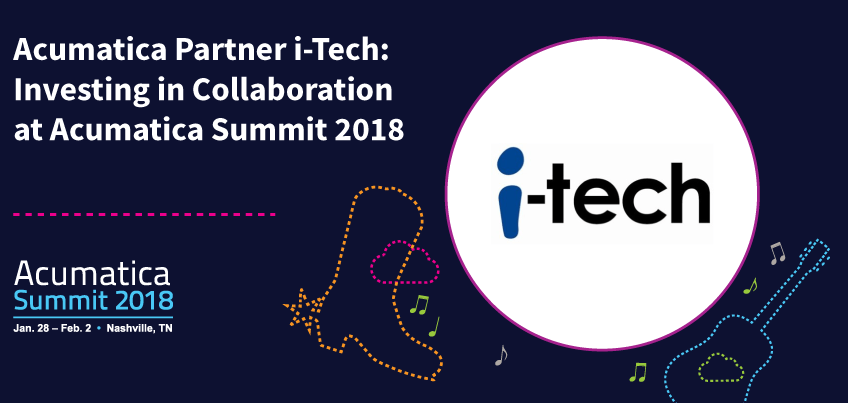 Why Acumatica Summit 2018 is i-Tech's third Summit
As someone with extensive ERP software experience, Michael is the perfect person to explain why regularly attending our Summits is a great idea. And because he left the industry at one point, he's also the person who can explain why Acumatica is such a draw for customers and partners alike.
"Several years back, I had heard about Acumatica and it kind of drew me back into the business because I thought it was an exciting cloud-based ERP platform and could service a lot of the markets I had a difficult time servicing in the past," Michael says.
i-Tech took on Acumatica about three years ago. Michael and his team chose to attend our Summit and were impressed with how the Summit provides the opportunity to collaborate and interact with fellow partners.
He says, "It's really exciting to see the growing partner base, the growing partner community, and every year we go, we see quite a few more people. It's interesting to interact and see how they're doing with the solution. We look forward to hearing and meeting new attendees, as well."
As for the chance to mix with ISVs at Acumatica Summit 2018, Michael is a fan. "It's great seeing the ISVs, the partners that provide add-ons or extended solutions for Acumatica, such as credit card processing people, EDI, or warehouse automation. The Acumatica Summit is a great place to meet with ISVs and learn more about what they offer. In fact, it has actually created revenue opportunities for our company by understanding their solutions."
He also has a unique perspective on collaborating with the Acumatica team members. Through many visits to Acumatica's Bellevue, WA headquarters, Michael says he's gotten to know the management team one-on-one, and he looks forward to meeting any new members at Acumatica Summit 2018.
The Summit offers a full week of breakouts, keynote speakers, training tracks, an EXPO, entertainment, and more, and the i-Tech team takes full advantage by participating in the entire event. It's important to Michael that they all learn about Acumatica's future plans and how it can affect their business and customers. In addition, Michael says a few of his key players will attend the training and certification courses.
"Learning about what's happening with Acumatica as a company and as a roadmap for the product is good for us," he says.
Take a break from the daily grind and find motivation at Acumatica Summit 2018
Michael and his team are ready for Acumatica Summit 2018. "We look forward to having a break from the day-to-day where we're having to work on projects – it's a good time for us to sit back and think about what we do, think about new solutions, and think about new ways of doing things. I think when you get out of your environment, it's very energizing and motivating to the team."
He's also looking forward to Acumatica Summit 2018's location – Nashville, Tennessee. "I've actually been there a lot. My daughter went to college there a number of years ago, so I've spent a lot of time there and think it's a great venue. Everything will be within walking distance from where you are," he says. "My whole team is excited about it being in Nashville this year."
And there's a lot to be excited about! As he says, our venue – the Omni Nashville Hotel – is in an incredible location. Its close proximity to the entertainment available for your free time (including live music, amazing restaurants, and many visitor attractions) is a bonus. Have you ever wanted to see where Elvis recorded over 200 of his songs? You can find out in Music City!
Michael says, "I'm excited about the Summit – there are usually good guest speakers and good comradery among the different partners and Acumatica team members."
Register for Acumatica Summit 2018 today! It's the best place to collaborate with the Acumatica community on accelerating success in the cloud and to invigorate your team for the year ahead.