We at Acumatica believe Acumatica Summit 2018 has the power to change your business' trajectory. It affords you the opportunity to collaborate, network, and train with the Acumatica cloud ERP community and accelerate your success in the cloud. Kensium Solutions' CEO shares why he and his team continue to attend our annual Summits.
As we draw ever closer to Acumatica Summit 2018 – coming January 28-February 2, 2018 – we're starting a series of posts highlighting some of our Partners who return year after year to our Summits. Each Partner has great reasons why attending our premier cloud ERP Summit is a priority for them, and we hope these reasons will encourage you to register if you haven't already.
For the first post in this series, I had the privilege of speaking with Rahul Gedupudi, CEO of Kensium Solutions (Acumatica's official ecommerce partner). This is Kensium's fifth year in a row attending our Summits and Rahul graciously shares why he and his team look forward to it every year.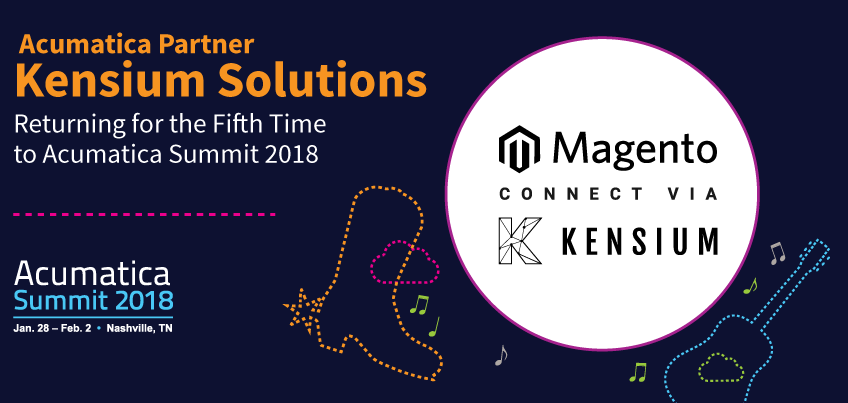 Kensium's CEO on Acumatica and Acumatica Summit 2018
Before we dive into the reasons Rahul and his team are attending Acumatica Summit 2018, Rahul explains how the Kensium and Acumatica partnership began.
"We started working with Magento Commerce and did not have an Acumatica practice. About four years ago, we had some conversations with Ali Jani from Acumatica about building an ecommerce solution for them and integrating with Magento," Rahul says. "As we moved forward, we realized in order for us to really understand how the integration will work and work well with Acumatica, we had to learn Acumatica."
They dedicated resources and time to working with Acumatica and in the process, saw that many Acumatica Value Added Resellers (VARs) were struggling with customizing and programming on the Acumatica platform. Rahul explains that this led to them becoming a developer partner for many of the VARs as well as for the Independent Software Vendors (ISVs), which progressed into Kensium producing their own products as well as developing products for businesses that sell in Acumatica's extension catalog.
"Last February, we became an Acumatica VAR. We have a unique position with Acumatica in the sense that we're a VAR, we're an ISV, we work with other ISVs as the technology development team, and we work as the technical and implementation team for several VARs," Rahul says.
Having a fully integrated relationship with Acumatica is a significant reason for Rahul and his team to attend our Summits every year. He points out that Acumatica, along with Magento Commerce (Acumatica's official eCommerce platform), is their primary focus for their e-commerce business.
"This Summit is one of the best ways to learn what's happening with Acumatica. There are always new releases, updates, and exciting information – especially for what we do," he says. "We do a lot of technology-related work with Acumatica and there are a lot of new features and technical capabilities that are published each year. We want to be on the cutting edge of everything that's happening with Acumatica and this is the time and place to do it."
Another reason Rahul shares for attending our Summits is the community development and networking opportunities. With the entire Acumatica ecosystem in one place at one time every year (are you registered?), there's no better option for meeting with your customers and peers in an environment solely focused on cloud ERP.
As Rahul points out, "It's one place where we can meet a lot of our customers and it allows us to interact with other technical and business resources to find out what they're doing, exchange ideas, and learn from each other."
He also notes that our Summit's impressive trainings are a big reason for being at Acumatica Summit 2018. Not only will he teach the eCommerce certification session, Commerce/Magento Sales and Integration Training, but also says many of his team members will take advantage of the other Acumatica Summit 2018 training and breakout sessions, especially the new Developer Track for their attending Developers.
Speaking of Developers, Rahul is also excited to participate in the Hackathon, our event (now in its second year and better than before) that allows the Acumatica community to enjoy friendly competition while creating real-world business solutions. "Two of our international developers are attending this year's Hackathon, and I'd like to join in from a business perspective. A lot of great concepts and ideas come out of Hackathon and we really want to be a part of it."
Kensium and Magento are one of our Premier Sponsors of Acumatica Summit 2018 this year. They will both be a part of a session where Magento will present their new B2B version. Rahul says, "This is a perfect fit for the Acumatica audience because of a lot of distributors and manufacturers operate more in the B2B space than in the B2C space."
So many reasons to attend Acumatica Summit 2018
And one final point – Rahul is looking forward to where we'll be heading for Acumatica Summit 2018. This will be his first technology event in Nashville, Tennessee; he appreciates our selection of unique sites around the country every Summit. You'll love what Music City has in way of entertainment and dining options during your down time.
With such a myriad of reasons to join us at Acumatica Summit 2018, we think you should already be registered – or planning to do so soon! In fact, the sooner the better if you don't want to miss out on any of the limited-seating certification training sessions that you want or need for your business.
Stay tuned for our upcoming posts featuring more Acumatica Partners who return to our Summits every year. And please contact us if you have any questions regarding our premier event or our cloud ERP platform and products.