Acumatica Summit 2017 wrapped up on February 3rd, 2017 in beautiful La Jolla, CA. It was an action-packed week full of great speakers, great educational opportunities, and big announcements for Acumatica!  The team at Milestone was excited to participate. Below is our recap of the Summit, highlighting some of our favorite product announcements and why we're planning to go back in 2018.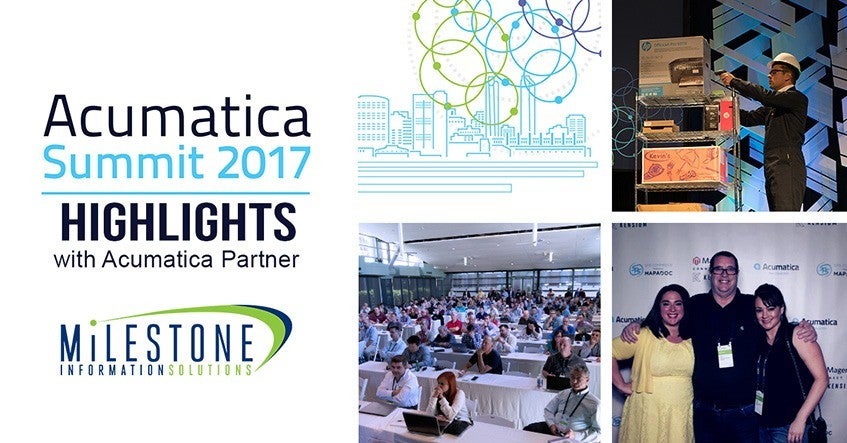 Big Highlights from Acumatica Summit 2017
Opening Keynote: Lots of major announcements from Acumatica CEO, Jon Roskill
Acumatica is the fastest growing Cloud ERP. Jon shared that Acumatica is up 83% over last year, making them the fastest growing Cloud ERP again, for three years in a row!
He also announced Acumatica's new Commerce Edition which packages ecommerce connectivity with Magento, Shopify and Big Space. The Acumatica's Commerce Edition also includes inventory, pick-pack-ship, returns, customer support and accounting into one very awesome piece. You can see more about Acumatica client SHOEBACCA and their success with the Commerce Edition in this video.
Acumatica 6.1 announced.Acumatica has never been happy with the status quo, and they continue to push the envelope, delivering new, and improved tools, increased functionality, and more value for their customers with every new release.
I have been attending these types of conferences for many years, but not since attending the Acumatica Summit have I gotten to see so many new features being added to a program. Acumatica is constantly developing and enhancing their product. They also have a very 'customer-centric' approach to rolling out upgrades that ensures each customer will get their program upgraded when it makes the most sense for them (but with the SAAS model, these upgrades do not cost anything more than what you are already paying through your subscription).
Acumatica is CRAZY about their customers!
At the Summit, Acumatica announced a new standard support plan that will be included in the all new customer subscriptions for the first year, and can be added on in subsequent years as needed. They are keeping their partners accountable by rewarding us for providing outstanding customer service. They are committed to providing a fully functional ERP that is constantly adding features to make customers' businesses run more efficiently and successfully.
My personal highlight: Speaking at Summit
I was very honored to be asked to speak to a group of partners about a successful client event we hosted with Acumatica in 2016. We talked about how we planned it, who we invited and the educational opportunity we were able to share with clients to help them on their journey to Cloud ERP and Acumatica. It also gave us the opportunity to connect with other Acumatica partners and let us share successes and gain support for challenges we all face doing business.
ISV Partners and Acumatica's Multicloud World
Acumatica knows that as long as our applications work together seamlessly, we don't need to think about the number of integrations, or the integration process itself. So they have developed key partnerships with ISV's and popular business applications that increase the overall functionality of Acumatica for specific process needs and industries.
​Acumatica Summit 2017
Acumatica Summit is a great time for all of us to come together, learn about what's new and what's coming, direct from the source. There were great speakers, presentations, educational opportunities, ISV's and more at Summit, but for me it's the environment of accessibility and collaboration they have cultivated not just for their customers, but also for their partners and ISV's. There's a definite feeling that if you have a question or a challenge, you can find help, collaboration and maybe even the solution right there at the Summit.
This is my second year attending and I still get amped up by the new releases, new partnerships and functionality that I hear about at Summit, and it comes home with me, too. I get to look at challenges with fresh eyes and new tools to tackle them.
Acumatica Summit 2018 – Nashville, TN
We're excited for Summit 2018 already! The opportunity to connect with new partners, learn more about the latest developments from Acumatica ISV's, hear the latest and greatest, and then get the live training right there with the Acumatica team is invaluable. I can't wait!
If you want to learn more about how you can leverage a fully integrated cloud ERP like Acumatica, contact us today for more information. Milestone Information Solutions has been helping small and medium size businesses improve their operations with software and technology for over 20 years.  We are proud to be an Acumatica VAR partner and would be happy to help you.