Recognition isn't everything for a business—but it certainly does matter, especially when it is well deserved.
Recently PC Bennett Solutions, one of Acumatica's top Cloud ERP Partners, was honored in the Inc. 5000 List of America's Fastest-Growing Companies.
PC Bennett is an Acumatica reseller, focusing 100% on Acumatica. They provide sales, implementation, support, and customization, all solely via the Acumatica platform. They've been with Acumatica since 2011, so they have a lot of experience with our platform.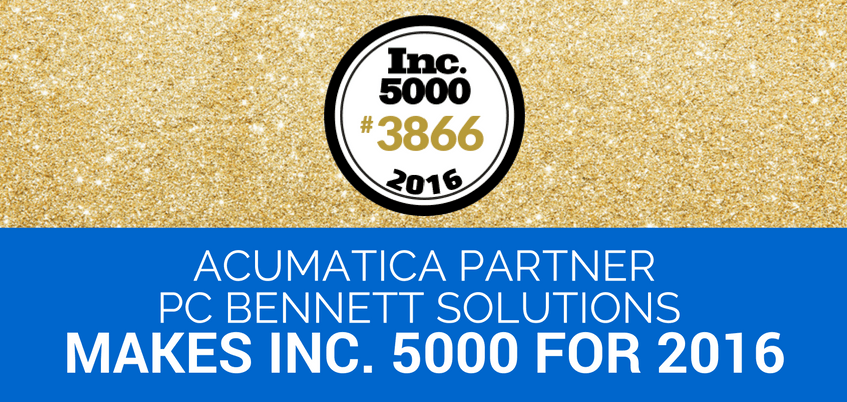 In this case, the recognition is more than well-deserved. As Founder and Owner Patricia Bennett said, she and her company are "obsessed with customer service." They want their customers to be more profitable and accelerate their operations with Acumatica, proving it to be the right investment.
Patricia started the company back in 2002 after an itch for entrepreneurship. She'd been a salesperson before, and knew that when you're selling expensive products you discard a lot of leads — people often don't have the funds available to make a big purchase. So when she started PC Bennet, Patricia targeted her competitors' discarded leads, the ones who would really benefit from Cloud ERP. She started from the ground up, literally going door-to-door to local business in her area. Now, fourteen years later, she and PC Bennett have achieved making an Inc top list. Quite the feat!
When Patricia first found out about the recognition from Inc, we asked her a very simple question: Why?
She listed two key factors:
Solely selling Acumatica – She claims that one of the hardest decisions she made was to shift to solely selling Acumatica, but that decision has been one of her best business decisions she ever made.
Acumatica was exciting and invigorating to work with – Feeling passionate about what you sell is vital to the success of your business. It's the difference between feeling like you have to work with a company and feeling like people are silly for not buying what you're selling!
How does she feel about the announcement? Excited, of course.
For two years in a row they've won an award for the 50 fastest-growing companies on the Eastside in Washington. Last year they made the 100 fastest-growing in Washington state. So it was a natural progression to this current honor.
Final Thoughts
One of the biggest lessons Patricia credits for getting her company to this point is eliminating fear from her decisions. Eliminating it, in fact, entirely from her life. That has carried her and her company to this point, providing clarity to her decisions.
As she says, "What is fear? It's just the projection of your thoughts into the future about stuff that's not real." The only thing that's real is what's happening right here. If she worries, she's stressing over things that are "100% fabricated by my brain."
Some decisions produce results and some don't', but either way, she keeps moving forward.
You can read the announcement about PC Bennett joining the Inc. 5000 List of America's Fastest-Growing Companies here.