Our Acumatica Partner Program offers our valued Acumatica VARs the tools they can use to make their businesses succeed. One essential component for business success is clearly communicating the value they provide to their customers – also known as marketing. If this isn't your strong suit, our Campaign Factory Program may be the answer, and you can learn more details at Acumatica Summit 2018.
At Acumatica, our goal is to provide customers outstanding customer service and the best reseller channel in the business. We rely solely on our global Value Added Reseller (VAR) partners to sell and support our cloud ERP solution to do so. Because our success is reliant on the success of our VARs, we established our Acumatica Partner Program. The program offers:
Continuous support and training ensuring mutual and long-term success as you sell the one true cloud ERP
Generous margins and terms not found anywhere else in the market
A conflict-free channel that is fed by Acumatica's desire for mutual growth and customer satisfaction
One of the many benefits is the help our VAR partners receive for their marketing strategy and execution. We've developed many programs, and you'll especially want to check out the Campaign Factory if you desire to bring your business to the next level but lack marketing zeal, resources, or time.
We'll take a quick look at the Campaign Factory Program today but want to encourage you to attend Acumatica Summit 2018 where we'll get into the nitty gritty details about this program and what it can do for you and your business.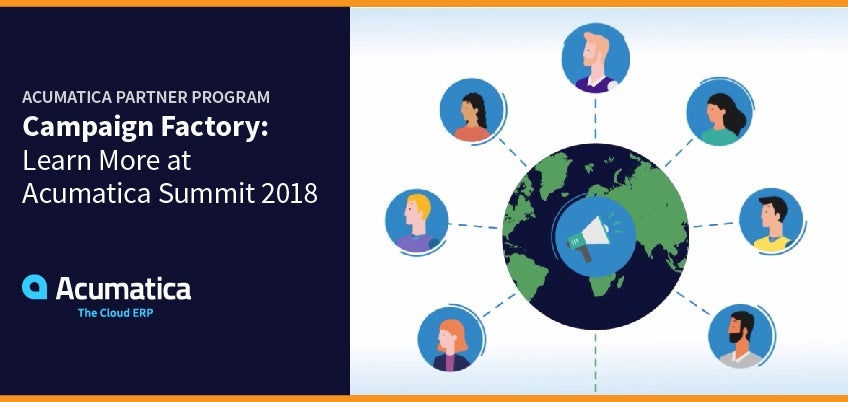 Acumatica Partner Program and the Campaign Factory
The Campaign Factory Program is an effective way to accelerate your business in the cloud. There are many amazing benefits to this program but at least three that you need to know right now:
The program is customized for your business goals
You get to Market faster by reaching the right prospects
You reap the profits while Acumatica executes
Our cost-effective and fully integrated marketing campaign will help you identify potential leads and walk you through the process of turning them into satisfied customers. Thankfully, the only steps necessary to begin are deciding to sign up for the program, choosing the method that best fits your business goals, and working directly with the Acumatica marketing team to make it all happen.
What Acumatica customers had to say about using the Campaign Factory Program
Central Data, a firm that recently added Acumatica to its portfolio, participated in our Acumatica Partner Program. Tasha Amon has this to say about using the Campaign Factory Program, "We were able to quickly get a foothold in the marketplace and build a foundation to be successful with Acumatica. We wanted to get our name out with new product offerings, and really saw the benefits of the assets and resources to launch an integrated campaign that Acumatica hosted and managed. It was awesome and a great beginning."
Anya Ciecierski of Cal Business Solutions also utilized our Acumatica Campaign Factory Program. "I recommend this as a nice way to have a consistent marketing program running in the background that's turnkey, easy and requires little effort on your part," she says.
And Craig Silvestri from ASC-Partners – an Acumatica Partner for six years – says the company had been using referrals to grow but needed to do more. They worked with the Campaign Factory team to find a better method, and they helped them find their perfect audience. He says, "We knew we needed to do more and Acumatica made it very easy to launch our first mass marketing campaign. This is an investment that pays dividends over time."
Learn more about the Campaign Factory
Attending Acumatica Summit 2018 – coming January 28-February 2, 2018 – is the best way to learn more about what we provide through our Acumatica Partner Program. We urge you to register for our premier cloud ERP event that provides you the opportunity to learn and collaborate with our entire community.
We'll be traveling to Nashville, Tennessee where you can up your cloud ERP game through a variety of breakout and training sessions, networking with your peers, visiting the extensive Partner EXPO, listening to amazing speakers, and enjoying a wide variety of attractions during your free time.
Our team at Acumatica wants your business to grow, we want you to be able to do so cost effectively, and we want to help you do it.
Contact us if you have any questions about our Acumatica Partner Program or our cloud ERP platform and products. We look forward to talking with you!