Acumatica VARs are experts on Acumatica's cloud ERP software. And you know you need a strong marketing strategy in place to advertise your capabilities. Acumatica's new Marketing Specialist Certification program will give you the training you need to get a successful marketing program up, running, and growing, and you can learn more about it at Acumatica Summit 2019.
Acumatica Summit 2019 (coming January 27-February 1, 2019 in Houston, Texas), provides the Acumatica community with amazing learning opportunities as well as a full slate of training sessions. These sessions offer the education, best practices, and insights partners and customers need to increase their knowledge of our end-to-end cloud ERP solution, and we've implemented a revised training format along with new training sessions for this year's cloud ERP event.
Also new is our Marketing Specialist Certification program (created specifically for Acumatica VARs). Today, I'll share how attendees will get to learn more about the certification program at Summit, and I'll briefly touch on our Acumatica Partner Program as well.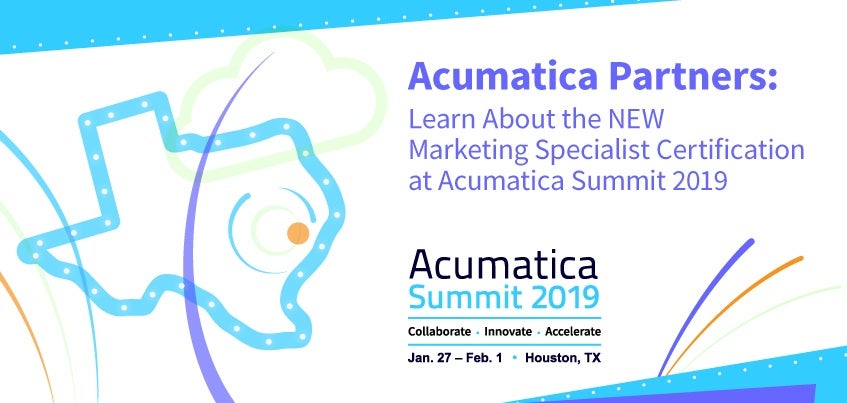 The 411 on our Acumatica Partner Program and Acumatica's Marketing Specialist Certification
Acumatica VARs are essential to the success of Acumatica cloud ERP and cultivating strong business partnerships with them—which includes a no-compete policy—has helped make Acumatica the fastest growing cloud ERP solution on the market. Part of that cultivation includes automatically enrolling Acumatica VARs into our comprehensive Acumatica Partner Program.
The program provides Acumatica VARs with the best-in-industry training and support the minute they become a valued Acumatica reselling partner, including generous margins and terms and marketing strategy and execution assistance, such as through our updated Campaign Factory Program. You'll learn more about this turnkey, completely integrated marketing package at Acumatica Summit 2019, but let me quickly fill you in on some of the perks: personalized and branded nurture emails, coordinated and integrated content, dedicated project manager and execution team, advertising (PPC ads), and more.
Now, with the Marketing Specialist Certification program, you'll take it a step further by learning about Acumatica marketing engines—from Campaigns, Events, and Digital to Customer Highlights, PR/AR, and Partner Enablement. While you'll get further information at Acumatica Summit 2019, here's a rundown of what you can expect from the program:
The Marketing Specialist Certification will be available to partners through our Partner University (once in the Course Library, you'll see the Learning Path of the program, which details each step of the process)
The program will be available in January
It's required for Gold Certification Partners
The course takes approximately 8-10 hours to complete
After certification, ongoing learning courses will be assigned to the marketing leader of your organization
Marketing Specialist Certification aids Acumatica VARs in growth initiatives
There's no reason to reinvent the marketing wheel. The Marketing Specialist Certification program gives you the information you need to strategize for next year, making your marketing even better and more relevant. It also helps you give your customers the experience they have come to expect—expectations the modern VAR understands and embraces. And the specific steps to growing your business will be clearly laid out with expert advice along the way.
Though the Marketing Specialist Certification is a partner requirement as of January 1, 2019, having to develop a marketing strategy and build a specific Acumatica marketing plan is something you'll benefit from immediately and immeasurably. Plus, you'll earn your Marketing Specialist Badge. Come to Acumatica Summit 2019, learn more about the marketing course, and prepare to achieve your growth initiatives faster than you could have imagined.
If you have questions or want more information, then contact us; we're always available. You also have 24/7 access through our Acumatica Partner Program to the tools and resources you need to succeed with Acumatica cloud ERP. And if you know of a reseller partner that would be a great fit for this team, then check out the Acumatica Recruitment Referral Program for details.
This is going to be an exciting year for Acumatica VARs, and we hope to jumpstart it with you at Acumatica Summit 2019!