Acumatica's Christian Lindberg is about to depart on his second Acumatica Roadtrip…with the addition of his in-laws. Find out where he's going, how he'll utilize the mobility of Acumatica cloud ERP, and what he thinks the modern CFO can learn from his three-week journey.
A survey by AAA reported that 42 percent of Americans were planning a vacation in 2017. My family and I were included in that number as we took a roadtrip from our home here in Washington to visit my daughter who was interning at a Texas college. I also used this roadtrip as a way to connect with Acumatica customers and partners along the way. I called it Acumatica Roadtrip 2017 and invited the Acumatica community to follow us on our journey through updates on LinkedIn, Facebook, Twitter, and  #AcumaticaRoadtrip on Twitter.
Because the roadtrip was a success both personally and professionally, we're doing it again. And this time, I'm bringing my in-laws.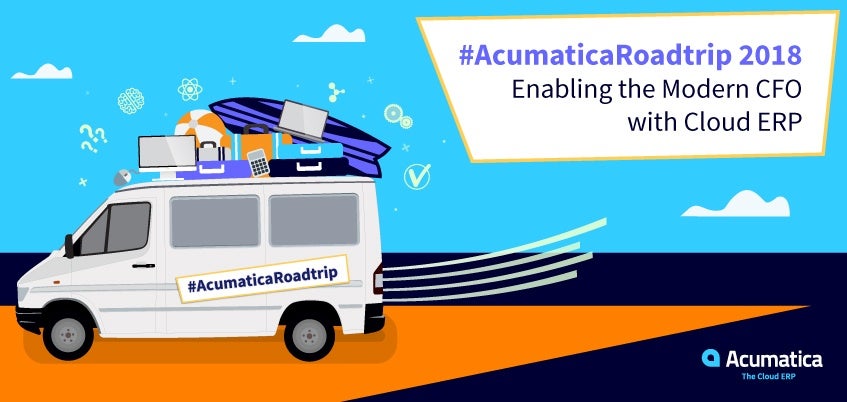 Acumatica Roadtrip 2018, Acumatica cloud ERP, and the modern CFO
If you're wondering where the modern CFO fits into my roadtrip, I'll explain.
As VP of Partner and Solutions at Acumatica, I didn't have the luxury of disconnecting completely during the roadtrip. This, however, wasn't an insurmountable obstacle. With Acumatica cloud ERP, I was able to work remotely—as can every user of our mobile cloud ERP solution, the recent winner of the 2018 CODiE Award for the Best Cloud ERP Solution.
This need to work while on vacation made me wonder what tools other executives use to stay connected during their travels and found myself focusing in on today's modern CFOs. They're in charge of the financial health of their organization, including financial planning, management, reporting, strategy and so much more. They must stay on top of everything going on in the business.
Their role as the financial leader has also changed in the last few years, especially with increased regulatory requirements such as we see in the EU spearheaded by the GDPR. These regulations will be heading to the States, and with the multitude of responsibilities and changes, the modern CFO in every industry—from healthcare to insurance—must balance how to enjoy his or her vacation while keeping the business running during his or her absence.
To strike the balance, I believe CFOs need an integrated financial and business management solution such as Acumatica cloud ERP.  It's built on a modern ERP cloud platform customizable for their specific needs—one that provides a real-time view of their business. Our cloud ERP solution provides strong third-party software and solutions that extends our ability to meet their unique business needs. And Acumatica's cloud ERP system has the mobility CFOs need to stay connected during their travels.
Acumatica's Nigel LeGresley wrote this about Acumatica cloud ERP in an Acumatica Summit 2018 blog post, "As the CFO of Acumatica…I enjoy the chance to meet new people and catching up with those I've gotten to know over the years. Unsurprisingly, the conversation always revolves around what Acumatica's cloud ERP platform and products can do for you and your business. I haven't had one that didn't result in the consensus that Acumatica can truly offer the features and functionality that aid in streamlining your business management needs.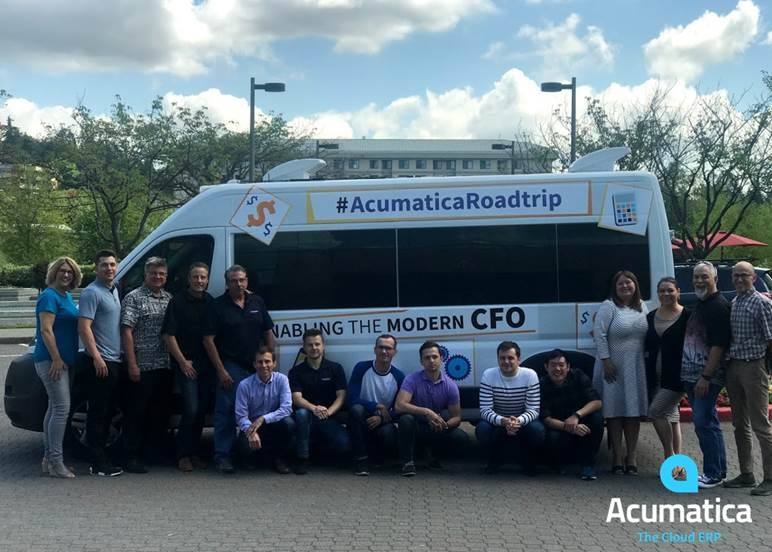 He went on, "After using other ERPs, I consider Acumatica a superior solution. Our personal approach is key in helping the community succeed. The amount of resources in our customer and partner portal, our continual interaction through webinars and in-person meetings, and visiting customers and partners while working around the country all reinforce our motto of the customer and partner as the reason Acumatica is what it is today."
Acumatica Roadtrip 2018: mobility with Acumatica cloud ERP
Like Nigel, I feel visiting with customers and partners around the country reinforces the fact that they are the why of the what we do. And Acumatica's mobility capability affords me the ability to leave the office for three weeks to visit them.
Below is a look at the route my family and I will be taking. As you see, we're taking a cross-country trek that will give us a chance to experience the States from coast to coast.
Acumatica Roadtrip 2018 map

And here is our specially-converted van we'll be traveling in for our journey.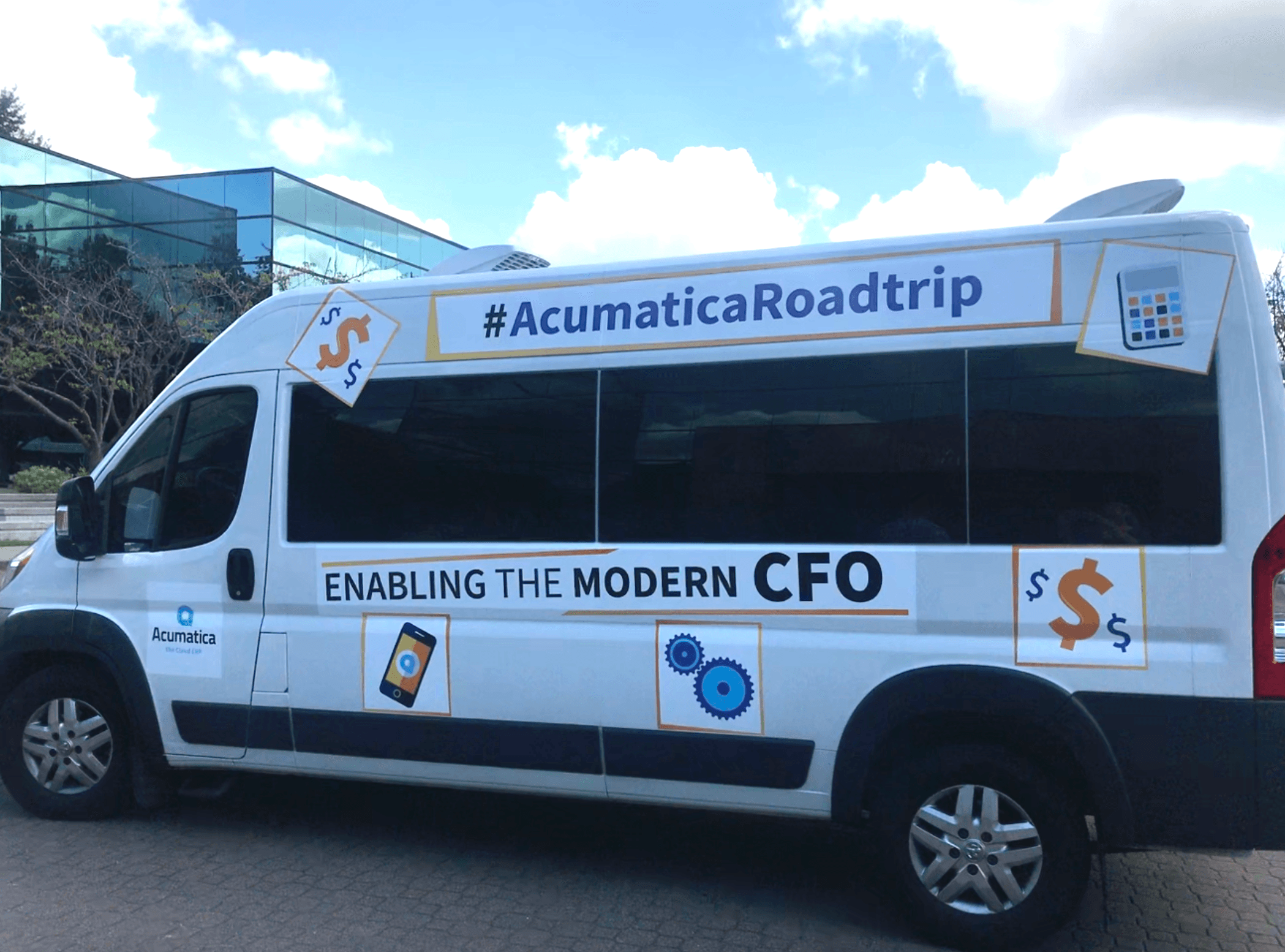 As I connect with the Acumatica community, I'll be asking for their thoughts on how we can further improve our cloud ERP system. We utilize their suggestions in every release. Our next release at our Acumatica 2018 R2 Launch Event Series starts in Boston, MA on September 12, 2018, with half-day, localized events taking place in the weeks thereafter. You can register now and anticipate learning how our new enhancements will affect your business' productivity and accelerate growth. I will be back from Acumatica Roadtrip 2018 by then and look forward to seeing you at 2018 R2.
I'm also looking forward to time with my family (and my in-laws)—time that isn't interrupted by my concern for what's going on in the office. In the past, we were essentially chained to our office with a desktop computer. The arrival of the laptop and WiFi released us from our office's confining walls and into other areas of the workplace. Finally, with the advent of the cloud, we've become completely independent.
For me, this is what makes Acumatica cloud ERP different. It's a true cloud ERP system; our platform was built from the ground up to navigate this multicloud world and allows users to work anytime, anywhere, on any device. And for modern CFOs who must stay constantly connected, it's the tool they need for on-the-go functionality.
Acumatica Roadtrip 2018: ready to go
#AcumaticaRoadtrip is about to begin. I invite you to follow me every step of the way through the social media avenues I mentioned earlier. Let me know if we'll be passing through your area, and we'll stop in to see you.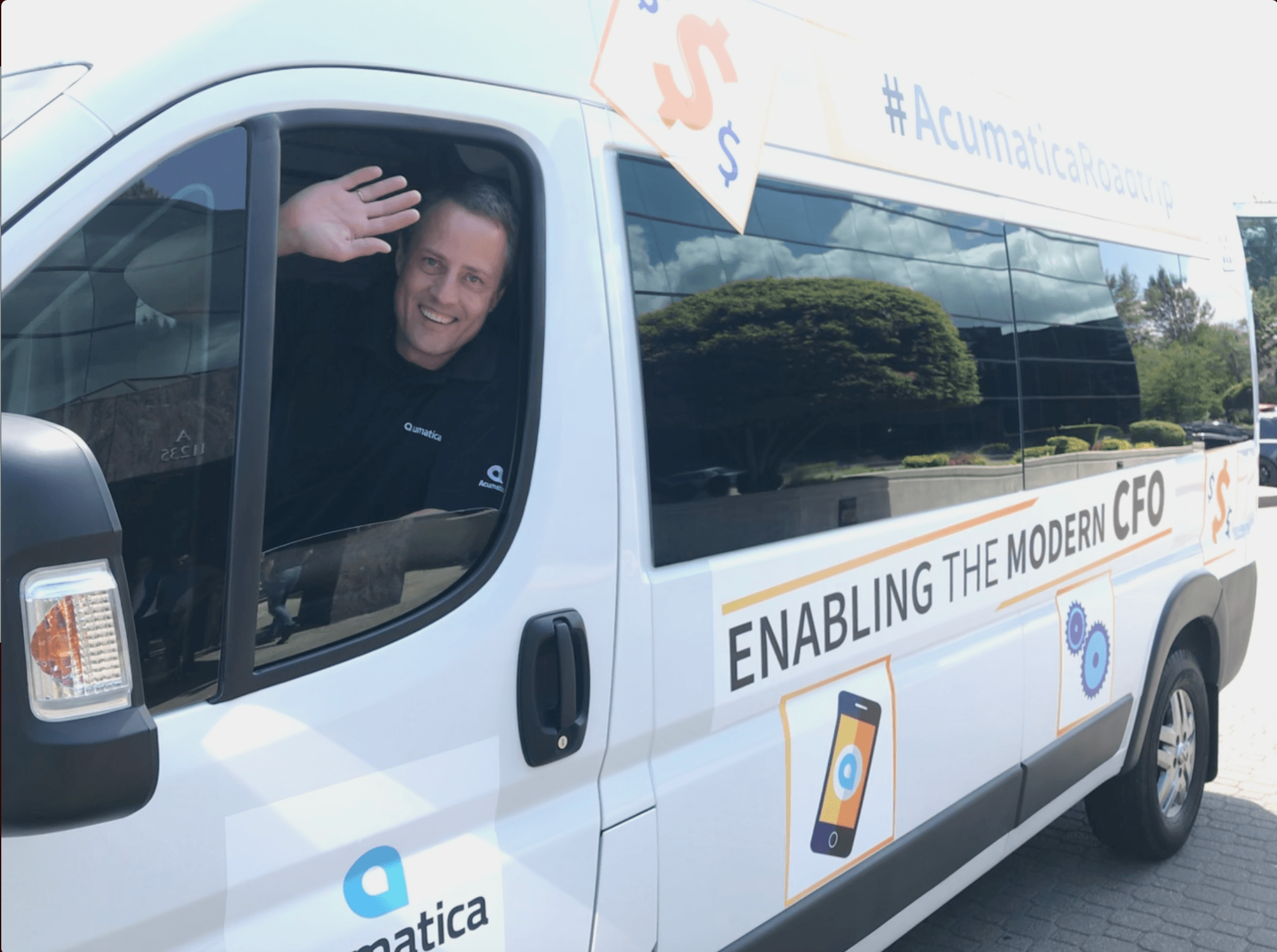 You can also check in with me at Acumatica Summit 2019, coming January 27-February 1, 2019 in Houston, Texas. Register right away so you can secure a spot at the cloud ERP event of the year.
Until then, if you have any questions about Acumatica's cloud ERP system, contact our team of experts at any time.