I'm so energized coming off a week with Acumatica customers, partners, and the press and analyst community. More than 600 attendees converged on the Hyatt Grand Cypress in Orlando to see and hear how Acumatica helps them accelerate their business. Thank you to everyone who attended Acumatica Summit 2016, I wanted to share some highlights, as well as get you excited for Acumatica Summit 2017.
The week kicked off with a packed welcome reception in the expo hall on Sunday evening and the momentum continued into the keynote on Monday morning. Announcements included 100% revenue growth for 2015, key features of 5.3, our 2,000th customer, Amazon Aurora Support, the opening of Acumatica Labs in Montreal, and the Acumatica Field Services edition including the M5 acquisition. Following the keynote we announced the 2015 customer and partner awards and celebrated their success.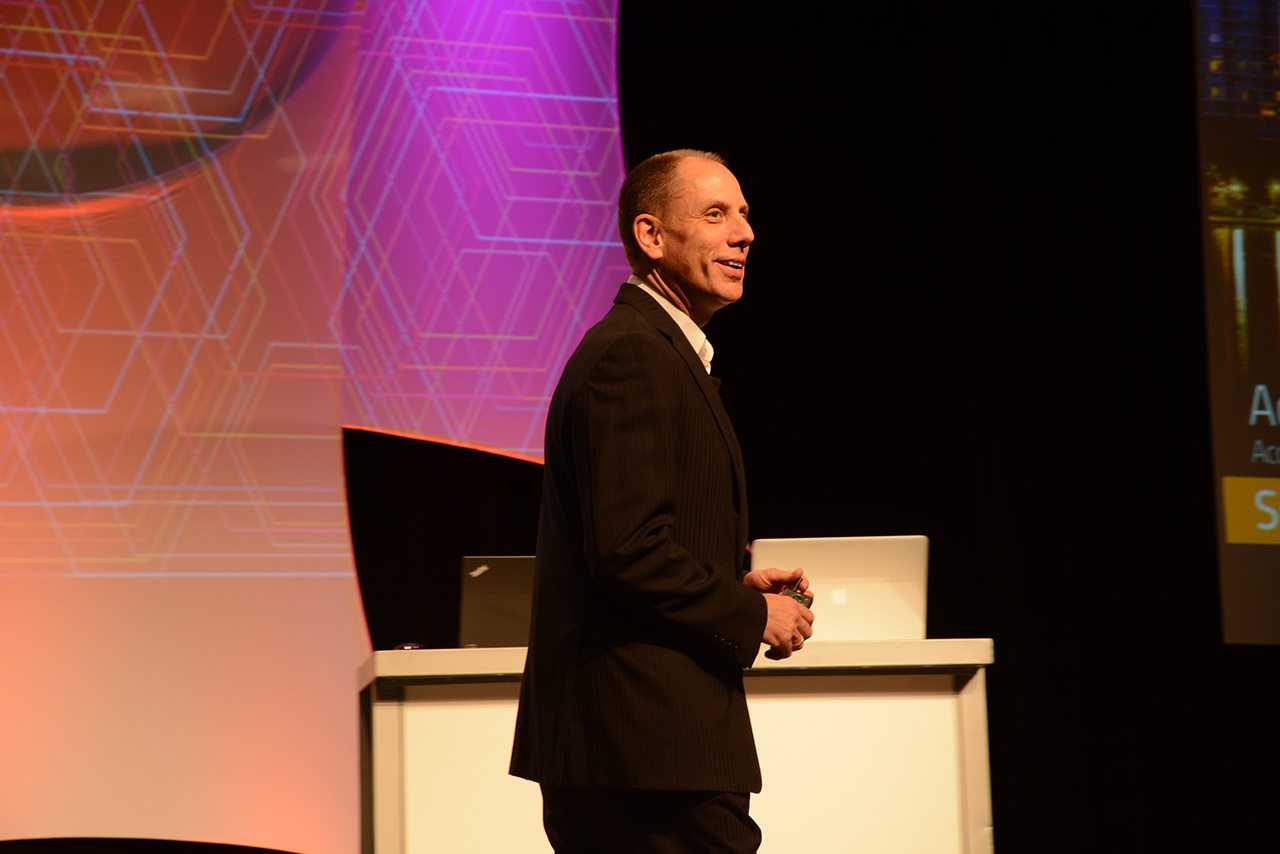 Acumatica CEO Jon Roskill giving the opening keynote.
Monday concluded with the attendee celebration party, located outside on the beautiful grounds of the Hyatt Grand Cypress in Orlando. Attendees took a short walk across the hotel property to experience a lively "Rock and Roll" Celebration party. High in attendance and spirits—the party included a cover band, Guitar Hero, AWS-sponsored photo booth, terrific Mexican food and plenty of drinks.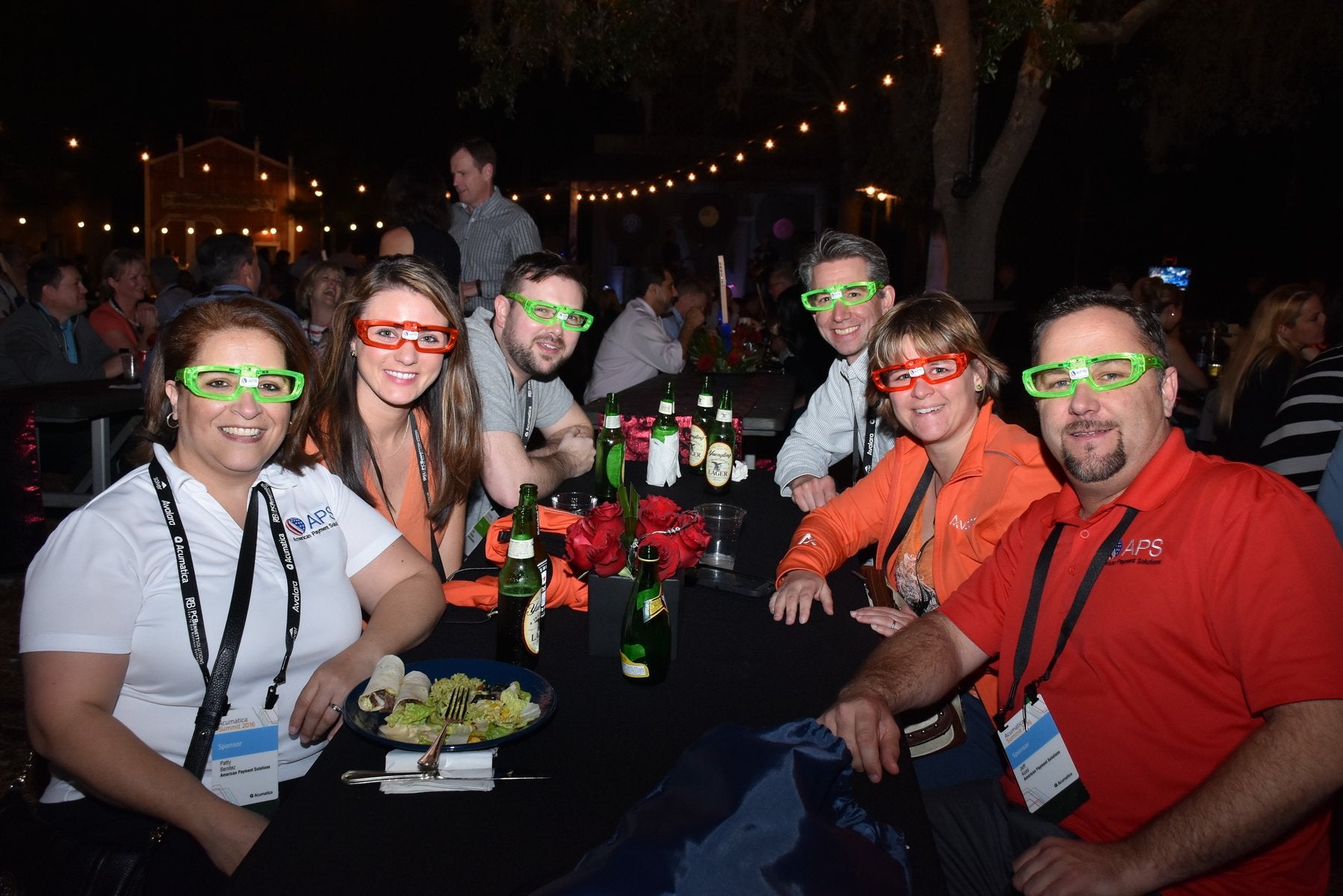 Attendees at the celebration party.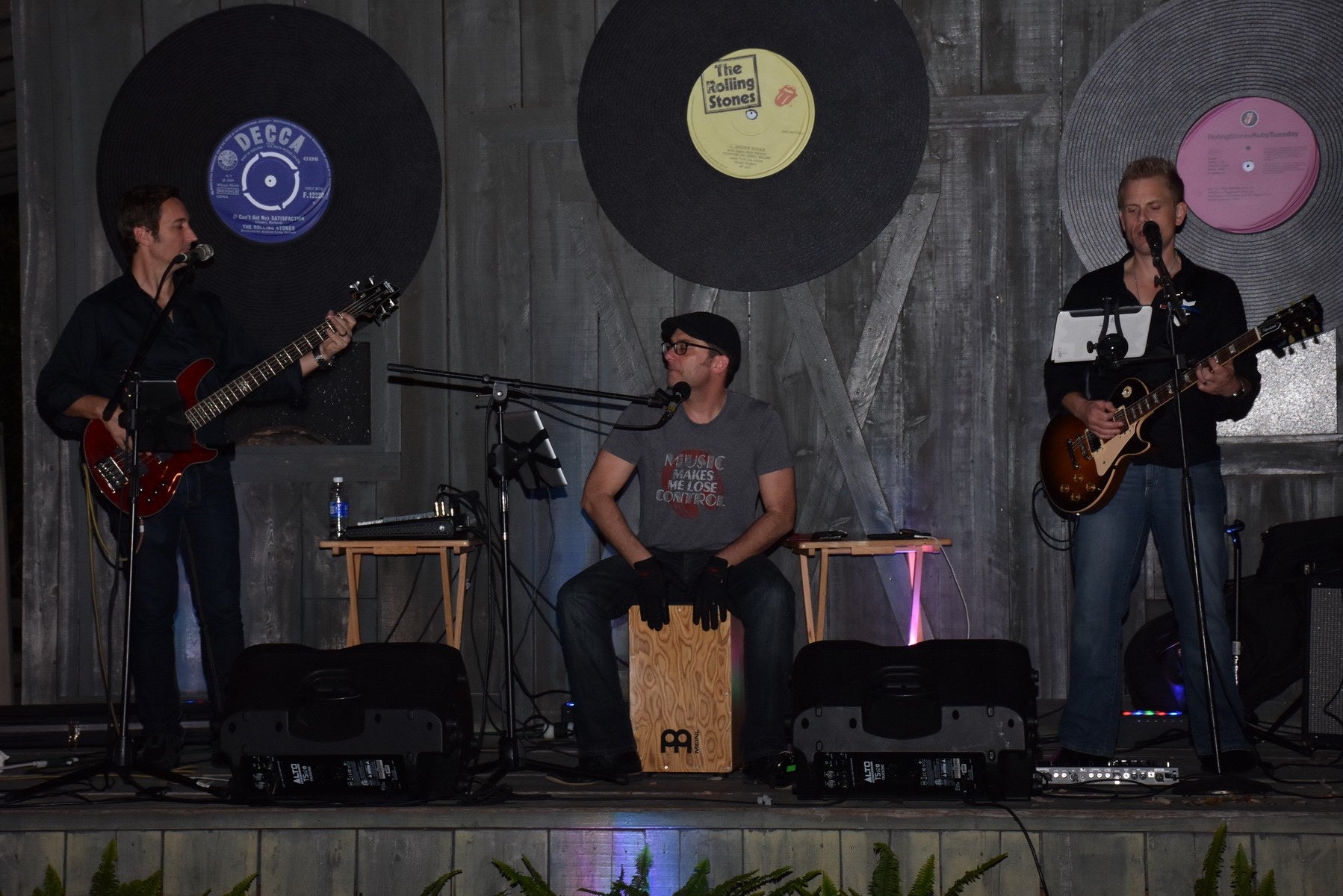 The band playing at the party.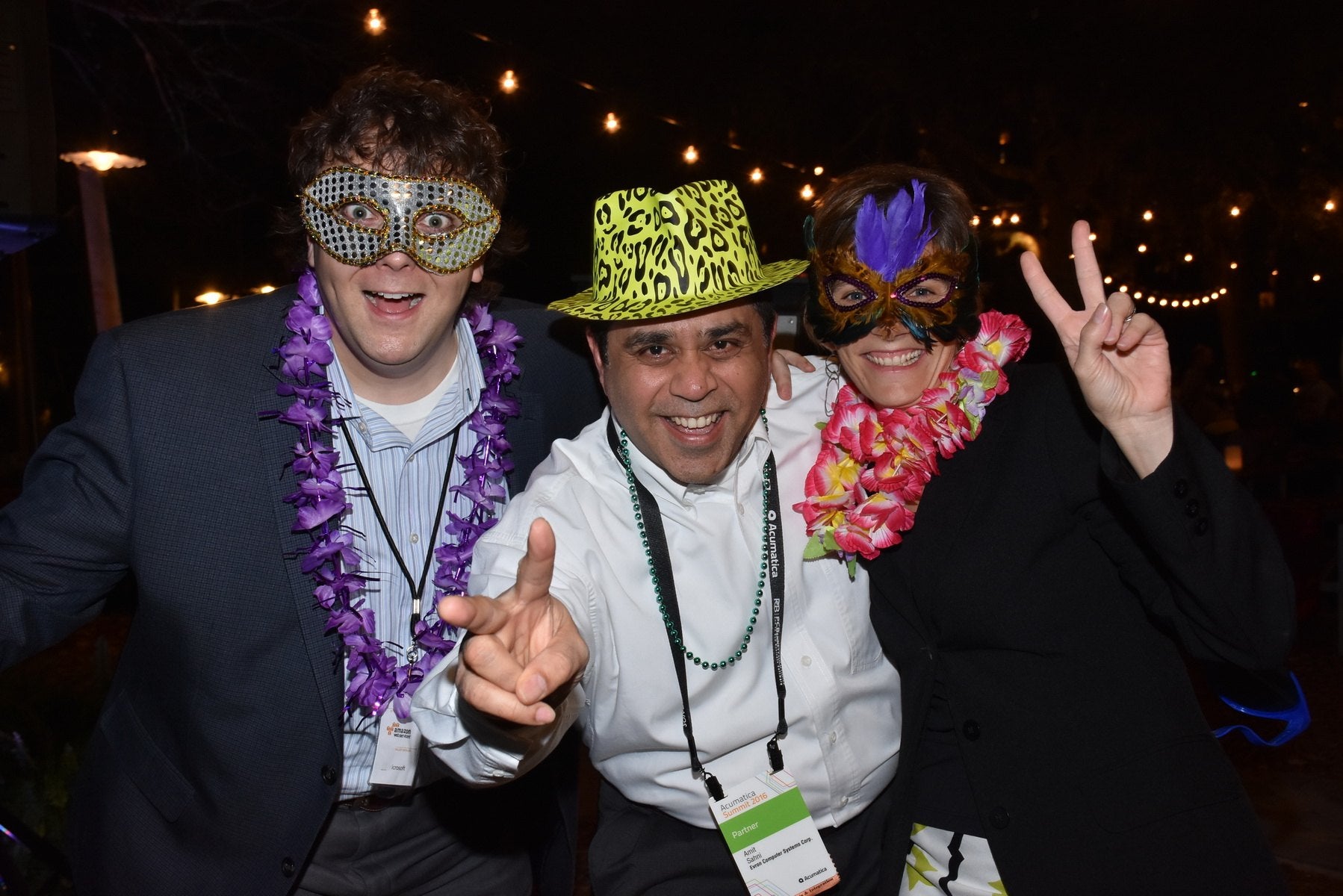 Attendees enjoying the photo booth garb.
The momentum continued into Tuesday, with conversations shifting to the future. Jon Roskill, Acumatica's CEO, and John Howell, Acumatica's Co-Founder and Director, kicked off the day with a discussion on our path to a billion-dollar business, (yes, that's Billion with a "B"!). From there, we showcased a few of the top new features coming in the 6.0 release.
John Howell, Co-Founder and Director (left) and Jon Roskill, CEO (right).
Day 2 wrapped up with motivational speaker Alden Mills, who shared how to Be Unstoppable and relayed his experience as a Navy Seal and small business owner to encourage all of us to be "all in"!  You could feel the buzz in the air—the tone and excitement from attendees was exhilarating.
In addition to the keynotes, sessions were delivered across the Sales, Marketing and Product tracks. Marketing attendees selected from a range of topics that covered marketing strategies, trends and harnessing social media. I gave an overview on Acumatica's 2016 marketing strategy and plans, talked about how we're enabling our partner ecosystem and investing to build the brand. Sales attendees enjoyed sessions around pricing, best practices during the sales process and overcoming objections. The product teams provided more technical product details to get the most out of Acumatica.
You can now access all of the keynotes and session content on the Acumatica Portal.
2016 also marked the inaugural year that we introduced a customer track. To enable customers to fully leverage their Acumatica investment, we created a series of sessions specifically designed for them. From showcasing existing customer success stories, such as Guardian SealTech, to industry roundtables, to a special wine and cheese event with Acumatica leadership, it was wonderful to have customers actively participating and sharing how Acumatica has helped solve their business challenges and accelerate their growth.

Attendees in a session.
But don't just take our word for how great it was, what matters is what customers and partners had to say… Below is some of the feedback we received. (Hint: Don't miss 2017!)
This by far has been the best Partner Summit I've attended. The ISV Solutions pitch and then follow-up breakout were extremely valuable, in my opinion. Thank you, Acumatica, for a job well done!
Well run and great sessions and feedback. Keep the positive energy going–you stand out from other ERP companies and are making yourself very relevant in the market as a result
Great event! Well done! We will be there next year!
Thanks for being transparent and sharing information with us.
As an Acumatica Certified Business Consultant, I am very excited to be a part of this explosive ERP product that seems to be growing by leaps and bounds and am inspired even more after the great presentation.
As our first Summit with Acumatica, the keynote was very uplifting and exciting. Everyone was very excited to be there and to hear the progress that was being made. It gave us a lot of hope with our future as a partner.
Let Us Know What You Liked and What Could Be Improved
We always know there are things that can be improved and we value your feedback so we can make next year's event even better. Please take a moment to fill out the full event survey now (it's just 10 short questions). Additionally, if you did not already respond onsite with your feedback on the content (sessions and trainings), please complete the content survey. As an incentive to give us your feedback, we will be raffling off a free pass for Acumatica Summit 2017 to 5 lucky winners!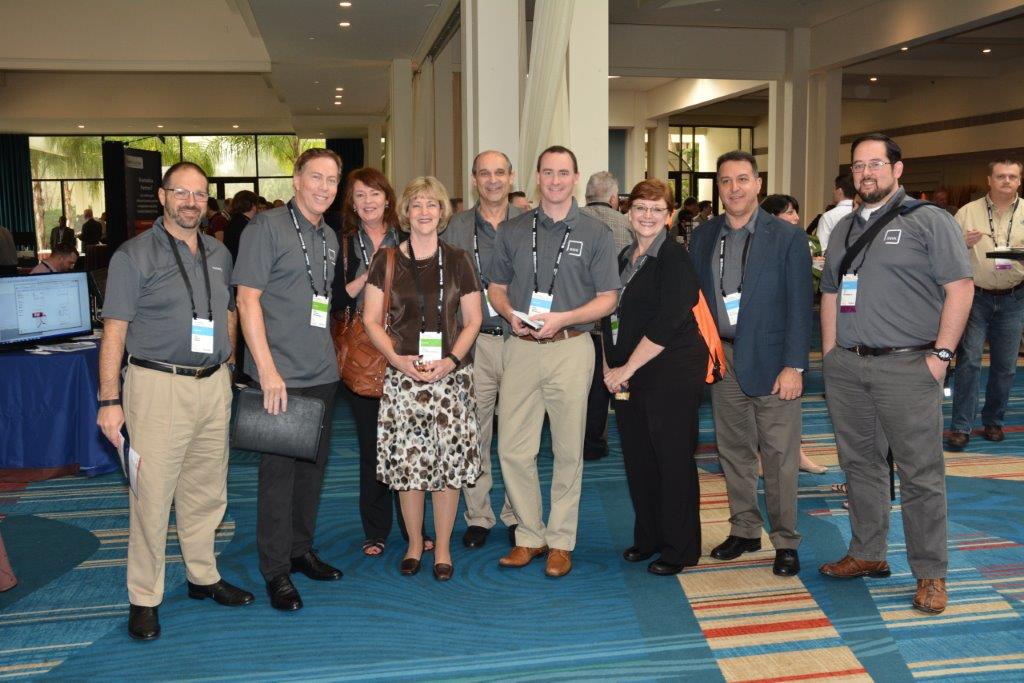 Attendees at the expo.
Save the Date for Acumatica Summit 2017
So, who's ready for next year? I, for one, can't wait! Join us in February 2017 in sunny southern California. Stay tuned for a more specific date and venue details.
Until next year!