Looking to discover the latest innovation in cloud implementation? Want to meet developers and other cloud leaders who've faced (and conquered!) similar technical challenges as you and your business? Look no further than the Acumatica Summit.
Besides taking place in Orlando, here are four good reasons to not miss the Summit: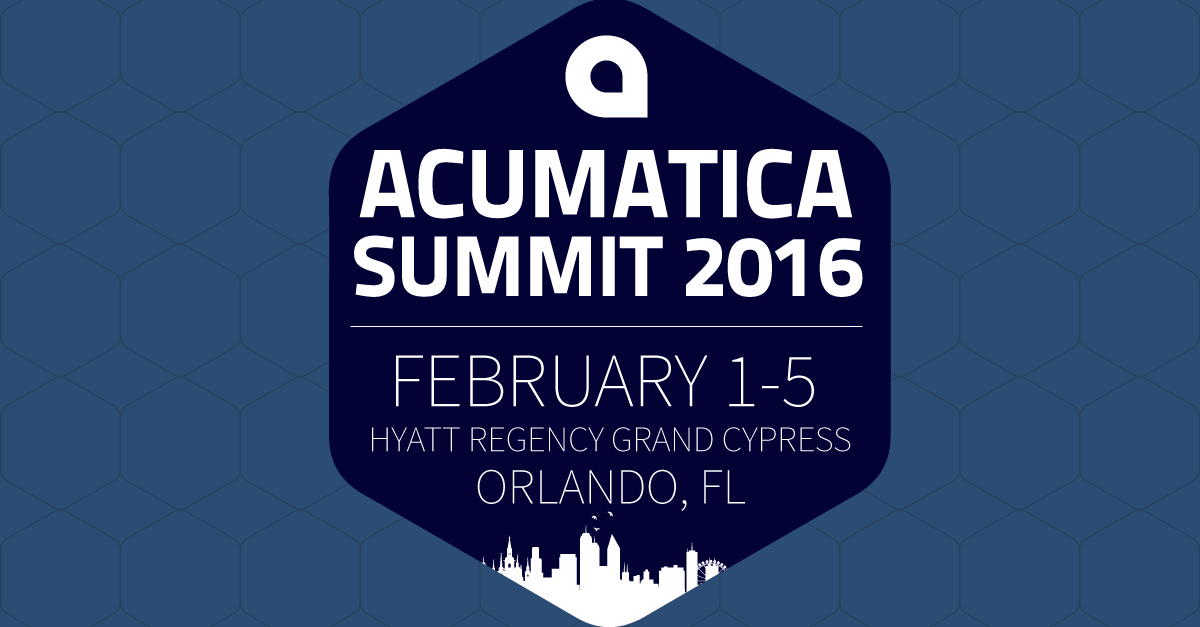 1. Discover upcoming features in Acumatica 6.0.
Among the many opportunities at the Summit, you'll be able to get up to speed with the latest version of the Acumatica Customization Platform.
With Acumatica Extensibility Framework, we'll teach you how to create multi-level customizations. You'll also learn how to achieve smooth integration with Visual Studio to create extension libraries, as well as get a preview of the Screen Elements Inspector. It only takes one click to see what's under the hood!
We will be announcing several product upgrades, including seven new item types added in our Customization Project Editor. Plus, we'll give you practical experience with Acumatica's brand-new Layout Editor.
There are too many new features for me to name here, but we will cover them all at the Summit.
2. Meet with Acumatica developers
One of the best ways to better utilize the Acumatica platform is to talk directly with the people who are instrumental in making the changes and updates. Have a special use case, or a specific troubleshooting question? By attending the Summit, you'll get to meet our developers face-to-face and ask them all of your questions in-person. For example:
Ever wonder how to build a complex project report with the Report Designer or ARM?
Curious about using MySQL as a database?
Want to implement the Sales Order screen using the mobile framework?
Need to learn how to implement a split billing customization?
If I can't answer your questions, I'll introduce you to the person who can. Helping you do better work with Acumatica is what this Summit is all about.
For myself, I can't wait to meet you there! For more customization goodness, register today.
3. Get trained. Learn tips and tricks
The Summit will make your life so much easier. Imagine yourself saying, "I didn't know I could do that!" and "I can't believe how much time this will save."
For example, in the "Writing Reports and Integration Scenarios" training, which is for technical specialists and consultants who design reports and inquiries, you'll get an overview of inquiries that provide the easiest way to query data from the system.
There are three phases:
One – Learn generic inquiries, configure an inquiry as an entry point to an Acumatica screen, and access the queried data via OData in Excel.
Two – Use the Acumatica Report Designer tool to create reports from scratch and explore dashboard functionality, which is highly customizable per user role.
Three – Walk through integration scenarios that you can use to transfer data between Acumatica and an external resource like Excel.
During training on days 3-5, I'll be working with my colleague Tom Costa to deliver the Acumatica Presales Training and Workshop. This class is designed to help you obtain the Pre-Sales Engineer badge. This badge will become a requirement for Gold and Silver certification.
The Presales Training and Workshop is designed for consultants who want to learn how to successfully demonstrate Acumatica Cloud ERP software. I'll show you best practices for demo site preparation and discuss past successes and failures. You'll also get hands-on preparation with short demonstration scenarios. Tom and I will describe the scenario, suggest a course of action, and show a solution. Then it's up to you! Participants will recreate and test the solution on their own demo site.
4. Network with the broader developer community
Connect with over 24 speakers and trainers with expertise in sales, implementation, application development, and platform development. All of us want to hear your ideas to make the product better and discuss how we can help you design a solution for a specific audience.
Check out who else will be at the Summit on our Speakers page.
Conclusion
The Summit is all about creating opportunities for you to discover more amazing things about cloud innovations, which in turn will impact your business' bottom line. We're excited to share our product news and insights with you.
Don't miss out on community connections. Register for the summit today!