Another year is coming to a close, and that means another Acumatica Summit is peeking above the horizon. The event is shifting to the west coast in beautiful San Diego in 2017, and Acumatica partners and customers can register early starting now.
Here are the details you need to know:
The summit will take place at the Hyatt Regency La Jolla in San Diego, CA.
The official dates are January 30th to February 3rd, but there will be a reception on Sunday night, January 29th – please plan to join us!
It's the perfect venue for networking with hundreds of your industry peers.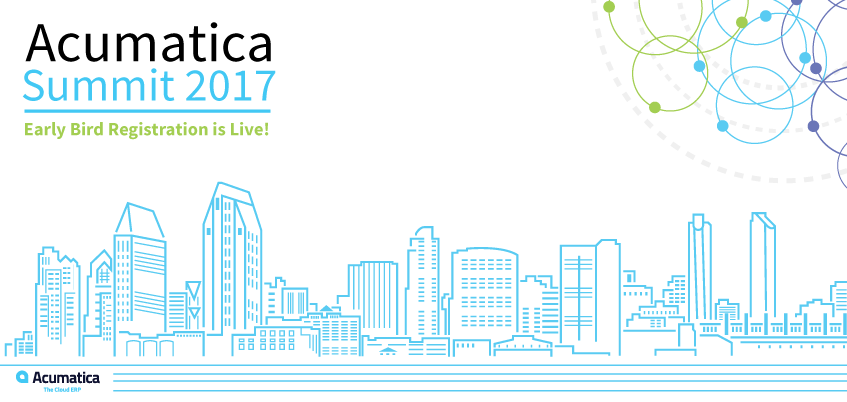 Early bird registrants will experience the entire ecosystem of Acumatica's partners and customers gathered to hear the latest insights into Acumatica 6, the future of the Cloud, and more from Acumatica's leadership, product, and engineering teams. The benefits of registering now include better pricing and access to training classes that have very limited seating and fill up quickly. Register today so you get your first choice of classes! With your Summit tickets in hand, you'll also be able to plan your trip right away and take advantage of lower flight costs and booking a room in our room blocks at the Hyatt Regency in La Jolla, where we've negotiated a significantly reduced rate to encourage you to stay onsite.
In addition, attendees will have to the opportunity to get product certifications in training sessions taught by Acumatica developers. This allows for hands-on technical training and gives participants the chance to engage with our leading ISV providers.
Want to see what we're talking about? Check out this video:
Yet again, we are increasing the number of training course available for attendees with 17 total sessions to meet all of your training needs. Take a look at a few of the courses you'll have available:
Customization platform
Framework fundamentals
Financials advanced: fixed assets, contracts (as well as payroll)
Advanced logistics/distribution
Project accounting
Sales methodology
Ecommerce/Magento sales and Integration
JAAS advanced manufacturing software
Celebration party (OK, not a training course…)
A Look Back at 2016
The 2016 Acumatica Summit was where we announced 100% revenue growth from the previous year, our 2,000th customer, and the opening of Acumatica Labs in Montreal, to name but a few of the more newsworthy items. Oh, and we had a Rock and 'n Roll party with a great band, awesome Mexican food, and all the drinks you could want.
Speakers included Acumatica CEO Jon Roskill, motivational speaker Alden Mills, and John Howell, Acumatica's Co-Founder and Director. Post-Summit survey results were overwhelmingly positive, and we plan to do even better in 2017!
We can't wait for this year to be even bigger and better in beautiful San Diego, California.
Incorporating Your Feedback in 2017 and Beyond
After the last Summit, we took the feedback our partners and customers gave, and have worked to incorporate that feedback into the experience at the Summit this year. Partners are going to have plenty of reasons to be excited about the future of Acumatica, and customers will be able to fully leverage their investment in the platform and accelerate their business growth. Come join us and be among the first to hear what's new with the Acumatica platform, partners, community, and the future of Cloud ERP.
You can register for the 2017 Acumatica Summit here. I can't wait to see you there!