We are excited to be holding Acumatica's first-ever hackathon at our Summit in San Diego next week.  We have a healthy number of partners participating – developers and non-developers alike – forming a number of teams, working together on delivering a number of real-world business solutions.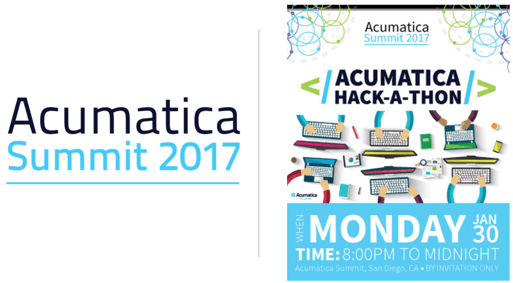 Judging from all the emails flying around on each of the teams, they are getting off to a good start.
A webinar to kick-off the event was held last Friday and teams have already begun choosing and starting to work on the preliminary design of their projects. They will be using our Developer Integration Platform (xRP) – which is comprised of our framework components, APIs, and web services (SOAP & REST) endpoints to build and implement their solutions. To learn more about our developer platform, see the links below, near the end of this post.
Each team will use GitHub as their repository to share their project code as they work before, during, and after the event on Monday.
The best and most viable of these will be highlighted in our Keynote session on Tuesday and we plan to make them available for use by our partners and customers once they are completed on Acumatica's GitHub account.
It's not too late to join a team.  If you are going to be in San Diego attending our Summit, please email me and I'll register you and add you to one of the teams.  Hope to see you in San Diego!
To get a general overview of our developer integration platform, view my presentation here. If you want to see how to use web services to pass high-fidelity information between Acumatica and 3rd Party applications, read my blog post here and view my presentation here.