Four years ago, Kensium Solutions attended our first Acumatica Summit as a technology company that was unknown in Acumatica circles. We were trying to learn about Acumatica and see what the buzz was all about, and now — for the second year in a row — we carry the honor of being a top-tier sponsor at the show. From our first show to this one, we have seen Acumatica and the Summit reach new heights.
Today, the event attracts all types of players in the Acumatica environment, allowing Value Added Resellers (VARs), Independent Software Vendors (ISVs), merchants, and Acumatica executives to connect and learn at the show.
With attendance numbers increasing every year, Acumatica Summit arms attendees with fresh knowledge, platform updates, and new business avenues to consider. The rising attendance totals also make the event a prime place to network with potential partners and clients.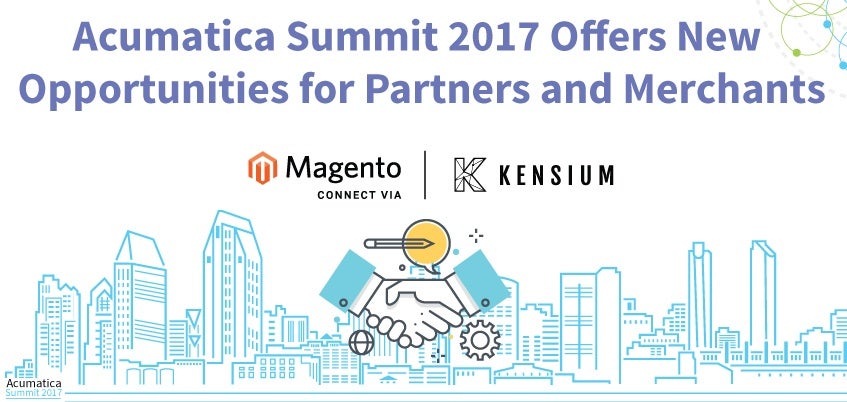 Last year's Summit
As the Summit's attendance grows, so does the vast ecosystem of Acumatica users, developers, and sellers. It became apparent at the 2016 event that the community is no longer one that simply works together and discusses solutions. Instead, it has become a more cyclical environment where cross-pollination of ideas leads to business developments and more comprehensive solutions built on Acumatica.
We learned valuable insights including the latest feature updates to version 5.3 and our favorite, the new web services endpoints.  We were also excited to hear about Acumatica Labs, a necessary initiative that directly and positively impacts ISVs such as Kensium.
Last year's Summit also introduced us to many new VARs and ISVs in the Acumatica space, helping us expand our client base as well as partnerships. Attending the Summit with multiple goals in mind can reward VARs, ISVs, and merchants. While Summit-goers may want to get their offerings in front of those familiar with Acumatica, they could also simultaneously be looking to upgrade their own solutions.
Statistics and industry knowledge show us that focusing on Acumatica is the right path. The ERP company saw its revenue double in 2015 and the arrow continues to point up. With user, VAR, and ISV numbers increasing, we are motivated to continue serving the increasing number of Acumatica customers with the solutions they need.
Acumatica's growth led us to create and unveil a new service offering for VARs at last year's Summit: Acumatica Implementation Services. By introducing our ability to augment any VAR's services with our implementation offerings, we received our first customers through handshakes at the show. We've learned over the years that success isn't necessarily based on the size of the booth, but based on the value of your offering to Acumatica.
Returning to the Summit
Every year's event is a new adventure, with Acumatica and vendors from all over the world bringing a variety of new developments to the "ERP table." By engaging with innovators from across the industry, Summit attendees will be able to learn the available solutions and see which of these fit their customers' needs.
Event-goers will be able to form relationships with the various ISVs and VARs and speak regarding potential projects and developments going forward. With increasing numbers of VARs, ISVs, and merchants associating themselves with Acumatica (and attending the event), there is always room for networking and expansion of perspectives. This event is the best way to find Acumatica partners, attain customers, and build relationships.
While the people and innovations are the core of the event, Acumatica is always at the top of its location game. This year, they chose sunny San Diego to rescue a portion of the Acumatica network from a chilly winter. While those based in warm weather climates may not get the relief in temperature, they still get a trip to Southern California to the electric environment of the Summit, where they can improve Acumatica skills and broaden their knowledge.
With a core focus of supporting VARs by providing implementation and support services, as well as being official partner providing Acumatica eCommerce solutions, this is the perfect venue for Kensium Solutions.
In addition to offering our services, we also have a larger goal in mind as the official eCommerce partner of Acumatica. This year, we have teamed up with Magento (Acumatica's official eCommerce platform) as the Executive Sponsor to introduce the eCommerce vertical to Acumatica partners.
Attendees can find the Kensium-Magento booth at the Summit and attend our sessions to learn more about eCommerce and why it matters in the Acumatica marketplace. Additionally, they will discover how they can sell Acumatica and eCommerce additions to merchants considering a new ERP implementation for their business.
For information on Kensium, Magento, or eCommerce with Acumatica, find our booth in the Grand Foyer at the Summit.
If you can't wait to learn more about eCommerce, follow any of the links below.
Kensium: www.kensiumsolutions.com/acumatica-customers.html
Magento: www.magento.com