It was wonderful to see the Acumatica community last week in sunny La Jolla! The theme for Acumatica Summit 2017 was collaborate, innovate, and accelerate and we did just that over a jam-packed five days of networking, learning and fun!  With 800+ attendees – a mix of customers, partners, and industry analysts – the Acumatica community gathered to drive the success of their businesses.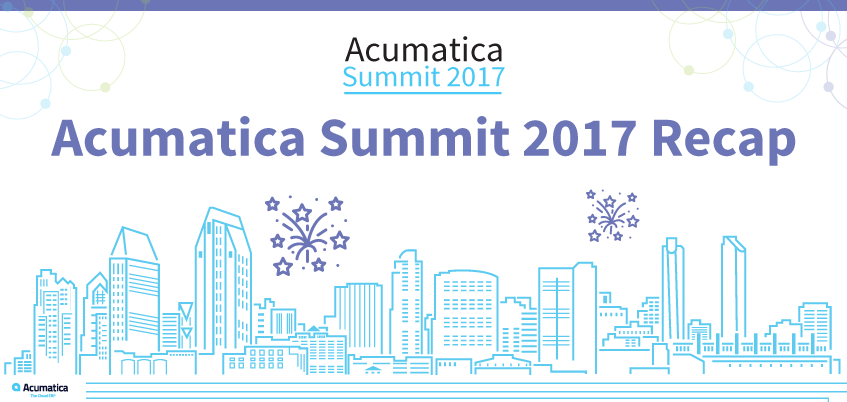 This year's Summit kicked off with the welcome reception on Sunday night to a packed expo floor. A big thanks to all of our sponsors and exhibitors.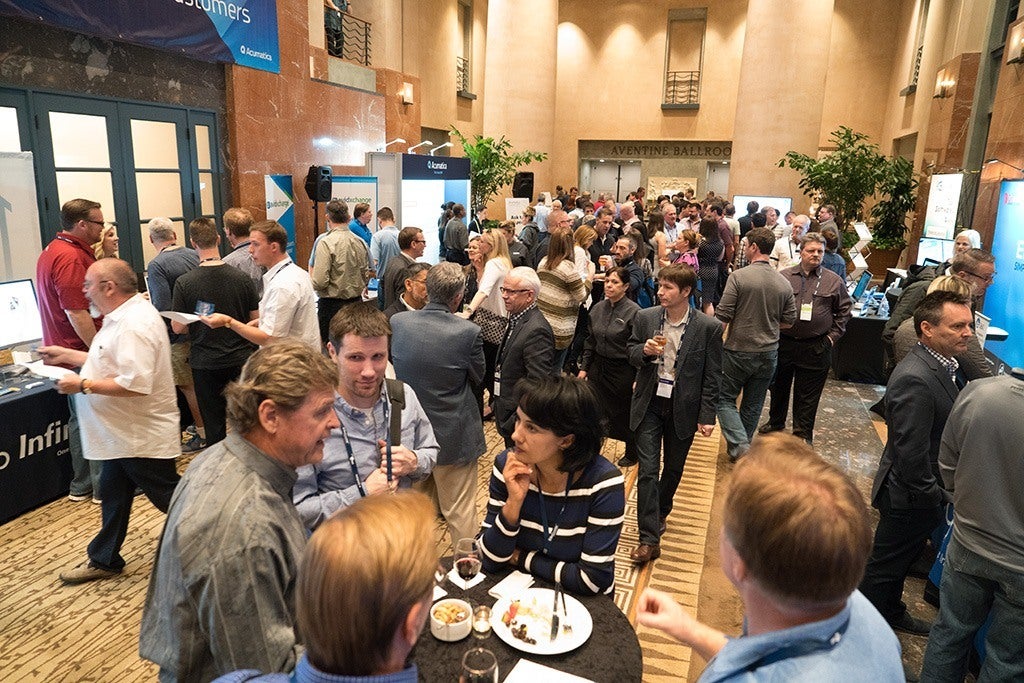 From there, the week quickly picked up steam, starting with the opening keynote by Acumatica CEO, Jon Roskill. Jon shared with attendees that Acumatica just finished its third year of phenomenal growth – 83%! – and it is still the fastest growing Cloud ERP. He also emphasized the importance of customer satisfaction, and announced the bundling of Acumatica Support with every new sale. Another OEM partner, Senior Software, was announced, showcasing Acumatica's global reach via a number of OEM partnerships. Senior Software CEO Daniel Toma said: "We are very excited about releasing SeniorXRP, powered by Acumatica, to our customers who have been waiting for just this kind of advanced web and mobile solution to manage their businesses.."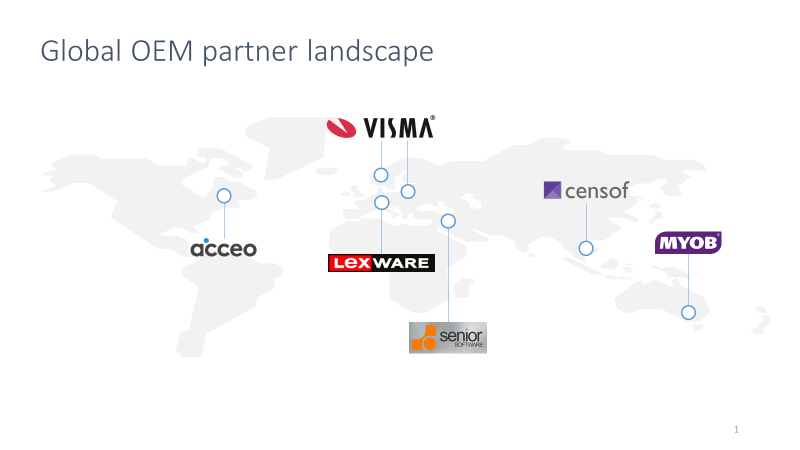 Roskill then reiterated what Acumatica has always understood: the Cloud isn't just "The Cloud" but many individual clouds with individual capabilities and requirements. We live in a multicloud world.
Acumatica's Cloud ERP platform is based on seamlessly integrating business applications and services within this multicloud world. Customers and vendors do not want to think about the integration process itself; they just want their multi-faceted programs to work effortlessly together.
Also announced was our new Commerce Edition as revealed via a video showcasing  Acumatica customer SHOEBACCA. "The Acumatica Commerce Edition includes all the essentials for running a scalable ecommerce business," said Acumatica's Roskill. "The core offering includes advanced financials, distribution, and integration with Magento using Kensium's Connector. The solution is pre-configured for a multicloud world so we could bring in optional add-ons such as Avalara's industry-leading sales tax calculation and Fusion's barcode scanning and warehouse management tools."
Additionally, Acumatica 6.1 was released, bringing with it better dashboard drill-down, smart capture for expense receipts, universal search, and improved responsiveness of long-running processes. 6.1 is available to all Acumatica customers today – talk to your Partner to get this running for your business.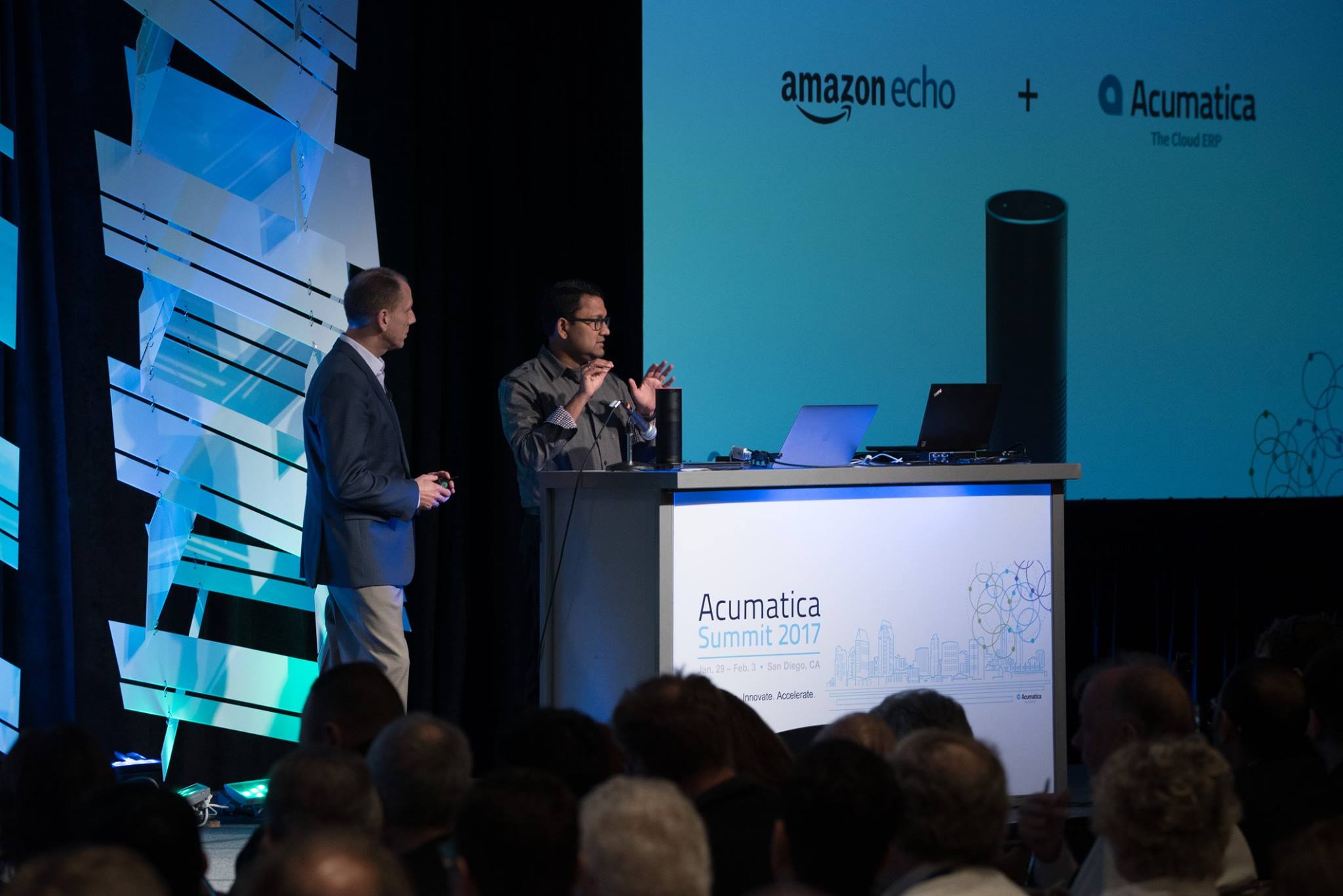 Pictured: Acumatica CEO Jon Roskill and Ajoy Krishnamoorthy, Head of the Cloud Platform Division at Acumatica, demonstrate the Acumatica and Amazon Echo integration.
The remainder of the day was devoted to Customer, Partner, Marketing, and Sales breakout tracks where attendees took part in trainings, Q&A sessions, and strategy forums all geared to fully utilize Acumatica's platform and products in a way that accelerates your business.
Pictured: A Customer training track at the Summit.
Monday evening finished with the Celebration Party and the Acumatica Hack-a-thon. The Celebration Party included a throwback to retro video game days, with attendees playing arcade games, ping pong, and foosball.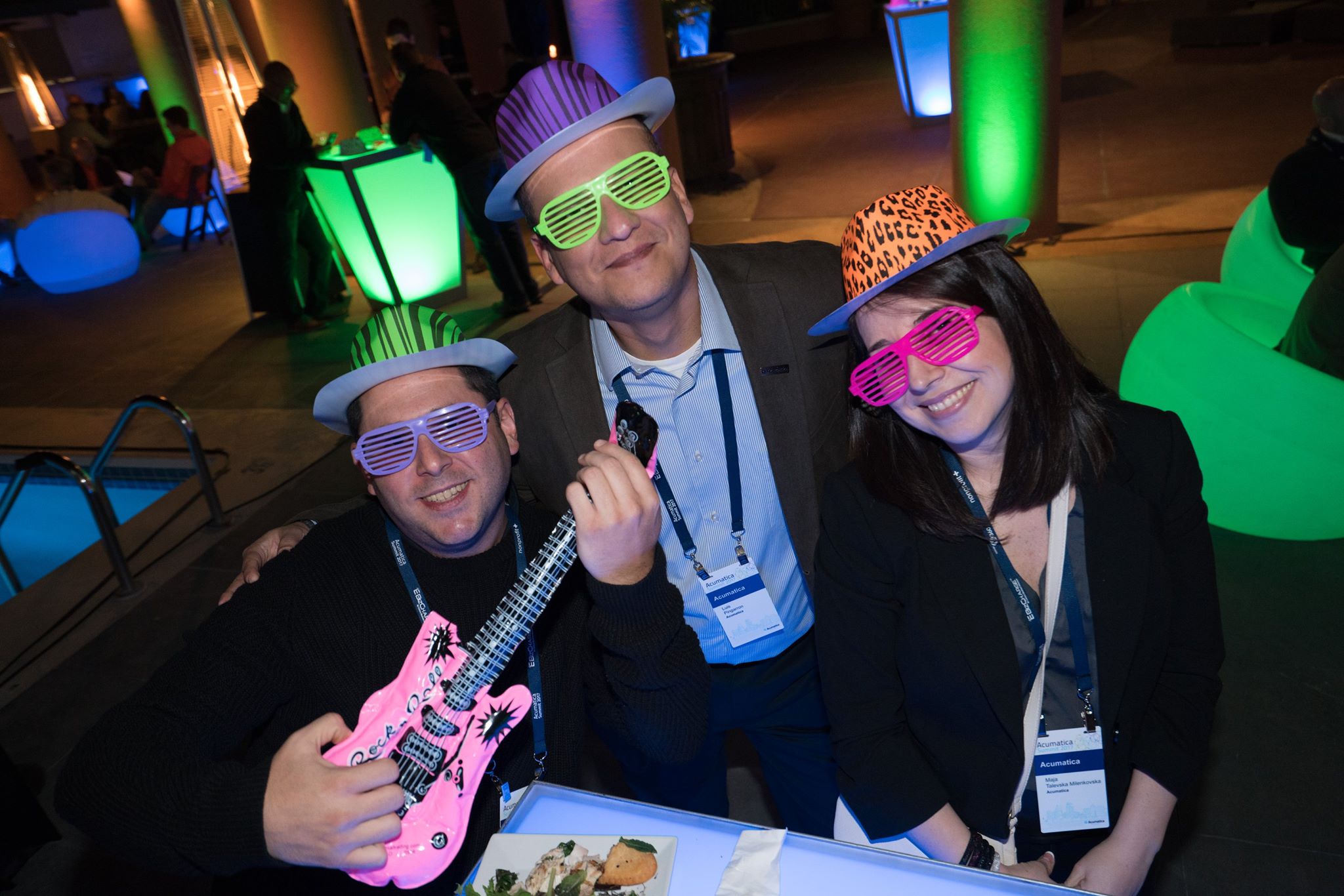 Pictured: Attendees at Monday night's Celebration Party.
The inaugural Hack-a-thon was a fun event of coding and learning with the Acumatica xRP Platform, where developers and solutions architects competed in building solutions/integrations using Acumatica APIs. Congratulations to the two winning teams, Epsilon and Delta!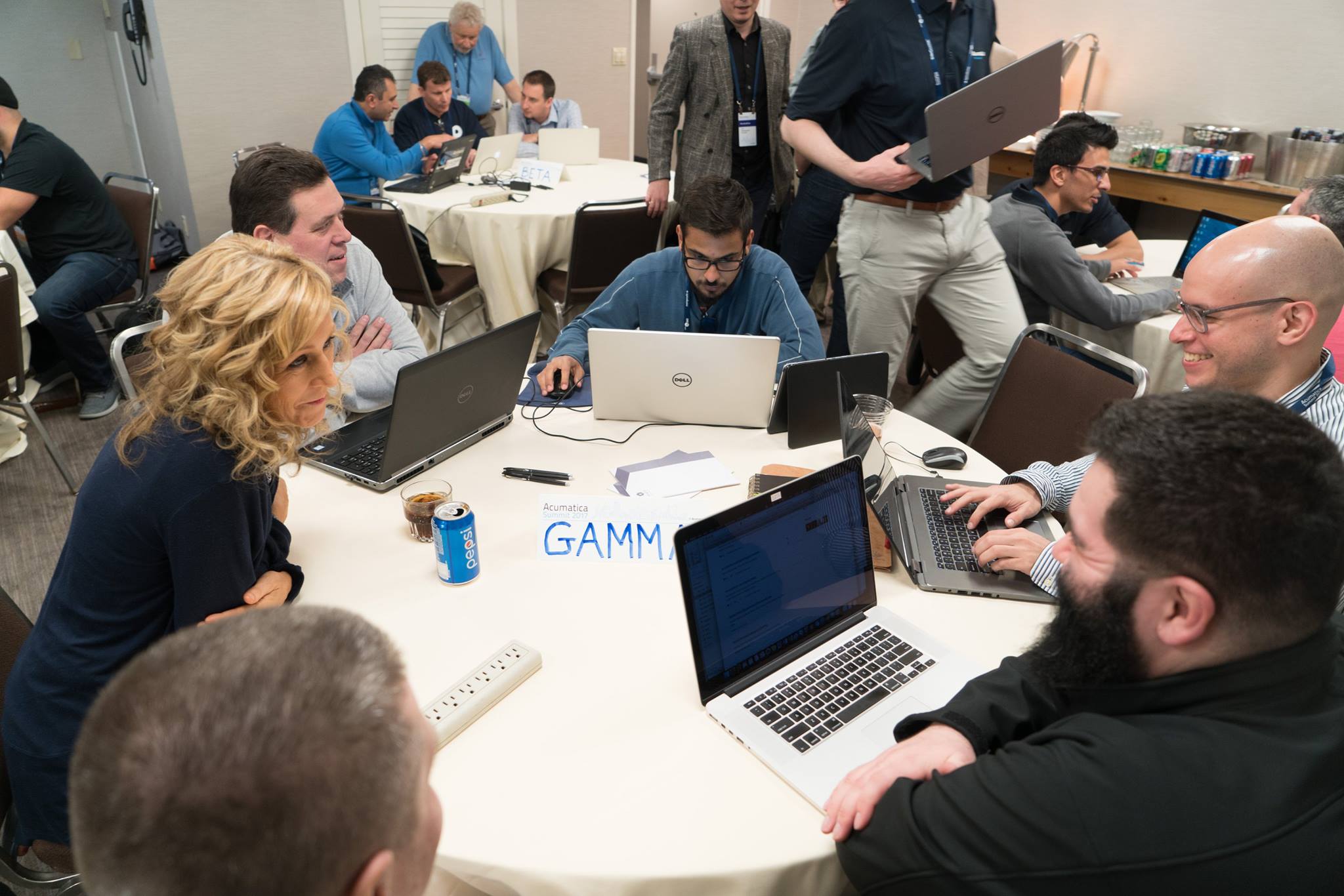 Pictured: GAMMA team members at the Acumatica Hack-a-thon.
During Tuesday's morning keynote, Acumatica customers from a wide-variety of industries took to the stage explaining the reasons they selected Acumatica, how the platform met their critical requirements, and describing the effortless nature of their implementation experience. Some of the quotes from the panel are included below.
Ease-of-use, price, and ease of management were all factors that went into choosing Acumatica as our Cloud ERP.
Acumatica won in our ERP search, hands-down. It had more functionality, ease-of-use, and was half the price.
We identified 136 requirements, compared multiple ERP vendors based on them. We used a checklist for our search. Acumatica checked everything off of our list.
My favorite feature of Acumatica is the accessibility of the Acumatica team. I've met multiple times with Jon Roskill, the CEO, as well as other members of the Acumatica leadership team.
Several Cloud integrations were announced during the keynote on Tuesday: DocuSign, the pioneer and global standard in eSignature and Digital Transaction Management: Together, DocuSign and Acumatica will bring companies around the world the solution of becoming 100% digital. Eliminated is the need to print, fax, scan or overnight paper documents and payments. Secure and easy online business transacting anywhere, anytime, on any device is the result. "We are thril
led to welcome Acumatica to the DocuSign Global Trust Network of more than 100 million users across 188 countries," said Mark Register, SVP of Business Development and Channels at DocuSign. "With this integration, Acumatica is helping bring the power of DocuSign's DTM platform and eSignature solution to more companies around the world so they can achieve all of the benefits of the fully digital business." Accounting Today reported on this exciting new integration, saying "The ability to offer e-signature options is a step towards more efficient processes for customers who want or need to reduce paper-based transactions."
Several multicloud scenarios were presented during the keynote, including an Amazon Alexa demonstration along with a Skype bot interaction and a Blockchain example using Acronis. GeekWire noted this about the Amazon Alexa integration: "In advance of the conference, Acumatica created an Alexa skill for distribution inventory, tapping into its ERP technology. For example, in a warehouse, a worker could walk up and ask how many laptops are in stock, and Alexa would give a number and say where the machines are located. If an item is out of stock, Alexa would say so and ask if she could order one.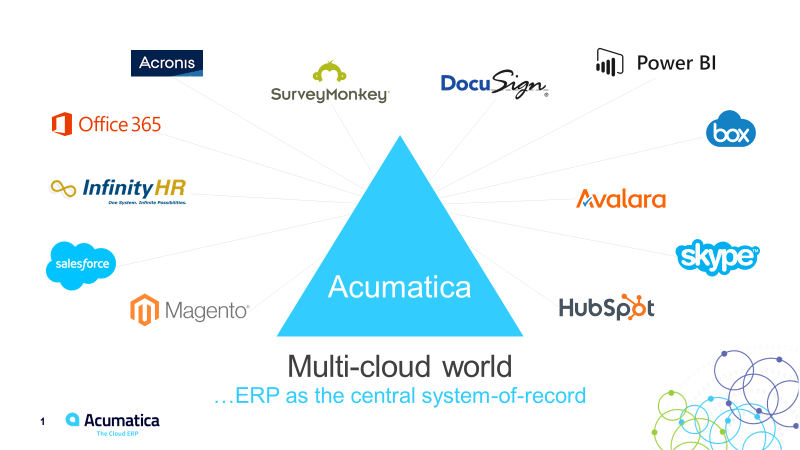 Pictured: The multi-cloud world of Acumatica.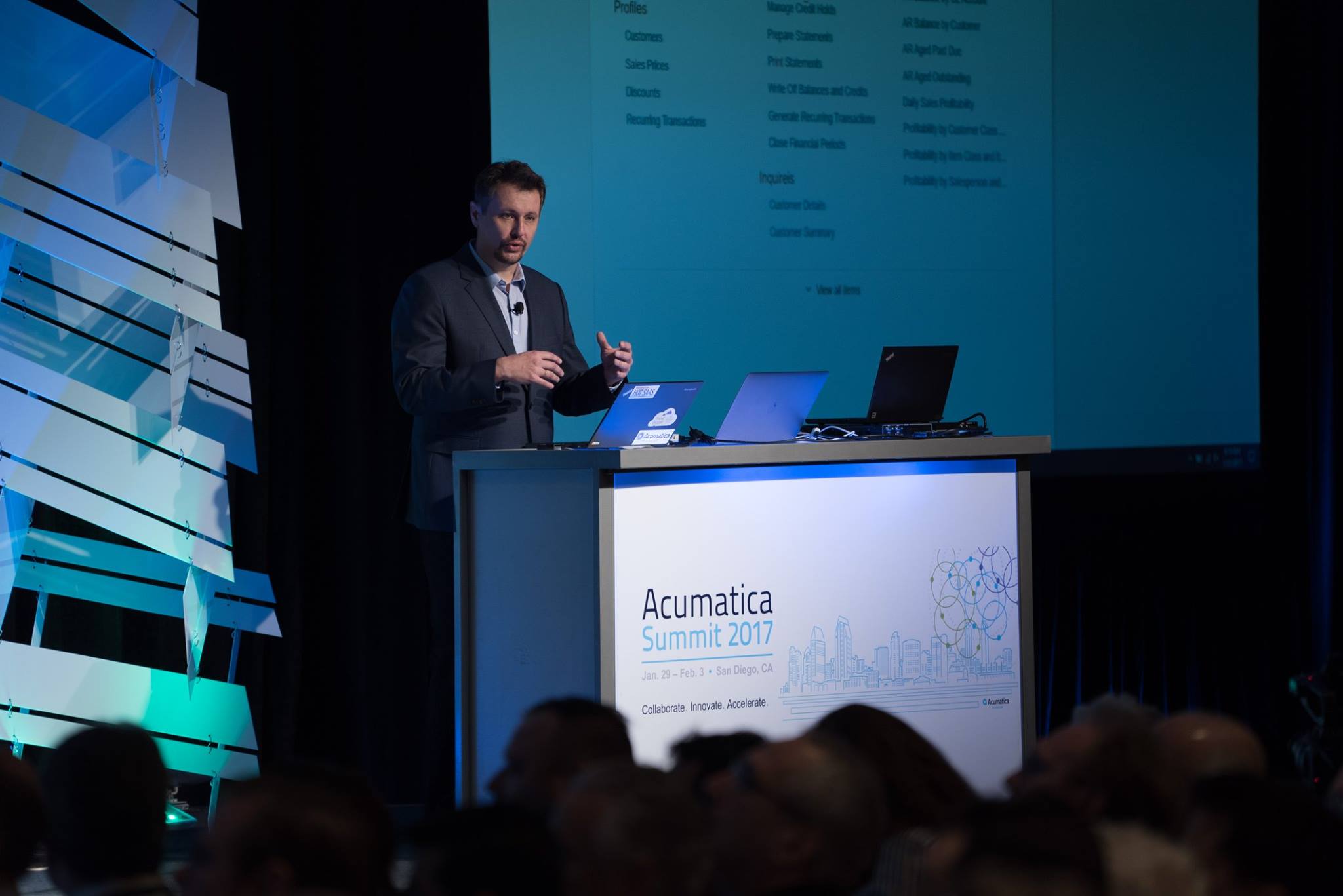 Pictured: Acumatica CTO Mike Chtchelkonogov demonstrates the new Acumatica features and integrations.
More breakout sessions filled the day; attendees had their choice once again of Sales, Marketing, and Product tracks ranging from tips and tricks for productivity in Acumatica to techniques on how to troubleshoot when challenges arise. All of this content is now available for download on the Acumatica Partner Portal (Login required).
Acumatica Summit would not be complete without a motivating speaker. Kevin Harrington shared his experience and knowledge he learned as an entrepreneur. Known as the original Shark on ABC's hit show Shark Tank, Harrington is a speaker, coach, entrepreneur, and business expert. He had a lot to say, from sharing about five key components of a successful entrepreneur, to the 10 aspects of an excellent sales pitch.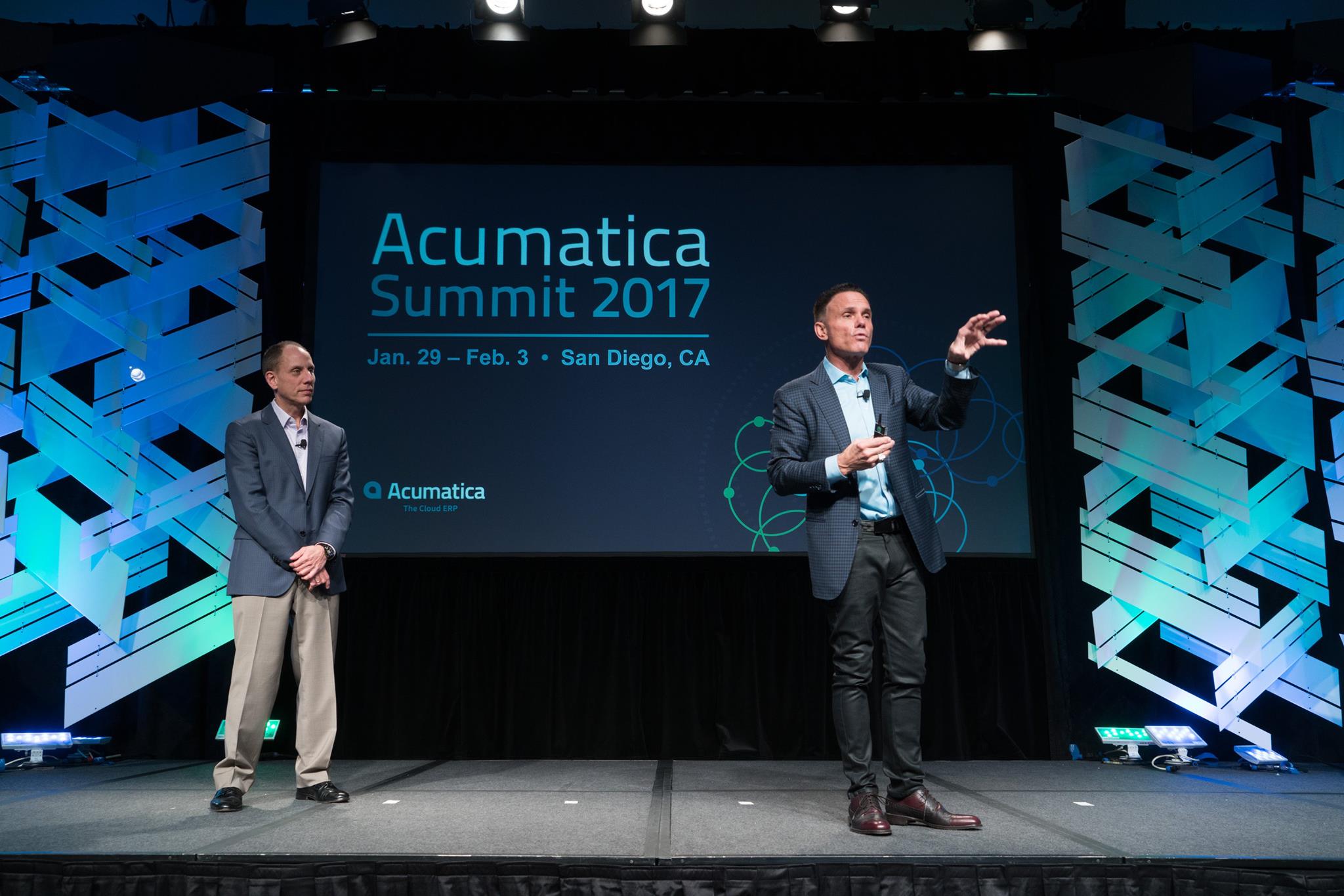 Pictured: Acumatica CEO Jon Roskill and Kevin Harrington.
The Summit was just beginning for some on Wednesday morning as customers and partners attended one of 17 training tracks across Financials, Project Accounting, Pre-Sales and many more. The demand was very high and several of the tracks were sold out. (reminder to register early next yearJ). The amount of networking happening over lunch was exciting to see and we'll be looking for ways to bring more training content to you throughout the year.
 I always walk away from Acumatica Summit feeling so energized after spending time with the community and hearing about our customers and partners' successes. Here's what some of them had to say:
First Acumatica conference and looking forward to many more! It was a GREAT experience with all the resources a customer could ask for in regards to the whole Acumatica team being present!
Looking forward to Nashville!
Very much enjoyed the event, well done.
Superb job – loved the keynotes and time with the execs.
Did we meet your expectations? We truly would love to hear your feedback so that we can implement it for next year. You are the reason we do this every year and we strive to make each one better than the last. If you haven't already completed the survey please do. I personally read every single comment. Fill out the full event survey now and you'll be entered to win a Free Acumatica Summit 2018 registration!
If you weren't able to attend Summit or want to watch a replay of the keynotes, they are now available on demand on the Summit site – Summit 2017 Day 1 Keynote and Summit 2017 Day 2 Keynote.
Acumatica Summit 2018 is in Nashville, Tennessee at the beautiful Omni Hotel and we hope you can attend, whether it's your first time or you've attended every year. Our goal is to help you flourish in this multicloud world. When you succeed, we succeed. We look forward to making 2017 prosperous as we continue to collaborate, innovate, and accelerate as a community!
I'll see you at Acumatica Summit 2018.