There's no need to choose between quantity and quality at Acumatica Summit 2017. With more training tracks than ever before, you can have the maximum number of choices and the same quality you always expect at our Summits. (And if you've never attended before, prepare to be amazed!)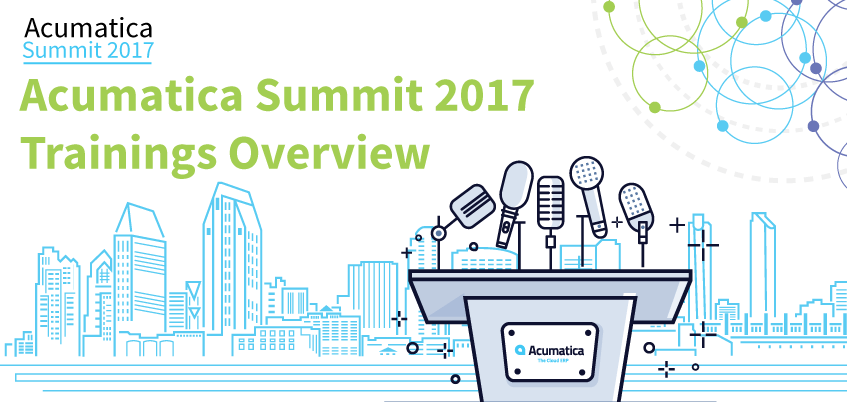 This coming year in San Diego, we're offering 17 training course options, all from the most highly demanded areas of Acumatica functionality: financial, distribution, project accounting, web services, customization development, and more. These training tracks are designed for different knowledge levels—beginner, intermediate, and mixed. Some trainings have experience prerequisites, usually a year's experience with Acumatica or a prerequisite online course to complete before attending the session, while others, particularly the trainings for beginners plus intermediates, don't have any requirements for attending and allow you to deepen your knowledge and discover what else Acumatica can do for your business.
Training Course Highlights
There are three quick things I wanted to highlight about the trainings:
Distribution Intermediate is being offered for the first time due to high demand!
Service Management in Acumatica is another new course offered to both Partners and Customers.
We are certified to issue CPE credits to attendees and follow NASBA's quality standards for training development.
Our instructors are experts in the functional area they present. Each instructor will also have an assistant, such as an analyst, product manager or developer, to help answer attendee questions and give folks even further insight.
Come to Learn, Leave as an Expert
We know your time is highly valuable, which is why our instructors help attendees accelerate their Acumatica usage skills so they can unleash the platform's full potential in their business. But the primarily skills-oriented trainings don't just end there. Instructors also care about teaching effective implementation. It's not enough to know how to do something—you have to know how to do it efficiently. And if that means coming to the Acumatica Summit 2017 with the full expectation that you will get insider tips and tricks not available in traditional training materials, you'd be right on target.
Expertise is the end goal here. After the Summit, you'll be able to go back to your business with concrete things to implement and a better understanding of Acumatica functionality. You'll be able to share what you learned, as well as the printed training materials, with colleagues in your company. Not to mention the Summit is the perfect environment to focus on training without distractions from the office.
Instructors will also help you discover your next areas for training growth. You'll hear about other training opportunities—either online or onsite—available throughout the year, and you'll receive more informational resources.
Collaborate with other Acumatica Users
You should also expect to grow your Acumatica community. The Summit is the only place where Acumatica Partners and Customers come together to exchange experiences and make connections within the Acumatica professional ecosystem. While everyone is welcome to develop a personal relationship with their instructors and Acumatica team members, a huge part of the value also comes from fellow attendees who can share ways Acumatica has helped them overcome challenges in their businesses.
If this overview intrigues you, register for Acumatica Summit 2017 and start counting down until we see you in San Diego in January!
Have feedback on our educational resources? We'd love to hear your ideas! Please email training@acumatica.com for training materials feedback and doc-feedback@acumatica.com for documentation (user guides) feedback.