As we celebrate our 10-year anniversary at Acumatica Summit 2018, we believe it's a great time to reflect on where we've been and where we're going. The year ahead promises to be exceptional, and we want to keep you informed of everything that's going on at the Summit as well as with our cloud ERP platform and products.
We've only gotten through day one of Acumatica Summit 2018 here in Nashville, Tennessee, and we've already established that 2018 will be another a year of amazing growth and innovation! As we look to that future, we also look at our past to see how it influences the steps we take to advance the success of our customers and partners in the cloud.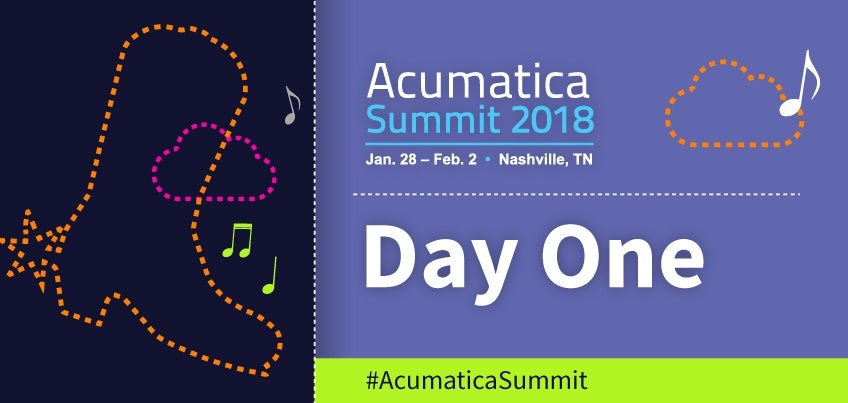 Reviewing 2017 at Acumatica Summit 2018
Last year was another fantastic year focused on continually improving our cloud-based business management software. In fact, Acumatica received no less than five prominent awards for our cloud ERP platform: three Editor's Choice awards, a Best App award by PC Magazine, and the Best Cloud ERP Solution by the CODiE Awards. We were also recognized as a Visionary in Gartner's Magic Quadrant for Cloud Core Financial Management Suites.
Acumatica CEO Jon Roskill opened up the Summit acknowledging Acumatica's stellar year. He said, "In addition to our 10-year anniversary, we've now attained five consecutive years as the fastest-growing cloud ERP company in the world. That's a testament to our employees, to Acumatica's technology, and to the mutually-beneficial partnerships we've formed with ISVs, VARs, OEMs and our customers across many industry sectors."
During the Welcome Keynote, Jon told more than 1,000 attendees that Acumatica surpassed 4,000 customers in a wide variety of industries from manufacturing, healthcare, technology, and services to non-profit, retail/ecommerce, travel, and food and beverage. Sixty-one new VARs were added to the now over 400 partners in North America, Western Europe, Asia Pacific, and Latin America. Some of these new partners include Blytheco, MIBAR.net, Strategies Group, Algorithm, Mayer Group, CBIZ, and Integrated Business Group.
In addition to these impressive stats, Jon also announced that Acumatica achieved 144 percent new revenue growth for 2017. This is more than doubling of our revenue year-over-year!
Previewing 2018 at Acumatica Summit 2018
The fact that we've had remarkable yearly growth and success worldwide indicates that we're on track to continue doing the same in 2018. We rely on our own ability to continually add and enhance our cloud ERP solution with technologically advanced features. To attest to this fact, we're not letting the dust settle from the launch of our Acumatica 2017 R2 and introduced Acumatica 2018 R1 with its exciting improvements during day one.
Attendees at Acumatica Summit 2018 were the first to witness the increased usability and data insight capabilities of Acumatica 2018 R1. Our already real-time mobile ready dashboards with drill-down and specifically designed analytical tools have been enriched even further.
Here's a brief look at what was demonstrated and what users can expect:
For our Financial Suite, inter-company accounting for multifaceted organizations is available, simplifying the process of differentiating companies from their branches and departments. Moreover, there are new capabilities to split transactions during the reclassification process and improvements to its revenue recognition engine, adding elements needed to support ASC 606 standards.
The Sales, Inventory, and Distribution capabilities now include one-click order processing, real-time integrations to popular point-of-sale systems, and an integrated Acumatica Device Hub solution ideal for high-volume fulfillment operations needing to interact with high-speed printers, CUBA scanners, scales, and other automation devices.
For our Field Service suite, advanced capabilities were added including real-time GPS tracking of vehicles, improved tracking of equipment and component warranties, and optimized workflows to support complex service contract life-cycle scenarios.
For our Customer Management suite, Acumatica 2018 R1 now supports multiple quotations for opportunities, real-time Salesforce integration using the latest streaming API technologies, and enhanced workflow embedding back-office operations seamlessly to CRM for optimal user experience.
Chief Product Officer Ali Jani had this to say about our newest release, "Customers are challenging us to constantly innovate and extend our offerings as a way to maximize their business success. Acumatica 2018 R1 meets this challenge with substantive new capabilities that enable customers to accelerate their business growth."
Stay tuned for more from Acumatica Summit 2018
Acumatica Summit 2018 has just begun. We're anticipating the entire week to be just as educational as the first day, filled with breakouts, training tracks, and speakers dedicated to everything cloud ERP.
If you aren't at the Summit and you have questions about Acumatica's cloud-based management software, please contact us. We're excited to see how 2018 will bring even more growth, innovations, and success to our customers and partners!