Acumatica Summit 2018 was filled with amazing activities all geared towards helping the Acumatica community accelerate their success in the cloud through practical solutions. Read on to hear what Acumatica CEO Jon Roskill, along with other members of the technical team, had to say about the future…and it's looking bright!
It's been an amazing week as Acumatica Summit wraps up with over 1,100+ attendees. But before we jump into the summary from day two, here's a quick overview of what we covered in day one. One of the most notable moments was acknowledging our 10 Year Anniversary with a fireworks display on the screen and a balloon drop onto the unsuspecting audience. We announced a record-breaking year in 2017– including reaching the milestone of serving 4,000 customers worldwide and hitting 144% new revenue growth. This feat was made possible by the efforts of the whole community and ecosystem. Lastly, we broke down Acumatica 2018 R1, as well as looked at Acumatica's API journey and why we're proud to now be a member of the Open API Initiative. Be sure to check out all the details in my post highlighting day one.
And now for a look at day two and everything in store for Acumatica in 2018 and the future.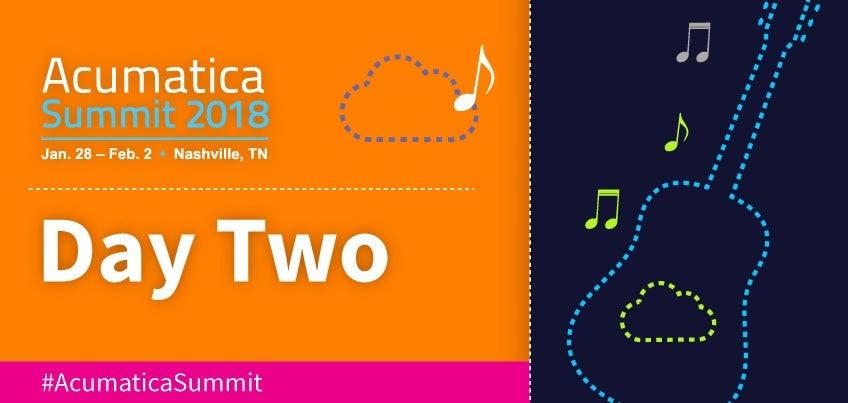 Acumatica Summit 2018: Tuesday's Keynote
Jon followed his day one Keynote with an equally inspiring message on Tuesday about Acumatica's future and how we aim to give back to both our local and global communities.
Emcee Christine Chen, President and CEO of Christine Chen Communications, kicked off the morning in an interview with Jon, where he shared his passion for giving back and how as Acumatica grows the impact we make grows along with it. Ajoy Krishnamoorthy, Vice President, Platform Strategy, joined the discussion to talk about Made in a Free World, a company that provides a supply chain transparency tool called FRDM, which helps businesses and consumers abstain from participating in human trafficking at any level of their supply chain.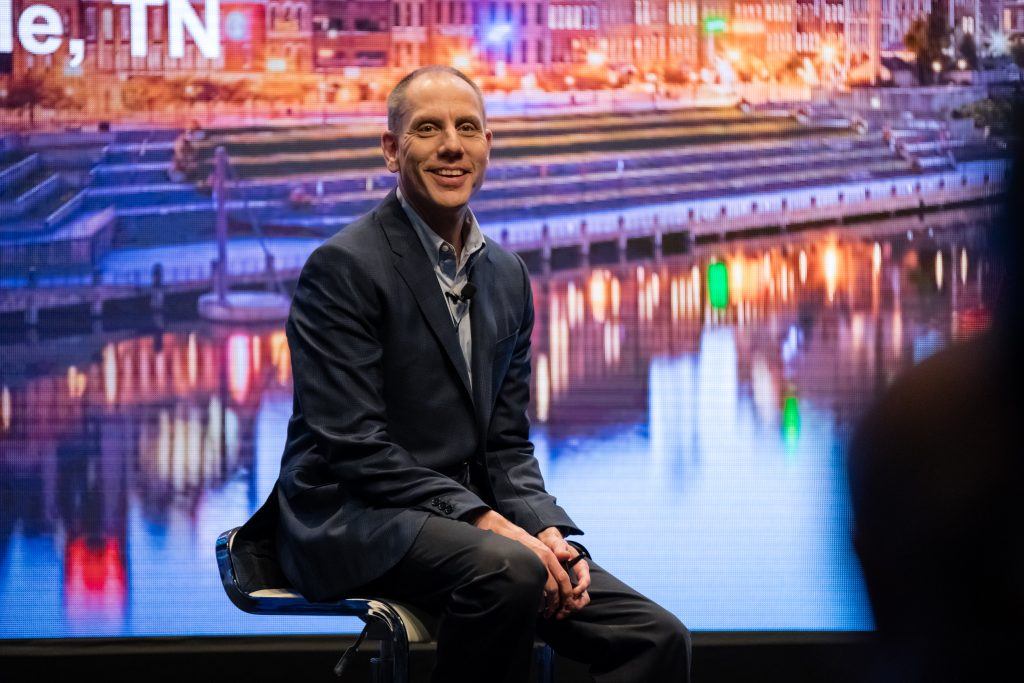 Pictured: Acumatica CEO Jon Roskill
Another aspect of Acumatica's emphasis on social responsibility is our sponsorship of the Boys & Girls Clubs, YouthForce, and the Mid-Ohio Foodbank. Just a few examples of the work Acumatica employees are doing to give back to our local communities.
Acumatica has so many fantastic Non-Profit customers that are doing amazing things to better the world. We welcomed, Genevee Chiu, from Truth Initiative, a non-profit health organization determined to eliminate tobacco use through education, research, policy studies, and more. In 2017, their efforts brought teen cigarette use down to less than 6%!
Jon and Christine chatted with Genevee about the benefits Acumatica's cloud ERP provides Truth Initiative. She shared some of the features that are helping their business to become more efficient:
Access invoices from any device, anywhere;
Utilize on demand reports with real-time information;
Eliminate the worry of saving or losing receipts;
Automatically post to accounting ledger;
Working towards becoming paperless;
And give auditors direct access to information.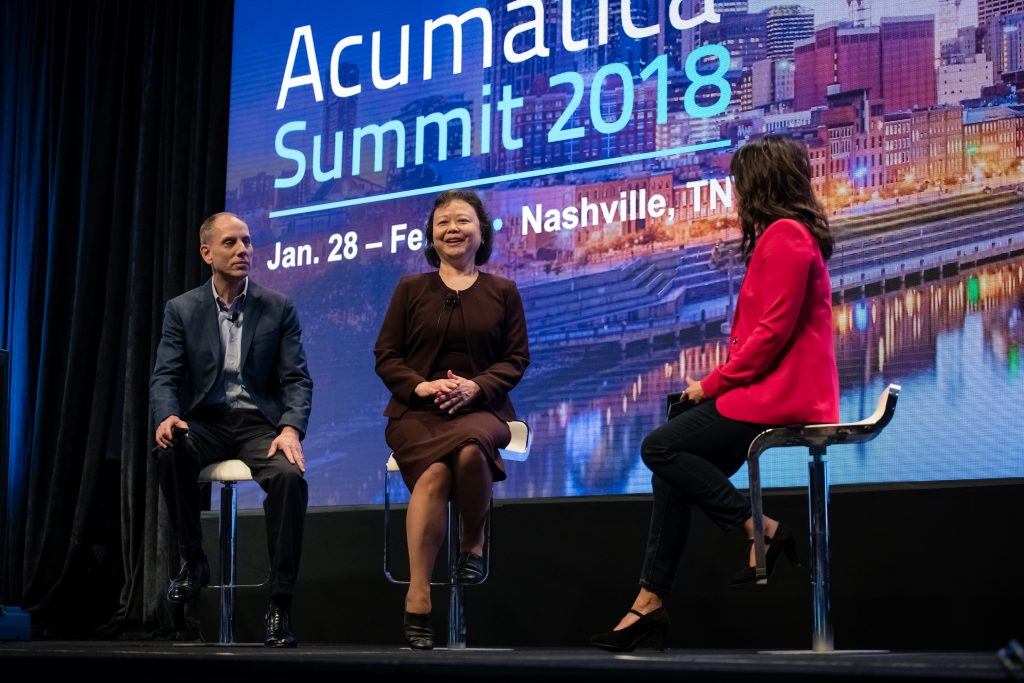 Pictured from left to right: Jon Roskill, Genevee Chiu, Christine Chen
We were thrilled to announce Truth Initiative as our Non-Profit of the Year award winner!
Being a customer-centric company is part of Acumatica's DNA and has been ingrained in the company from the beginning. Jon pointed out that we seek to deliver high value through our unique consumption-based licensing partner channel expertise as well as through providing choices, such as in deployment and data ownership. He noted that over 70% of Acumatica employees are in technical positions; we're a technology company, and we're dedicated to providing pragmatic solutions for our customers and investing in innovation without additional cost to the customer.
With this in mind, CTO Mike Chtchelkonogov took the stage to speak about our Product Roadmap. He began with our Development Strategy that focuses on our core platform, customization tools, horizontal business solutions, and vertical editions all wrapped within the boundaries of quality, best-of-breed functionality, high usability, and ease of implementation.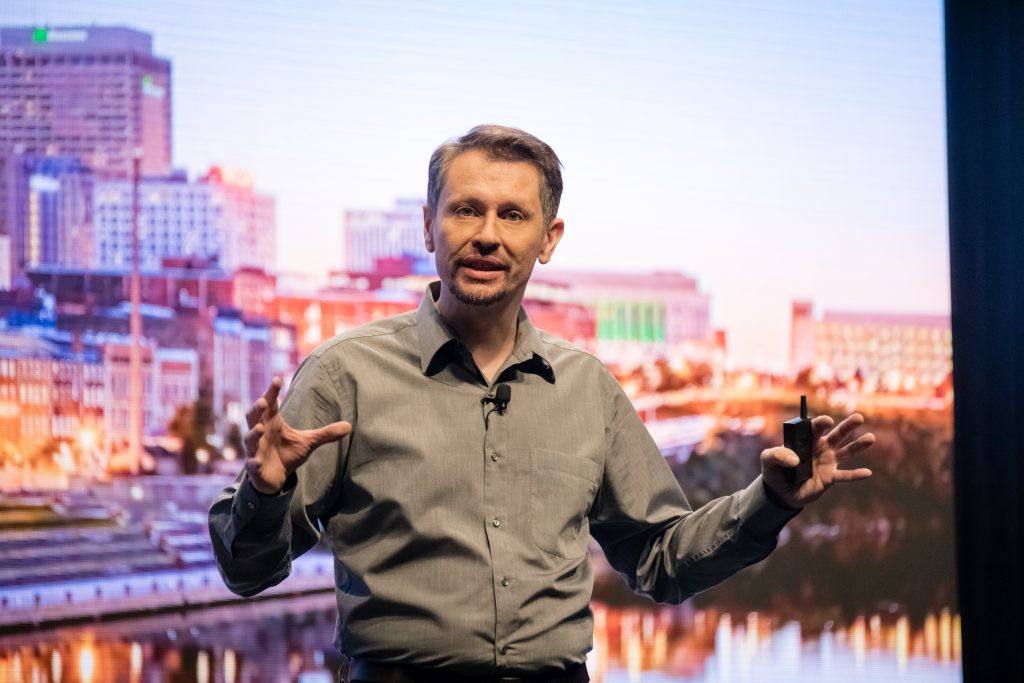 Pictured: Acumatica CTO Mike Chtchelkonogov
"Quality is the first priority. That's where we invest," Mike said.
He then laid out our Application Roadmap Priorities. These priorities include working on advanced intercompany in Financials, quote to project and multi-currency in Projects, commerce enhancements and advanced receipt and fulfillment in Distribution, improved workflow and activity stream in CRM, and mobile payment processing and advanced cost analysis in Field Service.
Next up to talk about the future of real-time capabilities was Doug Johnson, Vice President, Product Management. Doug provided a live demonstration of our real-time GPS capability within our Field Services Edition, if you need to dispatch someone to an important call the system will show you (on a map) where everyone is located, and you can assign the service order to them. Pretty amazing stuff!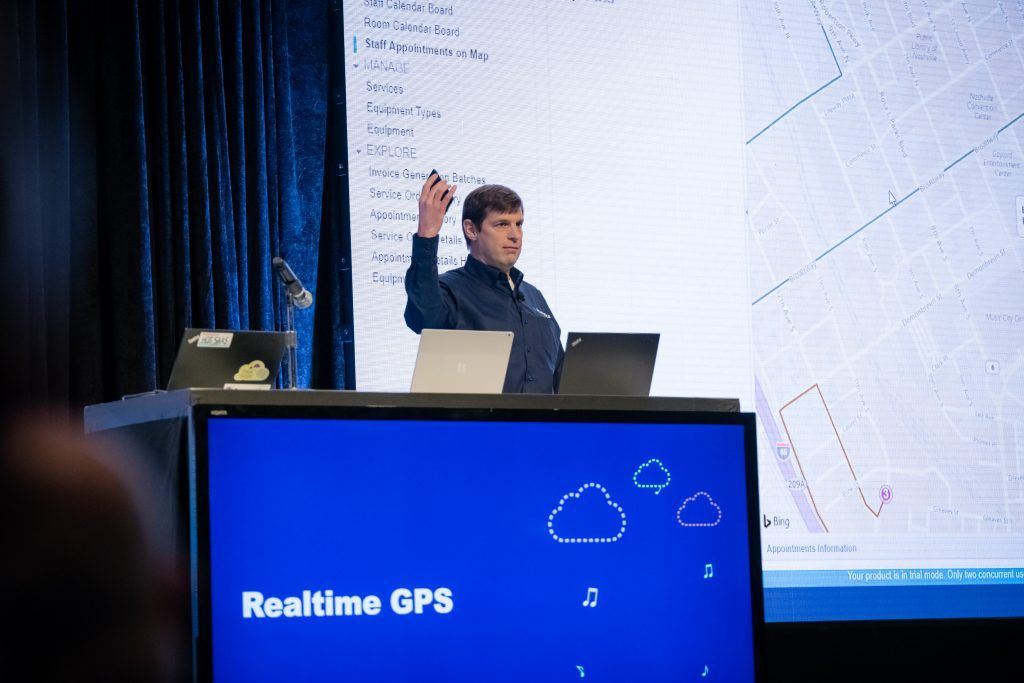 Pictured: Acumatica Vice President, Product Management Doug Johnson
Ajoy returned to wrap up the morning by demonstrating the various new technologies that Acumatica is working on, including Machine Learning/Artificial Intelligence, Internet of Things, RFID, and Voice Recognition with Alexa, and how these help address critical business scenarios and enable new use cases within Cloud ERP.
First up was a demo demonstrating how we are working with Acumatica customer SHOEBACCA and utilizing Microsoft Azure and Kensium to implement product recommendations using Microsoft Azure Recommendation Solution and fraud detection using Apruvd.
He also noted how the use of sensors gives us the ability to increase forecast effectiveness on water consumption, fertilizer utilization and yield results using data such as humidity level, leaf wetness and soil nutrient among other things. Acumatica is working with our customer Cherry Lake Tree Farm. Implementing Acumatica has allowed Cherry Lake Tree Farm workers to update data on the go, while in the field—a much more efficient process than they previously had. And using sensors will provide real-time measurements of key data, such as temperature, soil pH, humidity level, and more.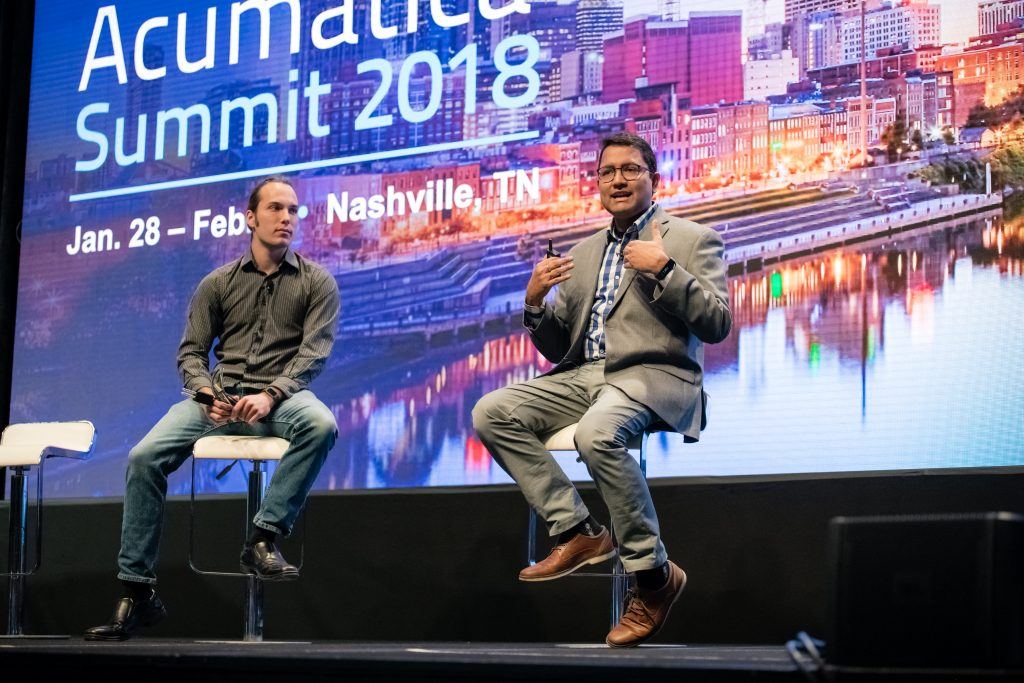 Pictured: Acumatica Vice President, Platform Strategy Ajoy Krishnamoorthy (right) talks with Cherry Lake Tree Farm
Finally, he focused on the benefits of Radio-Frequency Identification (RFID), working with IMPINJ's technology, to track in real-time items they create, manage, transport, and sell. Use of RFID helps identify any errors during pack and ship and saves a great deal of time and money from catching shipping errors before it leaves the warehouse. He also demonstrated a project leveraging blockchain technology from Intel and AWS called Hyperledger Sawtooth. With these assets the supply chain can be tracked to show the origin and establish authenticity. Acumatica is working with our customer Bluefin on this project, highlighting how Acumatica continually seeks to solve real-world problems for customers using the latest technology.
Jon then returned to the stage, where he and Ajoy demonstrated the Natural User Interface (voice) integration in Alexa, which allows greater security, to enable things like invoice approvals. This showed the ability to authenticate and authorize the speaker using the voice profile. This is based on the work Acumatica is doing with the recently announced Alexa for Business from Amazon Web Services. He also announced we would be working with Google Dialogflow in 2018 to expand NUI across multiple devices and channel.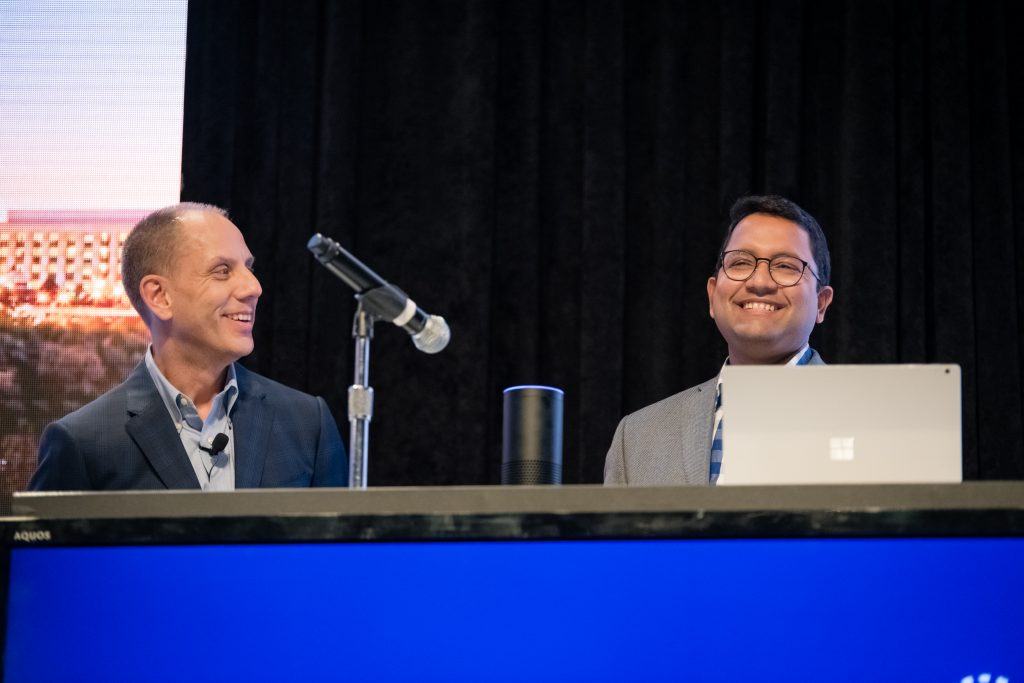 Pictured: Jon Roskill and Ajoy Krishnamoorthy demonstrate the Natural User Interface (voice) integration in Alexa
Acumatica Summit 2018 closing keynote
Tuesday closed out with a Keynote from inspiring speaker Carey Lohrenz, a retired Navy Pilot and the first fully qualified female F-14 Tomcat Fighter Pilot in the U.S. Navy. She delivered a powerful message about overcoming challenges as well as how to run high performance businesses in a fluctuating marketplace. To be successful, she stated that we must take risks and action as well as be a fearless leader.
"When pulled in many, many directions, leaders need to know their most important role: to move that performance needle faster than the competition," she said.
Hearing her advice combined with Jon's message and our platform and product roadmap was a great and motivating way to start the new year!
Acumatica Summit 2018: looking to the future
As you've read, Acumatica is committed to blazing a path into the future that is not only pragmatic but will continue our dedication to accelerating our partners' and customers' growth by improving our products, investing in new technology, and solving actual real-world problems. We're excited about what the future holds!
The Day 1 and Day 2 keynotes are now available to view on demand.
Stay tuned for a full recap of the event in my blog post next week.