Learning while in luxury has a nice ring to it. That's what you can expect at this year's Acumatica Summit 2018 venue. The Omni Nashville Hotel affords our community of Customers and Partners the opportunity to benefit from Acumatica's true cloud ERP knowledge while enjoying its amenities in the midst of music heaven.
By now, you may have heard that Acumatica Summit 2018 is being held in Nashville, Tennessee from January 28-February 2, 2018 and that we're celebrating our 10th anniversary! You may also have heard that Nashville – known worldwide as Music City – is a fantastic place to visit with an immense amount of must-see music-related attractions. However, if you've missed this, learn more about Music City and its various attractions that should really be on your bucket list.
What you haven't yet heard about are the amazing features of the Omni Nashville Hotel, this year's Summit venue. But before we dig into those, I urge you to register right away for the Summit, as early bird pricing is only available for a limited time!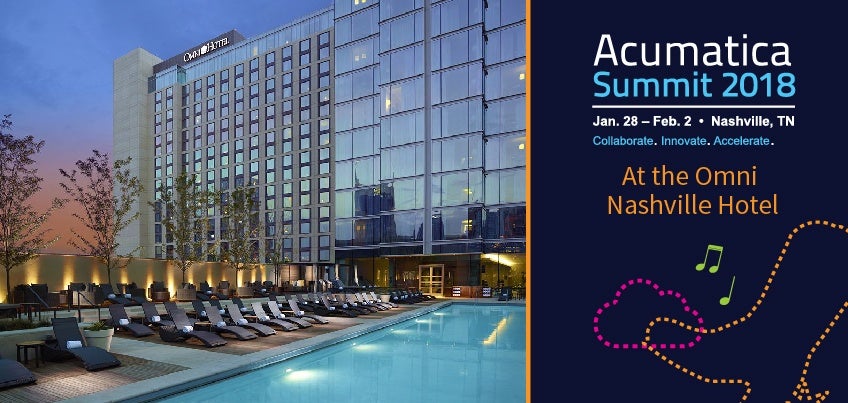 Convenient location and excellent amenities supplement our Acumatica Summit 2018 experience
The intent of our cloud ERP-focused Acumatica Summit is to be a time of business acceleration through educational meetings, face-to-face interactions with our Acumatica teams, networking, visiting our all-encompassing ERP cloud Partner Expo, and much more. All of this takes place in the award-winning Omni Nashville Hotel.
The hotel lends itself to both functionality and usability (something we know a little bit about and why we achieved a Leadership position in the Nucleus Research ERP Technology Value Matrix) wrapped in a luxurious package and offering a "one-of-a-kind Nashville experience."
Boasting over 80,000 square feet of meeting and event space, the hotel houses our keynote sessions, customer and partner-focused breakouts, and technical training tracks – along with our immense Partner Expo – perfectly. With over 800 attendees at last year's Summit, we required a location that would meet our expectations for space and service and the Omni Nashville delivers.
You will have no problem getting to the hotel located in downtown Nashville; the Nashville International Airport (BNA) is conveniently eight miles away with the added bonus of being minutes away from every amenity you could possibly wish for.
However, as wonderfully functional, usable, and accessible as these amenities are, we're currently more interested in discussing the many fun and cool features the Omni Nashville offers onsite:
The Country Music Hall of Fame and Museum literally connects to the hotel. Steps from your hotel room, the museum – dubbed the "Smithsonian of Country Music" – offers incomparable exhibits of country music history. It is advisable to set aside two-to-three hours to experience the museum fully; tickets are good for the whole day.
Speaking of hotel rooms, you won't be disappointed! The hotel accommodations – from the Deluxe Rooms all the way to the Luxury Suites – provide a beautifully appointed and private space for rest and relaxation before another round of exciting events.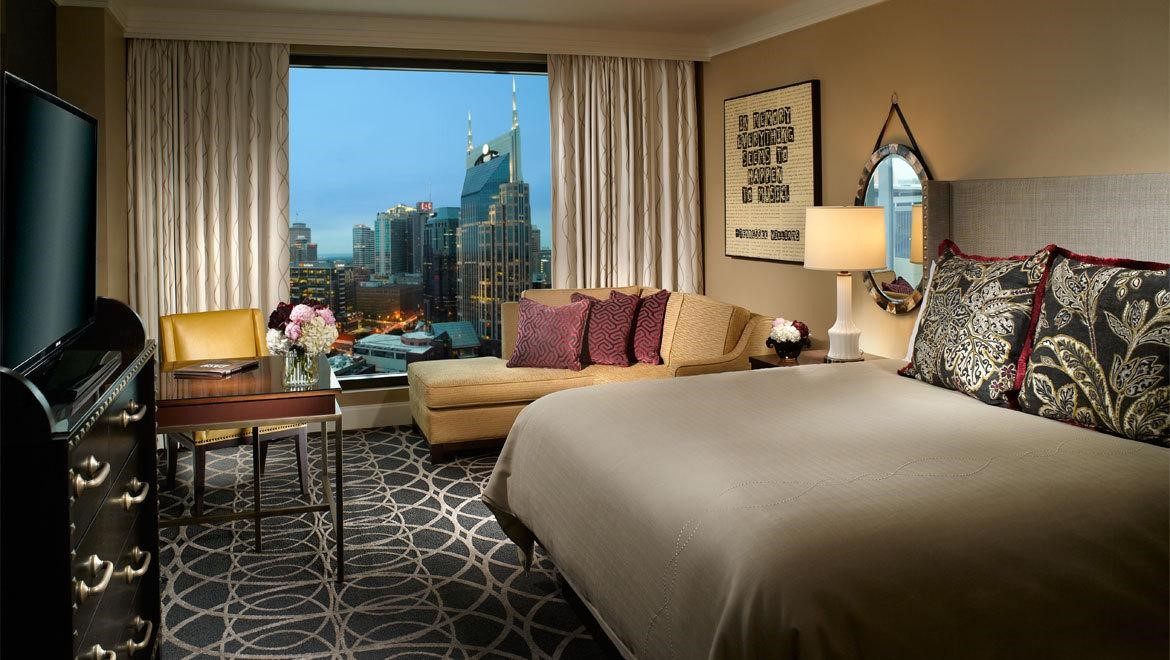 Pictured: An Omni Nashville Hotel room waiting for you.
What could be more relaxing, rejuvenating, and personally rewarding than some time at the spa? Not much. The hotel's Mokara Spa offers a variety of facial and body treatments as well as other salon services such as hair, makeup, and nails. Making appointments before the Summit may be a good idea – this could be a popular pastime for many of your fellow attendees.
Though you'll eat well at the Summit, there may be opportunity to explore one of the hotel's own restaurants and bar: Bob's Steak & Chop House, Kitchen Notes, and Barlines. Check out their menus and start planning how you can fit them all in during your stay…including their famous Biscuit Bar, which serves biscuits all day. They also have Bongo Java, an organic, fair-trade coffee bar. There's no point in trying to enjoy yourself if you don't have your coffee first, am I right?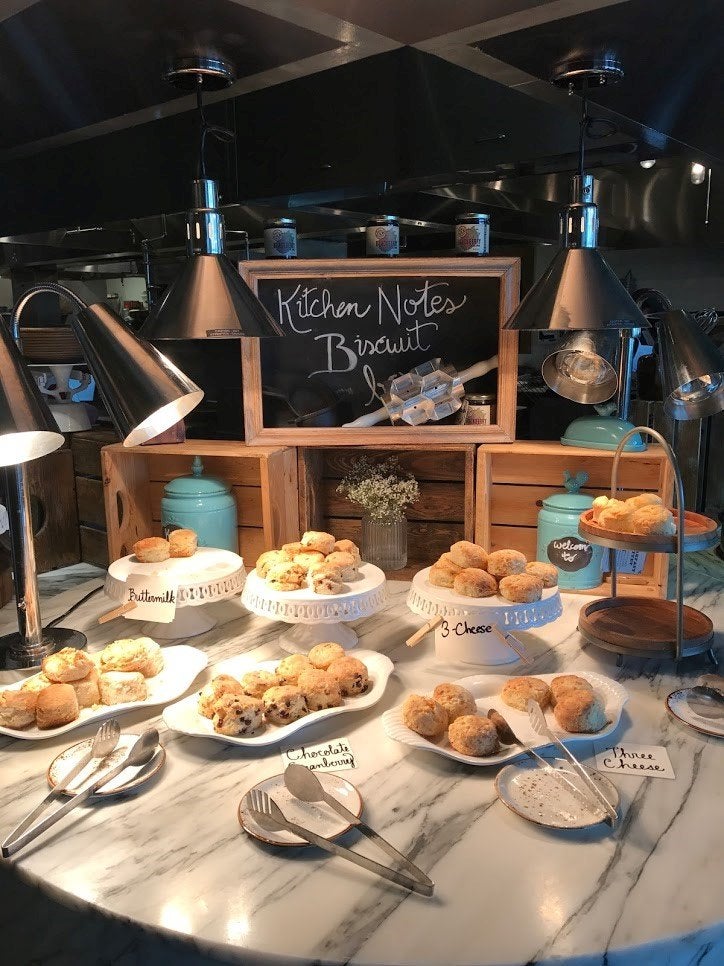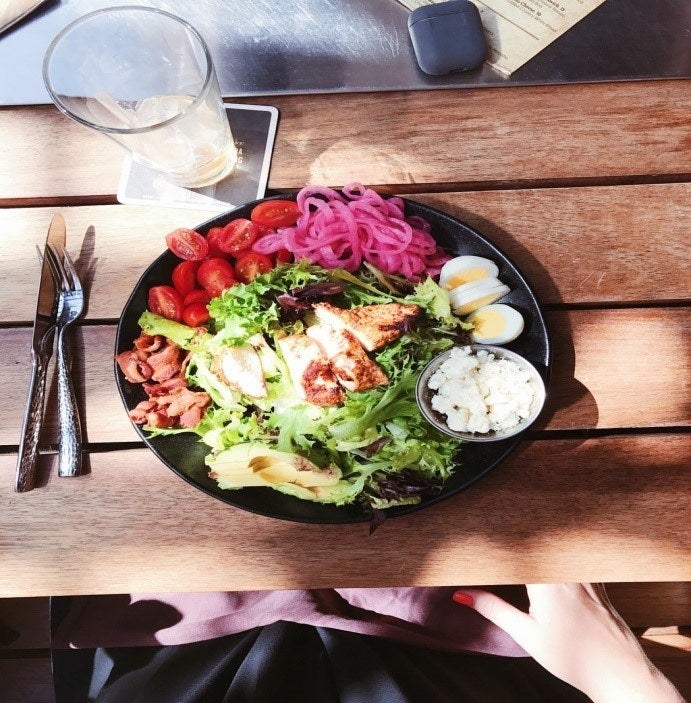 Pictured: Check out the Omni Nashville Hotel's famous biscuit bar and delicious salad from one of their two amazing restaurants!
Once you've eaten too much, you may want to check out the hotel's 5,500 square-foot fitness facility. This is for those who think downtime includes exercising. If that's you, the state-of-the-art equipment is available 24 hours a day or you can work out in the privacy of your own room with their in-room fitness kits.
Last, but not least, is the pool. We know it will be seasonally challenging to swim in their outdoor pool but being that it is located on the rooftop with spectacular views of Nashville's downtown skyline, you should at least know it's there and take in the sights. Plus, there's a whirlpool!
Revitalize your business, and yourself, at Acumatica Summit 2018
Not everyone thinks about cloud software in conjunction with a fantastic conference experience. That's why we're pointing out the many amenities now as you plan on attending Acumatica Summit 2018 and enjoying what the hotel and surrounding area has to offer. Our Summit covers everything cloud ERP related by offering future product roadmaps to customer-centric sessions to engaging with our ISV providers, all helping fuel the success of your business while in a location that encourages revitalization.
If you haven't yet registered, I again encourage you to do so right away so you can take advantage of early bird pricing; the benefits of early registration include reduced cost and access to limited-seating training classes.
Please register for the Summit and mark the dates of January 28-February 2 on your calendar right now! Whether you mark the days as "Acumatica Summit" or "Vacation" is up to you, but you'll know they will be days well spent, filled with learning and fun.