As the fifth post on partners returning yearly to our Summits, ASI looks forward to attending Acumatica Summit 2018 for the third straight year! ASI's Karen O'Lane shares why they chose Acumatica and why it's important they attend our premier cloud ERP event.
The planning for Acumatica Summit 2018, coming January 28-February 2, 2108, is winding down and the entire Acumatica team is prepared to enjoy the fantastic cloud ERP training, networking, and fun! If you haven't registered, you'll want to do it soon (like right now) so that you too can prepare to enjoy our exclusive cloud ERP event.
Today, we get to hear from Karen O'Lane, Senior Software Consultant at Accounting Systems, Inc. (ASI), on why she and her team will be attending our annual Summit for the third straight year. Feel free to check out our previous posts on partners Kensium, PC Bennett, i-Tech, and ASC and why each company has returned year after year to our Summits.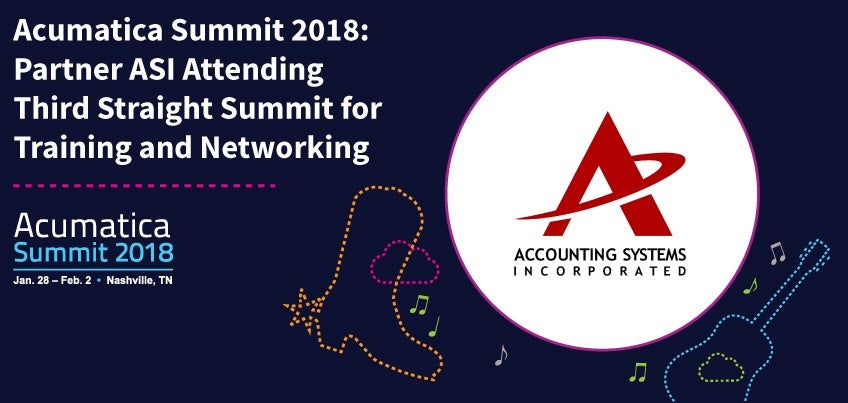 Why ASI chose Acumatica
ASI provides business management ERP solutions and support to clients across the nation. According to Karen, the company has been business partners with Sage for several decades.
"About five years back, we realized that we needed a cloud ERP system offering. We spoke with many vendors who have a cloud ERP system and weighed a lot of factors as far as which system we wanted to invest time, money, and resources into. We ended up selecting Acumatica," Karen says.
Karen has spent her 30-year career in the Information Technology industry and has implemented ERP systems for hundreds of businesses. Her years of experience help her know what constitutes a superior business management system and expresses that there were many reasons why ASI chose Acumatica.
One reason is our unique per user pricing model. "You can buy the small size which is rated to up to 25 users, but it can actually handle a larger number of users depending on the load on the system. You're not charged for those extra people getting on and using the system! That's a tremendous differentiator between Acumatica and other offerings. That has a lot of appeal to prospects," she says.
She points out that Acumatica's deployment options – SaaS, hosted in a private cloud, or on premises (which can be switched as needs change) – and licensing models – SaaS subscription or private cloud subscription – both offer customers options.
"Customers like having options. They don't like being told, 'Ok, this is a LAN product, you install it, and it's on your network and that's the only option you have'," she says.
From a partner perspective, Karen is impressed with Acumatica's service offerings. "Acumatica has a great team in all areas – marketing, sales, support, education. Acumatica has been great to work with."
This includes how she gets tech support, which is different from what she's had in the past. "The primary method for getting support is by opening up a support case online. I have opened up a lot of cases and the support people get back to us very quickly. And generally on the first pass with the answer that we need. It's really been a good experience."
Another reason ASI chose Acumatica? The Acumatica Open University. "The ability to get education on the product for partners and customers, easy access, great resources with product training guides – that's been wonderful."
Finally, Acumatica's cloud xRP platform provides great benefit to ASI. "We have access to make custom modifications within the source code and that's a very valuable tool," Karen says.
Why attending Acumatica Summit 2018 is important
For Karen, attending Acumatica Summit 2018 is important because investing in a particular software system includes attending the software system company's annual events.  Networking opportunities and meeting with people in person are valuable methods of ensuring success.
"Just making those connections, meeting people face-to-face, developing those relationships is key to long-term sustained business growth," she says.
Karen had a great reason for not attending last year's Summit: implementing Acumatica for a large customer! She's excited for Acumatica Summit 2018.
"I'm looking forward to the first couple of days with the conference in the sessions. I just want to absorb as much information as Acumatica can give us. I'm signed up for the three days of education. Now that I have a lot more hands-on experience with the product as opposed to a year ago, I should be able to learn better," she says.
Why you should attend Acumatica Summit 2018
Along with the networking and training, Karen likes the idea of heading to Nashville, Tennessee for the Summit. She says, "It's a great city. It's a really fun area."
Nashville, or Music City as it's also known, is definitely a fun city. During breaks from what Karen calls the Summit's "hard core learning," you can visit many visitor attractions and live music venues, and eat some great food while doing so.
As I said, the team at Acumatica is getting excited for Acumatica Summit 2018. We're looking forward to Nashville plus the other fun events we have planned including the three live bands performing at our Celebration Party on Monday night as well as the Yoga and 5K Fun Run scheduled Tuesday morning.
Are you starting to get excited about attending Acumatica Summit 2018? I hope so! Register right now and join us for a great week!