Acumatica Summit 2018 is almost here! Mike Dorsey, VP of Odyssey Software, shares why he's looking forward to his first Summit experience and the opportunities he's ready to take advantage of.
What do Kensium, PC Bennett, i-Tech, ASC, ASI, Avalara, and Crestwood Associates have in common? They're all Acumatica partners who will be attending Acumatica Summit 2018.
This is the eighth (and final!) post in my series following some of our valued partners and their thoughts on the benefits of registering for Acumatica Summit 2018. Today, Odyssey Software's Mike Dorsey explains why his company chose Acumatica and why he's looking forward to his first Summit.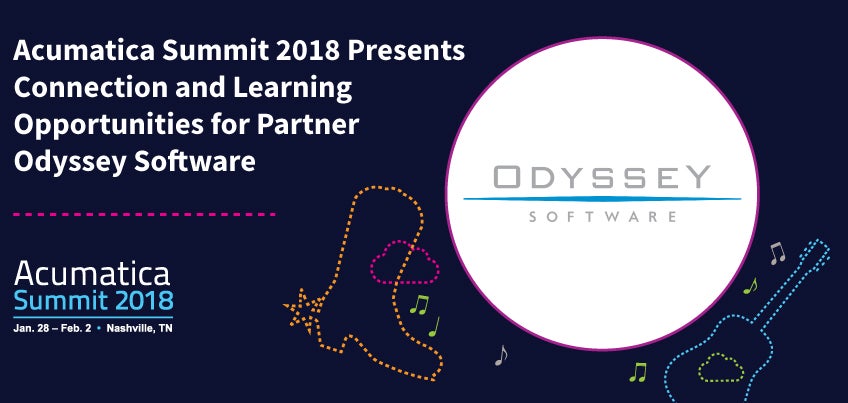 From Microsoft to Acumatica: Odyssey Software's journey to Acumatica Summit 2018
"We've been a partner of Microsoft for 25 years selling a product comparable to Acumatica called Dynamics GP. That product was not really oriented to the cloud or being a cloud-based application nor did Microsoft seem to have any intention of making it be so," Mike says.
Odyssey Software offers cloud-based support systems for their customers' financial, human capital management and budgeting needs with a focus on the nonprofit human services market. Because Dynamics GP wasn't destined for the cloud, Odyssey Software decided to look for a different product.
"About a year ago, we started looking for alternatives and we settled on Acumatica. We liked the breadth of the application. We liked its pure cloud basis. We liked that it's extensible and modifiable," Mike says. "It just seemed to be a fit for the industry we pursue."
And the partnership with Acumatica has been a success so far.
Mike says, "Kind of an overarching comment about working with Acumatica is that they really truly treat you like a partner. Microsoft doesn't really treat you like a partner, it is more 'you need us, we don't need you.'"
Acumatica's commitment to the VAR community is felt in the support services we provide. Mike agrees.
"They [Acumatica] do a very good job of putting a lot of content out in a self-service availability. As a VAR, you can help yourself. They've got Acumatica University, they've got a lot of online training – which is very helpful," he says. "Beyond that, the support they give to the VARs is generally pretty good – overall responsive and knowledgeable."
And as an Acumatica VAR, Mike says attending Acumatica Summit 2018 is important.
"They're good opportunities to one, kind of get a general sense of the organization that you're partnering with. You obviously get the opportunity to talk directly to people you tend to email and call. And it also gives you the opportunity to make connections with other partners – that's pretty important," Mike says. "It's good to have some other people who do what you do so that you can call or email them and say 'hey, we're facing this, have you ever seen this, what did you do or do you have a solution?' I think a big chunk of it is making connections with Acumatica and with the partner community."
He goes on to say, "From a learning perspective, we want to get a sense of Acumatica as an organization. We also have a couple of our consultants who are going to attend the trainings."
Acumatica Summit 2018 is almost here
With Acumatica Summit 2018 only a few days away, Mike is looking forward to heading to Nashville, Tennessee. "Nashville's a great city, a fun city. If you're downtown – and we are – it's a very walkable place. I've been in that hotel [the Summit's venue: Omni Nashville Hotel] and it's easy to walk from there out to Broadway where all the activity is."
I hope you'll join Mike and the Acumatica team in Nashville. Once you register, get ready to connect with the Acumatica community, take advantage of the learning opportunities, and have fun in a fantastic location!