It hardly seems possible that Acumatica Summit 2018 has already come and gone. Attendees deemed it a success, and I'm already excited for next year. But before we start planning for Acumatica Summit 2019, here's a recap of what went down in Nashville, Tennessee.
It was wonderful to see the Acumatica community last week in Nashville! Acumatica Summit 2018 was bigger and better than ever before with 1,110+ customers, partners, analysts and employees experiencing an unprecedented amount of content across sales, marketing, product, and developer tracks. This year's Solution Showcase was also our largest ever with 60+ ISV's demonstrating their solutions. We hope the week left you as excited as we are about the future.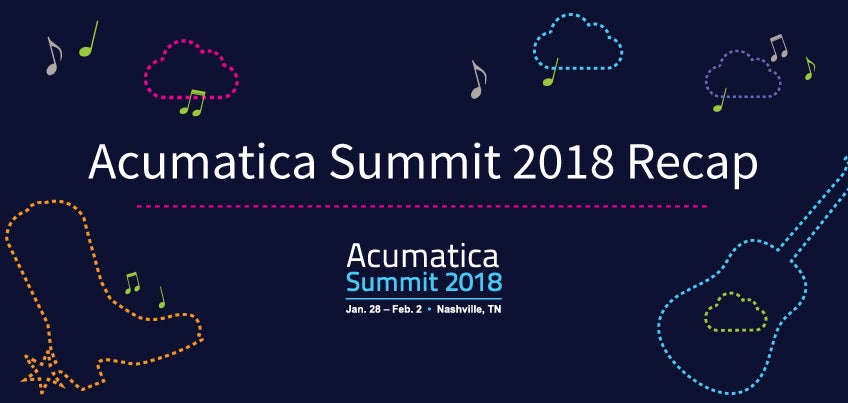 Acumatica Summit 2018: New beginnings
For the first time in Summit history, we started the week on Saturday with our second annual, expanded, and popular Hackathon. The teams – made up of developers and non-developers alike – were given two days to create real-world business solutions. With a subject matter expert (SME) on hand to advise them, the teams wrote spec, code, and user docs, and presented them to our panel of judges.
Congrats to Team Epsilon, who came in third, as well as Team Alpha, who captured second place.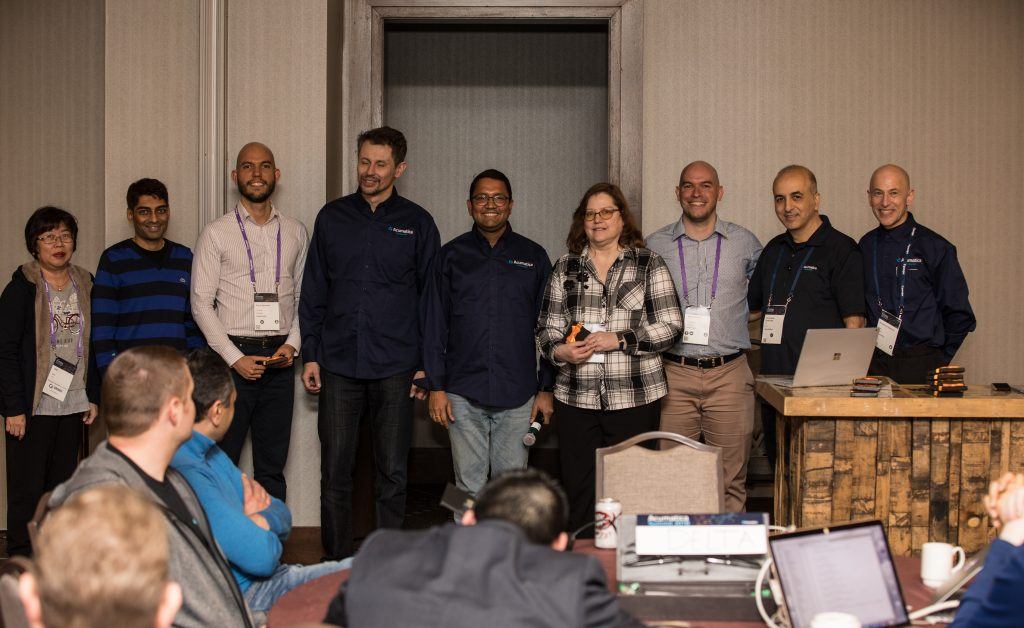 Pictured: Team Epsilon with Acumatica's Mike Chtchelkonogov (fourth from left), Ajoy Krishnamoorthy (center), Ali Jani (second from right), and Mark Franks (far right)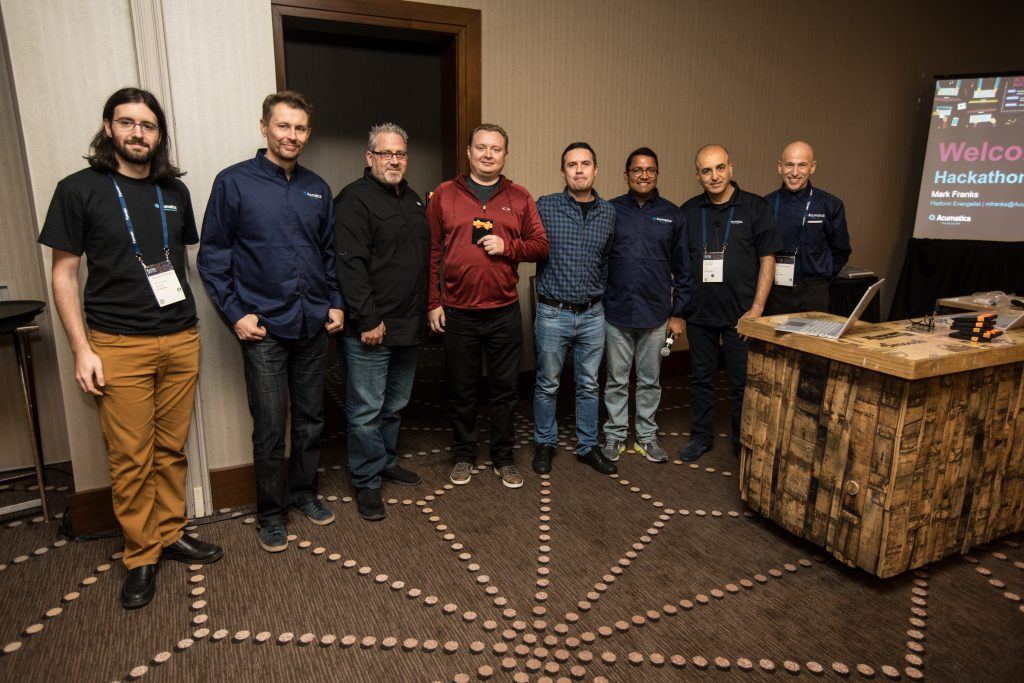 Pictured: Team Alpha with Acumatica's Mike Chtchelkonogov (second from left), Ajoy Krishnamoorthy (third from right), Ali Jani (second from right), and Mark Franks (far right)
The winning team for this year's Hackathon went to Team Beta for their solution integrating with voIP server freePBX. This enables click-to-dial and returning contact information for caller ID, automatically creates activities for inbound and outbound calls, and uses push notifications to pop up contact record for incoming calls or create a new contact for unknown callers.
Congratulations!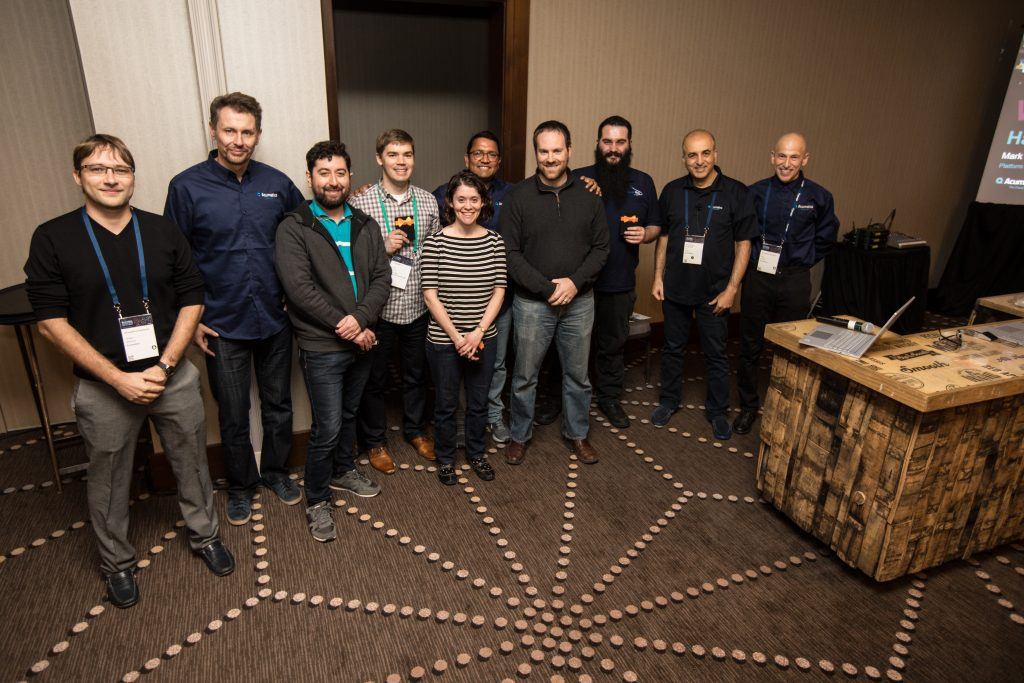 Pictured: Team Beta with Acumatica's Mike Chtchelkonogov (second from left), Ajoy Krishnamoorthy (back center), Ali Jani (second from right), and Mark Franks (far right)
We kicked off the week with a packed welcome reception in the Solutions Showcase on Sunday evening. Thank you to all of the sponsors and exhibitors! We really value and appreciate your partnership and commitment to Acumatica and delivering a fantastic experience for the entire Acumatica community.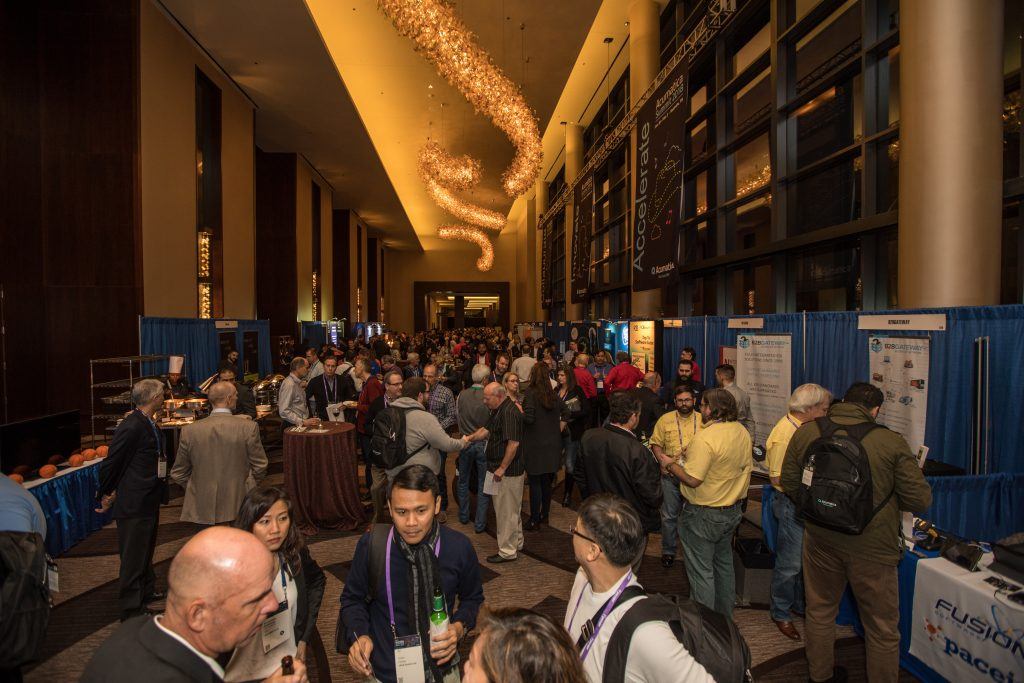 Pictured: Solutions Showcase
Acumatica Summit 2018: Day 1
Jon opened the morning by recapping 2017, sharing the exciting news that Acumatica delivered a 144% growth rate! With now over 4,000 customers worldwide, 61 new VARs, and 37 new ISVs, we're expecting 2018 to be a productive year, working together for the success of the Acumatica community.
As we celebrated ten years in business, Jon reminded our customers and partners that Acumatica's cloud ERP platform was built to host multiple business applications. We've added many fully integrated editions throughout the years, including our Field Service Edition and Commerce Edition last year, as well as our new Construction Edition just a few weeks ago.
Our commitment to adding modern, pragmatic applications and providing open APIs (Jon also announced our joining of Open API Initiative this year) are actions that hopefully show our customers and partners that we're dedicated to constantly improving our cloud ERP solution. We're also dedicated to ensuring that our customers have the support they need during and after the implementation process. Speaking of which, we were excited to announce customer xByte Technologies as Acumatica 2017 Customer of the Year!
Acumatica team members demonstrated the latest enhancements you'll experience with our new release, Acumatica 2018 R1. These included the increased customizability of our user interface, the addition of workspaces, the improved universal search bar, the ability to expose dashboards and inquiries to the mobile app, ProForma invoices, and so much more. You can read further details about Acumatica 2018 R1 in our post highlighting day one. Jon also announced new partnerships including SAP Concur and Microsoft Flow.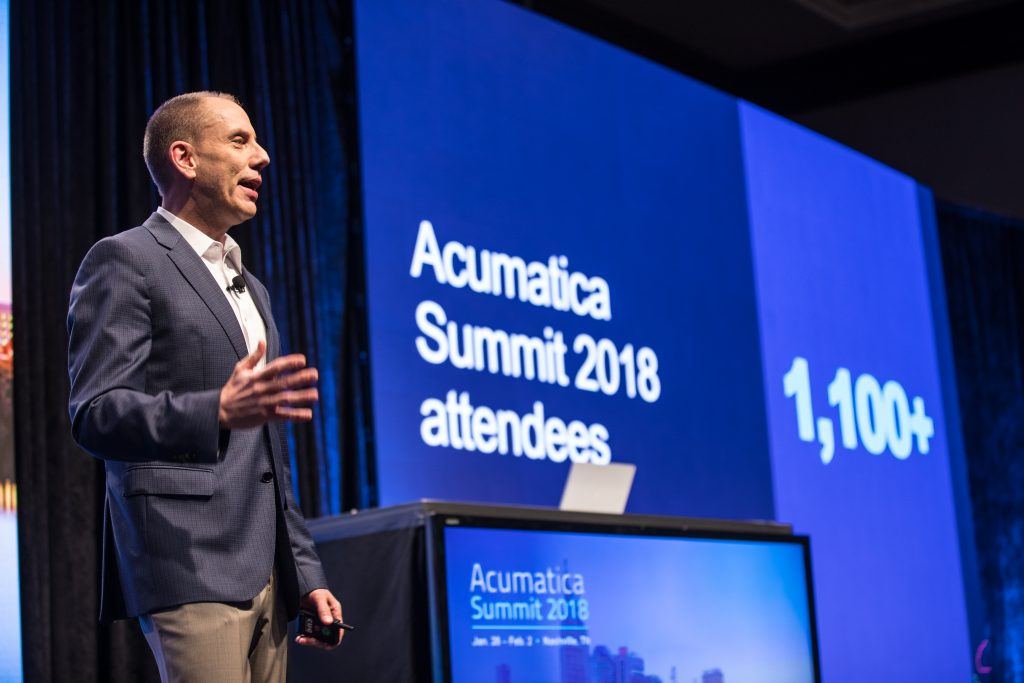 Pictured: Acumatica CEO Jon Roskill
After the Keynote, customers and partners attended separate general sessions geared for their specific needs. The rest of the day was spent in Sales, Product, Customer, Developer and Marketing breakout sessions focused on such topics as Acumatica customization without coding, product marketing strategies, new features, and digital strategy, to name a few.
New this year were the Developer breakouts. Developers added to their Acumatica xRP platform knowledge and received practical tips and tricks from experts. They also experienced new Lightening Sessions where Acumatica's senior developers and key partners gave 12-minute talks on their own experiences with our platform and shared what they've learned.
Instead of winding down, Monday night saw attendees rocking out at our annual Celebration Party to not one, not two, but THREE live bands at the Country Music Hall of Fame! The attendees traveled from the Ford Theater to the Main Hall to the Rotunda listening to Richie McDonald, Bob Fortner and Southern Jam, and Steve Willets perform country to rock. So much networking, food, and fun!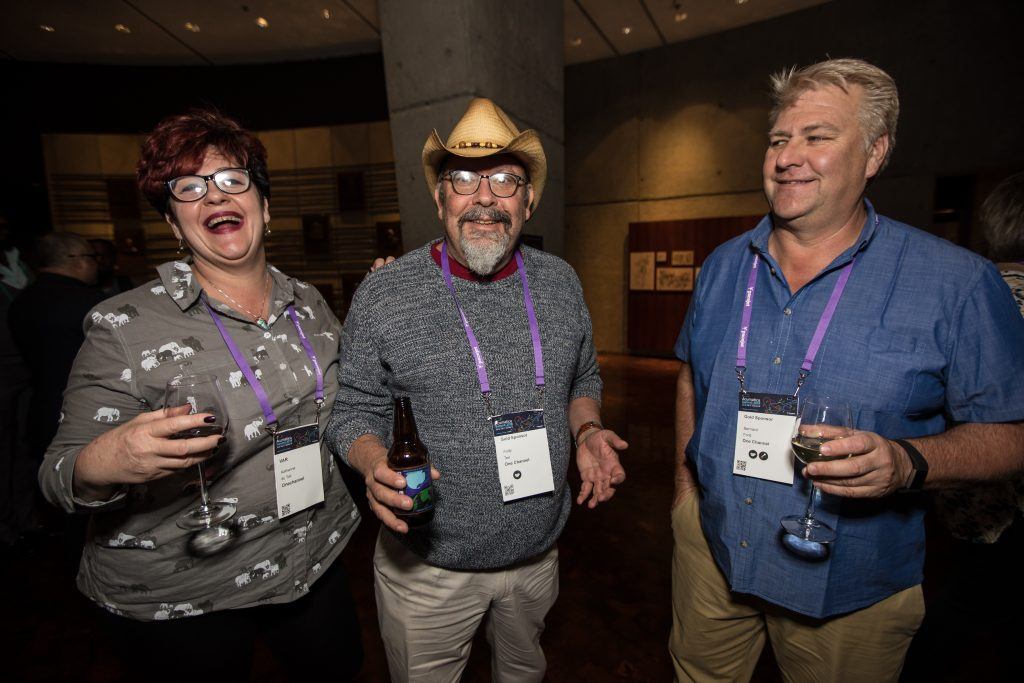 Pictured: Summit attendees enjoying the Celebration Party
Acumatica Summit 2018: Day 2
Another new feature we added to Acumatica Summit 2018 was an early morning Fun Run (led by our own Mark Franks) and a Yoga class on Tuesday morning (led by our own Jeanne Cummings. Considering this was the morning after our Celebration party, we saw a lot of enthusiastic participation.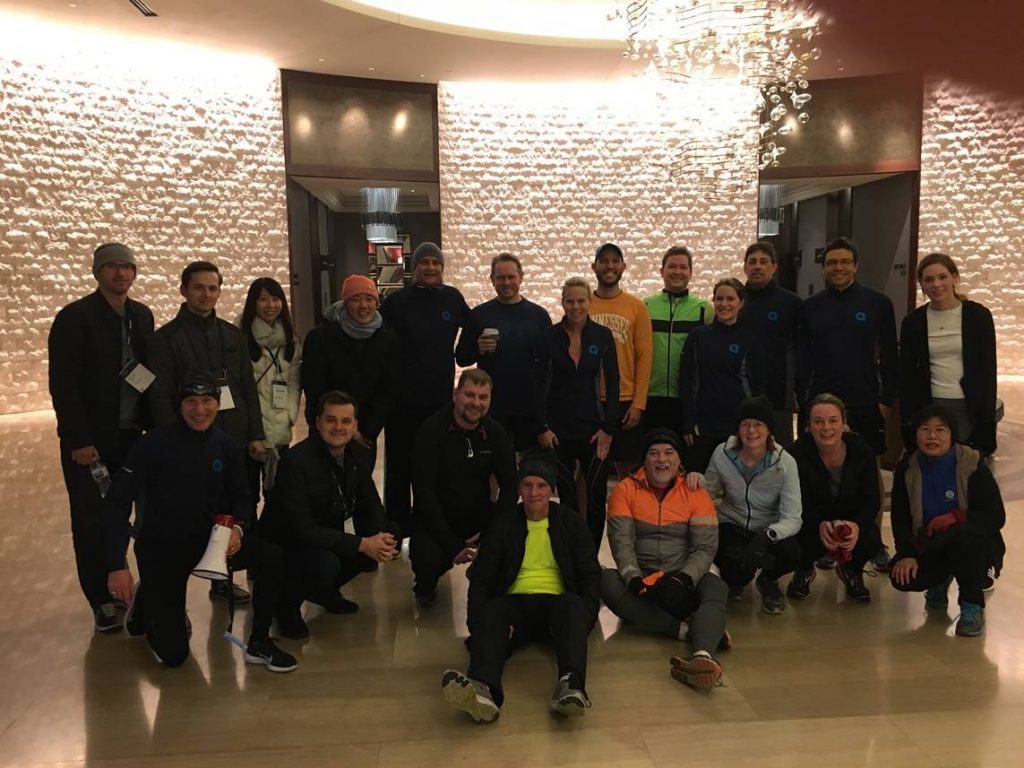 Pictured: Fun Run participants
The day continued with Tuesday's Keynote, which focused on what lies ahead for Acumatica's cloud ERP platform and products, the market forecast, and R&D initiatives. Jon spoke with Christine Chen about the importance we place on social responsibility, and how as Acumatica grows the impact we make grows along with it.
But what else can we do to support our social responsibilities? Ajoy Krishnamoorthy, Vice President, Platform Strategy, shared that by partnering with such companies as Made in a Free World, a company that provides tools for supply chain transparency and works to eliminate human trafficking at every level we can make an even bigger impact.
It also looks like collaborating with non-profits to give them the ability to run their business operations easily and efficiently through accessing invoices from mobile devices, automatically tracking receipts, and automating accounting processes. Truth Initiative, Acumatica's Non-Profit of the Year recipient, has experienced these benefits firsthand. Their passion for eliminating tobacco use can now take place without worrying about their business management processes. Jon and the team then talked about delivering a practical cloud ERP solution by being leaders in technological innovation, such as using Artificial Intelligence, Machine Learning, IoT, and RFID tags. Along with an Alexa demonstration, integrating with Google for natural user/voice technology was another great example of Acumatica providing modern, cutting-edge technology. Also discussed were our Product and Application Roadmap priorities with planned improvements in functionality and integration capabilities. Enhancements to our platform include – but are not limited to – platform modernization, optimizing and scaling continuous runtime performance, and multi-tenant extensions. And there was a demonstration of our real-time GPS capability in our Field Edition.
Tuesday's closing Keynote included one of the most anticipated speakers of Acumatica Summit 2018, Carey Lohrenz; she did not disappoint! The retired Navy Pilot (the first female F-14 Tomcat Fighter Pilot in the U.S. Navy) inspired us with her amazing story, the challenges she overcame, and her expertise garnered by managing squadrons of up to 300 people with assets valued at one billion dollars. Her practical advice for running high performing businesses in a time of constant technological and market changes and increasing customer expectations was exactly what we needed to hear with some great reminders that great teams always embody two qualities: Belief and Trust.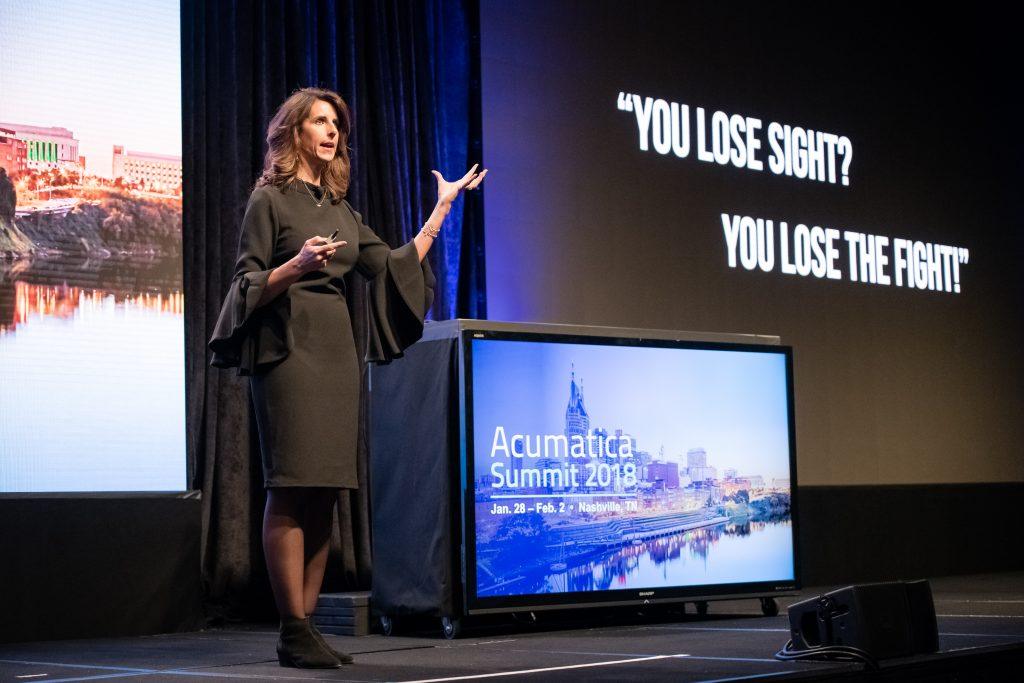 Pictured: Carey Lohrenz
You can check out my complete Day 1 and Day 2 posts for even more details. You can also watch a replay of the morning Keynotes, which are now available on demand on the Summit site.
Breakout sessions continued throughout the rest of Tuesday. Attendees learned about mobile framework capabilities, how to generate more leads through website and email campaigns, implementation practices, and more.
Acumatica Summit 2018: The final days
Wednesday brought with it our hands-on certification training tracks that went through Friday. This year had 13 training tracks covering Financials, Manufacturing, CRM, Project Accounting, Sales Methodology, System Administration, and more.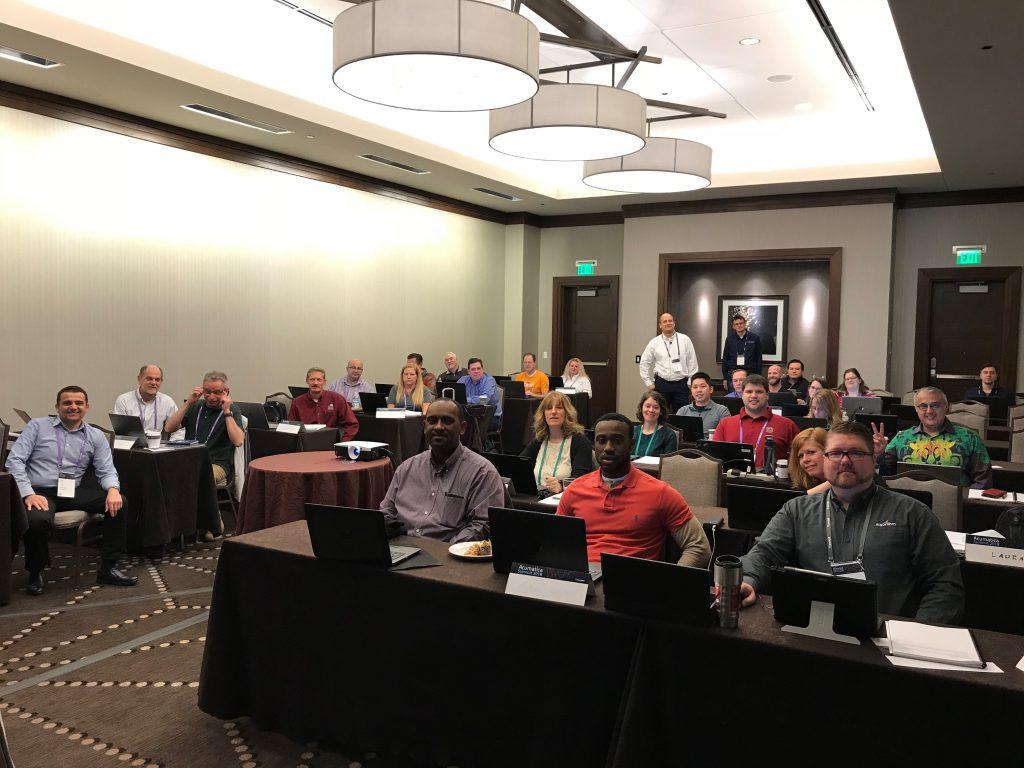 Pictured: Attendees at the Distribution training track
The classes combined customers and partners and each training session demonstrated how to fully leverage your Acumatica investment. Because of their popularity, training tracks filled up, and I highly recommend you register early next year to secure your spot for the trainings you need!
Acumatica Summit 2018: Starting the new year right with community development and cloud ERP insights
I can't tell you how much I enjoy being a part of this cloud ERP community and getting to see and catch up with customers and partners every year at our Acumatica Summits. I feel ready to take on the new year with the insights and knowledge poured out by Acumatica's team and hope our customers and partners feel the same way.
How did you feel Acumatica Summit 2018 went? We want your feedback! I read every one with the expectation of implementing your requests and addressing any issues to make next year's Summit even better. And speaking of which, Acumatica Summit 2019 will be held in Houston, Texas at the beautiful Houston Marriott Marquis, January 27- February 1.
Whether it's your first time or you've attended every year, it's never too early to start planning for an event that can truly affect the success of your business. Acumatica is the cloud ERP solution for your business management needs and our team is committed to constantly improving and innovating our platform and products to better support and enable all of you.
Thank you to all of our amazing partner and customers to taking time of your busy lives to attend Acumatica Summit 2018, we are excited about what is ahead as we continue to collaborate, innovate, and accelerate as a community!
I'll see you at Acumatica Summit 2019!