Acumatica Summit 2018 promises to be an amazing experience for Acumatica's ecosystem of customers and partners. With the help of past attendees' feedback, we have created another cloud ERP event that will accelerate your business through fully utilizing Acumatica's ERP cloud solution.
It's that time again! Our customers and partners – along with industry analysts – just finished attending the Acumatica's 2017 R2 Launch Day Event and we are announcing that Acumatica Summit 2018 registration is LIVE! There's no more waiting – go online and register for what promises to be our best Summit yet in one of our most exciting locations: the Omni Nashville Hotel in Nashville, Tennessee.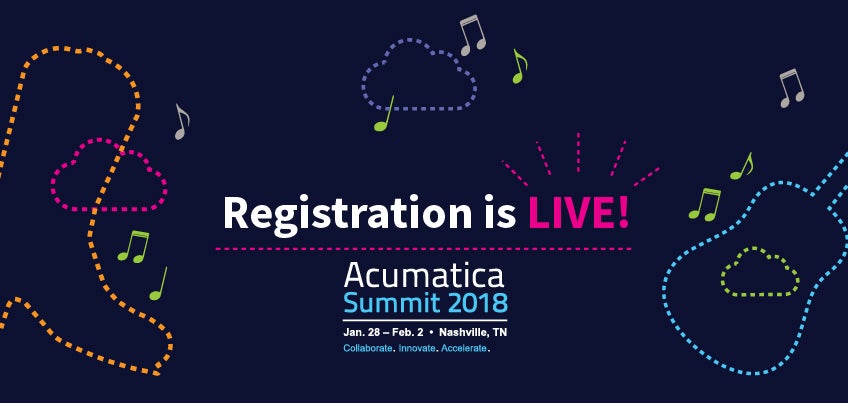 Here are some important details you need to know:
The Summit begins on Sunday, January 28 with a Welcome Reception and goes through Friday, February 2.
The venue is top notch and provides the perfect setting for you to network and learn alongside hundreds of your industry peers, focusing on how cloud ERP is the future for every industry.
Customers and partners who sign up right away experience several benefits that make the event ever better.
Why you should register early for our premier cloud ERP event
Attending our invitation-only event has many benefits, including insight into the Acumatica 2017 R2 release and how its enhancements will increase business productivity. You will have the opportunity to meet our leadership, product, and engineering teams face-to-face, as they are all in one place at one time only once a year! Additionally, be registering right away, you'll get first choice of limited-seating training classes that fill up quickly. Registering now gives you the entire ERP cloud experience at a special, early bird price and with more flexibility than those who decide to wait.
Once you've registered for the Summit, you'll want to turn your attention to your traveling and accommodation requirements. Taking care of this right away means lower airfare and taking advantage of our room block at the Omni Nashville Hotel, where we've negotiated a great rate for our partners and customers. Staying onsite offers its own benefits including being seconds away from the meeting space and Partner EXPO. Additionally, you'll be in the same location as the Country Music Hall of Fame and Museum! We delved more into Nashville's music attractions in a previous.
The Summit also provides you with the chance to participate in hands-on technical training tracks. We had 17 total courses available last year covering customization, framework fundamentals, project accounting, sales, and more; this year's tracks will be just as comprehensive. You'll also experience instructor-led certification training sessions by Acumatica developers as well as engage with our leading ISV providers.
We hope you're getting excited to attend our premier event focused on cloud ERP and on how your business can accelerate with the right cloud software. Check out this video to see more of what we're talking about:
2017 Acumatica Summit in review
At last year's Summit, Acumatica CEO Jon Roskill again announced that we are still the fastest growing cloud ERP on the market, with an impressive 83% growth in 2016! The bundling of Acumatica Support with every new sale, the strategic OEM partnering with leading Romanian ERP provider Senior Software, and the ERP cloud integration with DocuSign were a few of the many announcements at last year's Summit. And we can't forget the release of both our Commerce Edition and Acumatica 6.1 with all of its enhanced ERP cloud features. Speakers included Jon Roskill, motivational speaker Kevin Harrington, and Acumatica CTO Mike Chtchelkonogov.
Because we want you to enjoy the Summit both professionally and personally, our Celebration Party last year gave attendees the chance to let their hair down and revert to the days of retro video games, including arcaded games, ping pong, and foosball!
Looking ahead to Acumatica Summit 2018, we plan to provide another amazing cloud ERP experience for our customers and partners.
Your feedback fuels our cloud ERP Summit experience
Acumatica customer Bram Kleppner is the CEO of Danforth Pewter, a company that designs and crafts pewter items; you can read their case study here. He had this to say about his Summit experience, "The Acumatica Summit has been really valuable for us in allowing us to expand our community of Acumatica users, Acumatica VARS, and Acumatica ISVs. We're in a small rural community; it's really easy to feel isolated and to not get connected to other parts of the Acumatica ecosystem. It's been really valuable for us to integrate and to learn from Acumatica and other Acumatica users." Whether you are a customer or a partner, a new attendee or a repeat, you can expect to take your business to the next level with Acumatica's cloud software and business management solution.
Register for the 2018 Acumatica Summit and don't wait – the Summit will be here before you know it and we want to see you there!
Register for Acumatica Summit 2018