With Acumatica Summit 2018 on its way, we wanted to focus on the impressive training sessions our customers and partners look forward to every year. We can't wait to help the Acumatica community usher in the New Year with more efficient and productive businesses.
One of the things we've heard from customers and partners over the years is that our Summit training sessions provide top notch, detailed information on how to use Acumatica's cloud ERP platform and products to the fullest. We've also received feedback on what else we could incorporate into the sessions to make them even better. We listened and Acumatica Summit 2018 is on track to offer the knowledge and insight you need to accelerate your success in the cloud.
While the Summit is Monday, January 28 through Friday, February 2, 2018, the training sessions begin Wednesday and continue through the end of the week. In this post, I'll give a trainings overview and will follow up with more specific information for customers and partners soon.
In the meantime, if you haven't yet registered, I urge you to do so right away. While we've made more space in each session (accommodating 36 – 45 people), they are filling up fast and you're going to want to grab a seat while you can!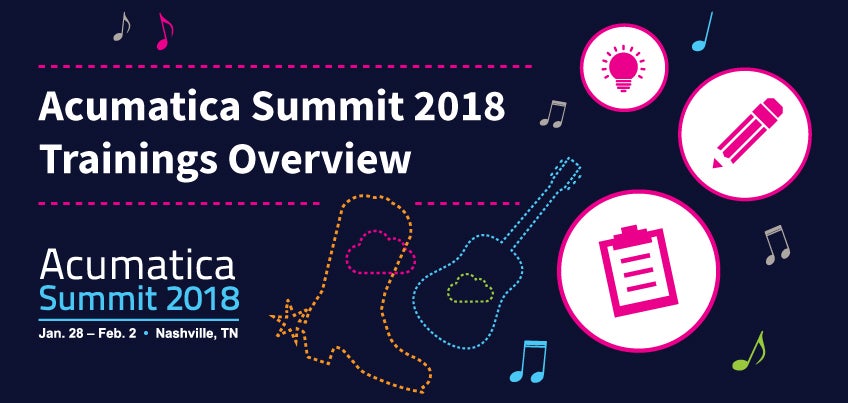 Acumatica Summit 2018 training session overview
With 12 training tracks to choose from, it can be challenging to know which ones are best for you and will most benefit your business. The place to start is our Sessions and Training agenda. If you scroll down to Training Sessions (Wednesday – Friday), you'll find course descriptions as well as the specific dates and times of each one.
Keep in mind that there are certain prerequisites for each course. You'll want to satisfy these requirements before you attend. For example, in the Acumatica Manufacturing Edition (powered by JAAS Systems) session, you'll need to have taken the D100 Distribution: Basic online course as well as be familiar with the Acumatica interface and basic system operation. You also must have the Acumatica Distribution Business Consultant badge before taking this course.
We have added either new or revamped Project Accounting, CRM, and System Administration classes this year.
Project Accounting: Our latest release – Acumatica 2017 R2 – made some significant changes to our Project Accounting module that make it more efficient and easier to use. Projects are now a breeze to set up and budget, and the pivot tables provide an instant insight into project profitability. Other enhancements include simplified budget structure and reporting; proforma invoices; project-specific invoice format; support progress billing on fixed amount and time & material contracts enhanced project rates; and tracking project comments through purchasing, sales, or external systems. The Project Accounting training classes will dive into the improvement details.
CRM: Acumatica's CRM suite was also improved in this year's release. The training session will focus on new functionality as well as using multiple examples of businesses and their processes to highlight what it can do for you and your business.
System Administration: This course focuses on installation, troubleshooting, and customization. Through the years, we've received many requests from system administrations to add different skill sets, and we've tried to include them all for Acumatica Summit 2018.
Here's a few more important facts about Acumatica Summit 2018 trainings you should know:
As we did last year, we'll be sending advanced instructions two weeks before Acumatica Summit 2018, and this year, we're including a new validation procedure checklist. We'll call you beforehand to confirm you understand the procedure. Please note that this is required for all attendees and that you'll need to have the validation procedure checklist signed by an instructor in order to attend the training classes. During the Summit, you'll have time to meet with the instructors and their assistants in the first three days to ask questions and get the checklist signed off before the trainings begin. Also, make sure your laptop is ready to go!
I mentioned earlier that we have less training sessions this year, but we've increased the capacity of each class. We've also increased the number of assistants to 2-3 per class. Every person taking the sessions will have the chance for one-on-one assistance if needed.
With both partners and customers attending the training tracks, we have worked hard to balance out the content so that every participant benefits.
We're certified to issue CPE credits to attendees and follow NASBA's quality standards for training development.
Expertise: the end goal for Acumatica Summit 2018 trainings
Our instructors – who are assisted by an analyst, product manager, or developer in each session – are Acumatica cloud ERP experts. Whichever training sessions you take, you can anticipate having an instructor that will give you the best training available and help you increase your Acumatica cloud ERP knowledge and skills.
You'll return home with major insights from the Summit, ready to implement new functionalities geared to increasing efficiency and customer satisfaction. You'll also receive extensive training materials and resources. Finally, through the training sessions, you may discover what additional training you could benefit from in the future.
Register for Acumatica Summit 2018! Joining our team of experts and your industry peers in our educational and outstanding training sessions will be the perfect way to start the New Year!