Today's post by Acumatica's Director of Digital Marketing will be one you'll want to keep handy. Her tips and tricks on packing and prepping for Acumatica Summit 2019 are helpful, practical, and multipurpose.
Preparing for extended business events can be a stressful chore. When should you begin to plan? What do you need to bring? What if you forget something? This last one is a big one. Forgetting something—possibly important—seems almost inevitable. But fret not, we've got you covered. Acumatica Summit 2019 is slated for January 27-February 1, 2019 in Houston, Texas (have you registered?), and I'm here to help you prep like a pro.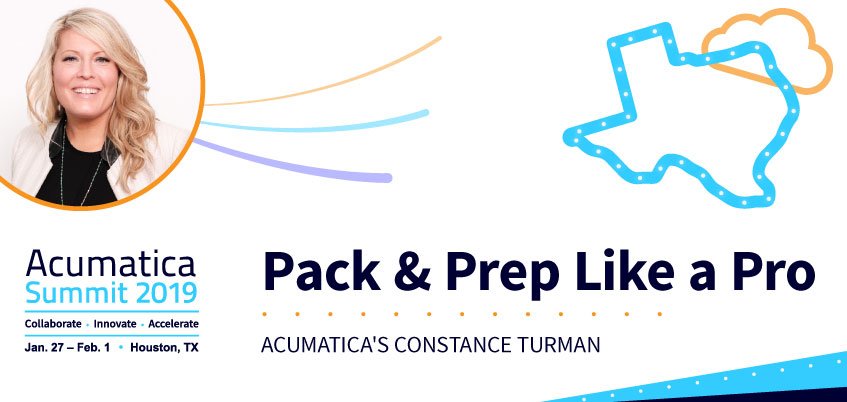 How to get the most out of Acumatica Summit 2019
There are varying degrees of preparation before an important business event—such as Acumatica's annual cloud ERP event—ranging from what to pack to how you can get the most out of your time. Every degree is important and must be addressed for an event to be a success.
So, let's start with my tips for getting the best ROI. I'll tell you what things you should do before an event and what things you should do after an event.
Here we go!

Things to do before the event

Things to do after the event
Reach out to the people you connected with during Acumatica Summit 2019. Make sure those you met (either the people from the list you prepared beforehand or new contacts) have your contact information. And if you connected with any of the sponsors and felt their integration solutions would work for you as a partner or for you as a customer, reach out to them to start the conversation.
Schedule a meeting with your team. While all the practical and educational insights you received from your time at Acumatica Summit 2019 is still fresh in your mind, get your team together and share with them what you learned, including the pragmatic improvements brought by Acumatica 2018 R2. Give them your take on the new product tips and features presented at the Summit and let them know the exciting products and solutions that are coming. Share the photos you should have taken (see point 3 above) and pass out the swag you brought for them (not noted above but a good thing to do). Also, we will be heading out on the road to share the Best of Summit content, so be on the lookout for details on an event location at a city near you.
Complete your certification requirements. I think that says it all. Make sure you take advantage of the face-to-face time with your instructor as you become an expert. If you have a demo to submit, get on it. You don't want to have to follow up later.
These "things to do" are meant to help make sure the time you spend at Acumatica Summit 2019 pays off, and I recommend you don't wait to do them. Waiting until a few days before adds unnecessary stress.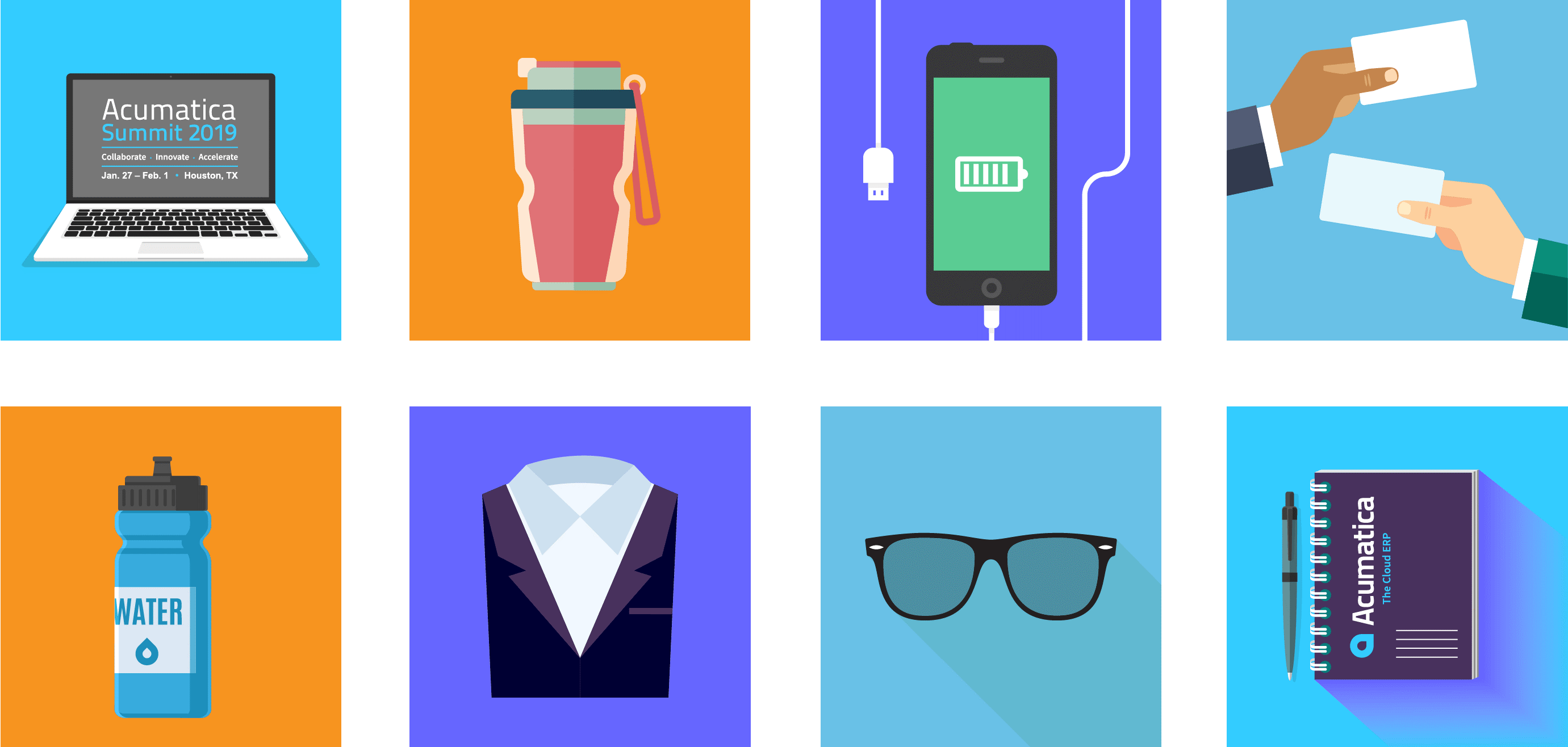 Packing 101: What to bring to Acumatica Summit 2019
Now it's time to turn our attention to what to bring. If you're like me, then you like to pack intelligently, which means putting some thought into it beforehand.
To see more: Download the Pack and Prep Like a Pro Guide
To help, here's my handy packing list.
Comfortable shoes: For women, think about rotating between high heels and flats; there will be a lot of ground to cover in our venue, the Marriott Marquis Houston. And for men, think about lifestyle footwear, such as Acumatica customer Shoebacca
Business casual clothing: Acumatica Summit 2019 is, for the most part, a business casual event. Presenters will want to consider choosing darker-hued bottoms (e.g. navy, black, or gray) as they're less distracting. If participating in our onsite video recordings and/or if you're accepting an award on stage, professional pictures will be taken, so carefully consider what you wear; photos are forever. Remember to hang your clothes (I recommend at least eight hours of hanging) when you arrive at the hotel or ask the hotel to iron your clothes (with advance notice). Our eagerly-anticipated Monday night Celebration Party is taking place at the House of Blues Houston and jeans, cowboy boots, casual tops are in order. Do include a few dressier pieces for such things as client dinners.
Branded shirt or polo: The Acumatica team will be wearing Acumatica shirts/polos (Acumatica VARs: log into the Partner Portal to check out the Acumatica eStore!) during the Welcome Reception on Sunday night to help attendees easily recognize the team members. This is also a great idea for you to consider, especially if you haven't seen the community in a while or are new to it.
Electronics: Laptop, chargers
Travel coffee mug
Phone & charger
Business cards
Water bottle
Reading glasses
Sunglasses
Notebook and training prep work
Scarf: for warmth and fashion
1 suit skirt/slacks and jacket
1 pair of jeans and/or cowboy boots (House of Blues Celebration)
1 Cardigan/blazer (speaker)
1 Workout outfit (yoga/fun run)
1 Swimsuit (Lazy River at hotel)
1 Sleep outfit
1 Pair of tennis shoes
1 Pair of flats and 1 pair of heels (speaker)
1, 2, or 3 dress shirts (one shirt for the number of nights I'm gone)
Fully prepared for Acumatica Summit 2019
I hope the information I've provided helps you pack and prep for your business events like a pro. I also hope you'll register for Acumatica Summit 2019 if you haven't done so yet. It's the one time and place where the entire Acumatica community comes together, connects with their industry peers, and accelerates their cloud ERP success.
And don't forget that our team of experts are always available to answer your questions about Acumatica Summit 2019 or Acumatica's comprehensive cloud-based ERP solution. We look forward to hearing from you.
Download the Pack & Prep Like a Pro Guide