Exciting things are being planned for Acumatica Summit 2019. From a new training format to a new breakout session, there's plenty of reasons to attend the cloud ERP event of the year.
In July, I wrote a post detailing out our new training format for Acumatica Summit 2019. And because our annual cloud ERP event is quickly approaching (January 27 – February 1, 2019 in Houston, Texas at the exquisite Marriott Marquis Houston), I wanted to do a quick review of how the new format is going to work and give an overview of the different tracks, sessions, and training options being offered this year.
For those planning to attend but haven't registered, you will want to do so right away to secure a spot in these very popular and limited-seating training sessions.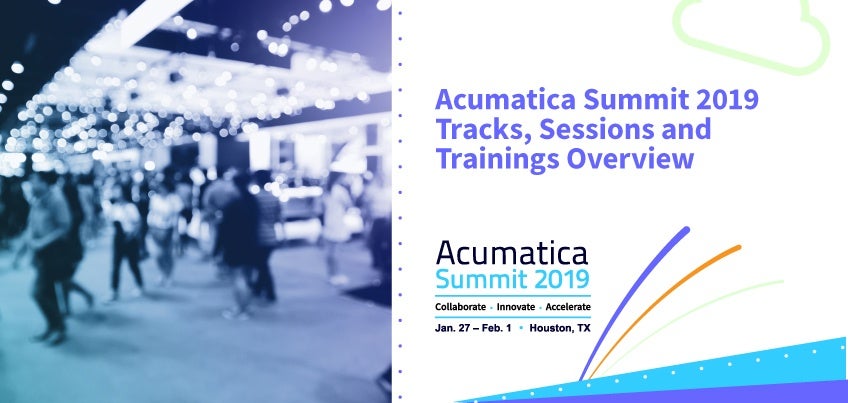 Acumatica Summit 2019 breakout sessions: specially-designed and comprehensive
Every year, our goal for the Monday and Tuesday breakout sessions is to design them with the varying requirements of our attendees in mind. This is why we added our Developer Track last year, and why we've added another new one for this year: a Construction Track.
While I don't have space to delve into each session—which also includes Customer, Marketing, Product, and Sales tracks—let's take a quick look at the two newest.
Developer Track: The Developer Track was a welcome addition last year, and we're excited to continue offering developers in-depth & up-to-date information about Acumatica's xRP Platform. There will be eight breakout sessions preceded by your own General Session. You'll learn current best practices and programming techniques, experience both foundational and advanced developer sessions. You will also get to participate in the fast hitting Lightning Sessions (short presentations similar to TedTalks) again this year on various topics such as Acuminator, writing unit tests, as well as presentations by the winning Hackathon Teams, and others.
Construction Track: From a session giving you a complete overview on Acumatica Construction Edition, ISV Lightning sessions covering new capabilities to an industry expert roundtable on trends, technology, regulations, and the state of the economy, the Construction Track will be an interactive and highly educational experience.
To learn more about the other tracks, check out our session agenda.
Acumatica Summit 2019 training: practical and flexible
We want the time you spend at Acumatica Summit 2019 to be productive. This means the training sessions we make available (happening Wednesday, Thursday, and Friday of every Summit) should address practical, real-world scenarios, not just technical subjects such as ERP implementations. We created a mix-and-match training format where you—as a customer or partner—can tailor your schedule according to your specific business needs.
What does this look like? Whether you're a current or prospective customer, a partner, in sales, or a pre-sale attendee, you can join almost any training class. The classes are labeled Basic or Intermediate based on the level of Acumatica features being discussed, and every class is designed to be independent of each other. Regardless of your knowledge or expertise, you can attend classes based on the topic, the features, and your level of interest.
In past years, you chose one class for two-and-a-half days, but this year, you can choose five classes. These classes are only half day in length, cost the same, and are mixable. For example, maybe you want to take Financials: Intermediate but have your eye on Field Services: Basic. You now have the option to take both at the times that work for you (based on availability). Again, Intermediate and Basic pertain to the features being explored in the class. It doesn't matter which you take first. The only exception is Generic Inquiries, where the Basic and Intermediate have almost the same curriculum but different examples and pace.
The half-day sessions cater to all attendees' needs. You'll learn more about how Acumatica's cloud ERP software applies to and resolves real-world scenarios. Your schedule is designed specifically for you; we want your Acumatica cloud ERP training experience to work for your business' unique needs, and we believe this new training format will do just that.
As with the breakout sessions, I don't have space to go into every training session, but let's look at a handful to get a better picture of what's being offered:
Financials – Basics: Partners and customers will be introduced to basic operations with General Ledger batches. You will go through the basic Accounts Payable workflow, including the creation and release of bills and payments, and the reversing of bills and voiding of payments. While going through the Accounts Receivable workflow, you will practice the following: creating, releasing, and printing invoices; entering and releasing payments; and applying payments to invoices. At the end of the session, you will learn how to close a financial year.
CRM – Sales: In this course, you will learn which tools of Acumatica ERP you can use to perform the tasks involved in lead qualification. During the training, you will learn how to work with opportunities and how to review sales reports and dashboards.
Project Accounting – Intermediate: This training course will teach you how to create project templates and configure billing rules. You will learn how time activities and time cards are integrated with projects. You will also learn how to control changes to a project's budgeted and committed values and how to control the profitability of every change initiated by a customer.
The full slate of training tracks is available in our training track agenda.
Acumatica Summit 2019: Getting the most out of your time
I hope you found this overview helpful. I also hope you'll secure your spot in the breakout sessions and training tracks as availability in the training tracks is becoming limited. Registering now will help you get the most out of your Acumatica Summit 2019 experience.
Have questions about the Summit, Acumatica Summit 2019, or Acumatica cloud ERP and ERP implementations? Contact our team today.