The Cosmopolitan of Las Vegas is almost a city unto itself, and Acumatica Summit 2020 attendees may be shocked at how much there is to see and do. To help them sift through their entertainment options, Acumatica's Constance Turman has put together a very helpful guide.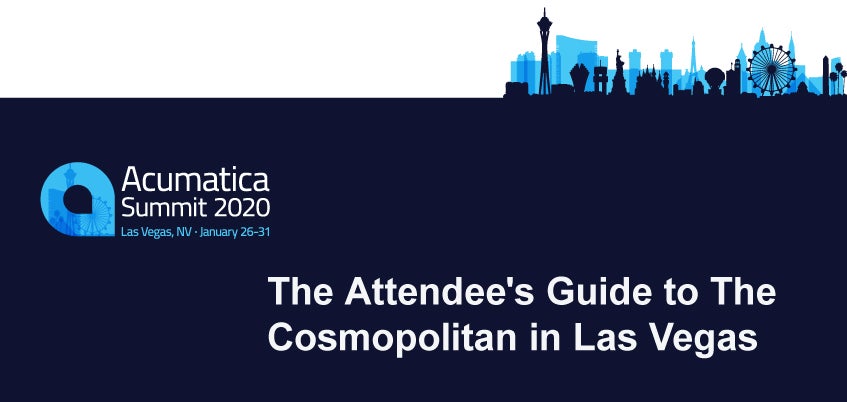 As Acumatica's Digital Marketing Director, I take on some pretty innovative assignments. Most recently, I visited the Acumatica Summit 2020 venue, The Cosmopolitan of Las Vegas, on hunt of all the things you can see and do during your free time at our premier cloud ERP event (coming January 26-31, 2020).
I loyally trekked through gourmet food, tasty drinks, the blow dry bar, and more. Rest assured, I survived and am here to tell you all about it.
Hip and happening: The Cosmopolitan of Las Vegas
In July, Acumatica's Bob Clancy explained why we chose The Cosmopolitan of Las Vegas as our venue, highlighting its stellar location on The Las Vegas Strip, the luxurious accommodations, and the amazing amenities.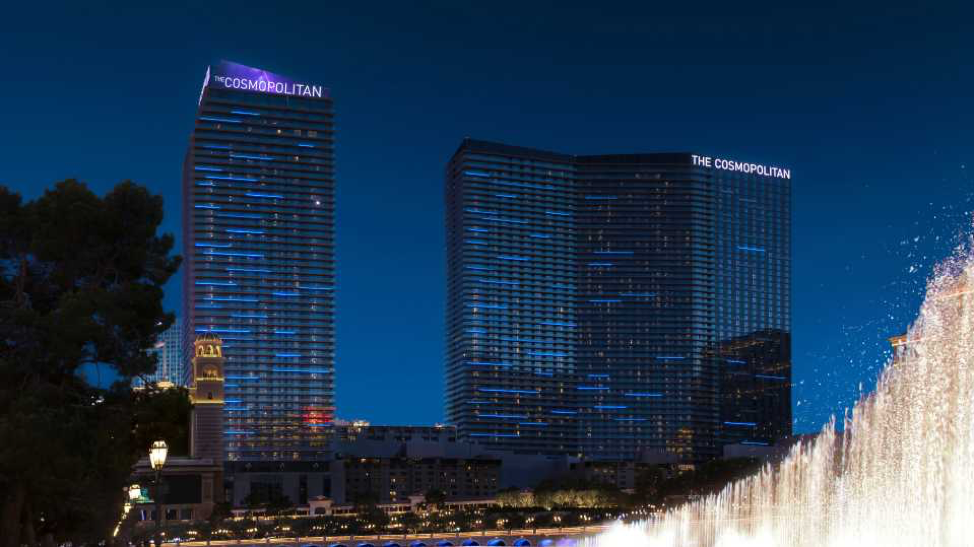 Pictured: The stunning Cosmopolitan of Las Vegas.
Today, I take it a step further in my Attendee's Guide to the Cosmopolitan of Las Vegas, sharing what I consider the most hip, happening, and unique places I think you'll want to check out after a hard but rewarding day of learning about Acumatica's cloud ERP software.
I've split the guide into three categories: Coffee/Cuisine, Cocktails & Style, and Extras. Let's start with Coffee/Cuisine.
1. Coffee/Cuisine
One of the perks of traveling is finding establishments that serve unique food (or that put a new spin on old favorites) and serve great coffee. When I found the Block 16 Urban Food Hall, I knew I had found a culinary gold mine.
Located on Level 2 of the Boulevard Tower in The Cosmopolitan, Block 16 offers a wide variety of options covering breakfast, lunch, and dinner. You'll have plenty to choose from, but one place I guarantee you won't want to miss is District: Donuts. Sliders. Brew. This New Orleans' donut purveyor bakes and serves 100 rotating donut flavors and has homemade lunch and dinner cuisine as well as specialty coffee and espresso beverages.
But District isn't the only place to get your brew on. Starbucks, in conjunction with The Cosmopolitan, includes the first-ever permanent public art installation by renowned artist and photographer Georges Rousse.
I also found a good, inexpensive pizza place that's kind of a secret (coincidentally, it has no official name, but many dub it "Secret Pizza"). There are no signs to help you find it, so I thought I'd give you a hint: level 3, Boulevard Tower.
You're welcome.
2. Cocktails & Style
Though I started with "Coffee/Cuisine", "Cocktails & Style" comes in at a very close second in importance…though some may say it's a tie. Either way, I have a list of must-visit bars, nightclubs and grooming spots located right in our Acumatica Summit 2020 venue:
3. Extras
You may be thinking, "How can there be more?" Well, there is. A lot more.
Need to relax? Make a reservation at the Sahara Spa, Salon & Hammam, a luxurious and rejuvenating spa oasis and get a ten percent (10%) discount off spa services when you identify yourself as an Acumatica attendee (this is exclusive of spa and center facility fees, valid Sunday-Thursday, and you must present your badge when checking in at the spa).
Need to exercise? For those of you who want to burn off some of the calories from the Attendee party, come join us for an early morning run down The Las Vegas strip on Tuesday, January 28th at 6:00 AM. See The Strip like you have not seen it before, VERY EMPTY. But, if you want to stay indoors, The Cosmopolitan has two Fitness Centers OR you can visit their Pool District and swim in one of their three distinct pools (do check ahead to make sure the pool you choose—Boulevard Pool, the Chelsea Pool, or Marquee Dayclub—are open before donning your swimming attire as pool hours are subject to change due to inclement weather and special events).
Need to be inspired? The Cosmopolitan team is "committed to presenting fresh, innovative, and provocative art that satisfies the cultural sensibilities of its guests." Their Art Program features "interactive and accessible" experiences throughout the resort, including Digital Art inside and out, showcasing a continuous display of contemporary art works (the hotel's digital concierge, Rose, provides a free tour). Plus, there are six Art-o-mat machines, which are recycled and re-imagined cigarette machines that dispense boxed-up and cellophane-wrapped pieces of art.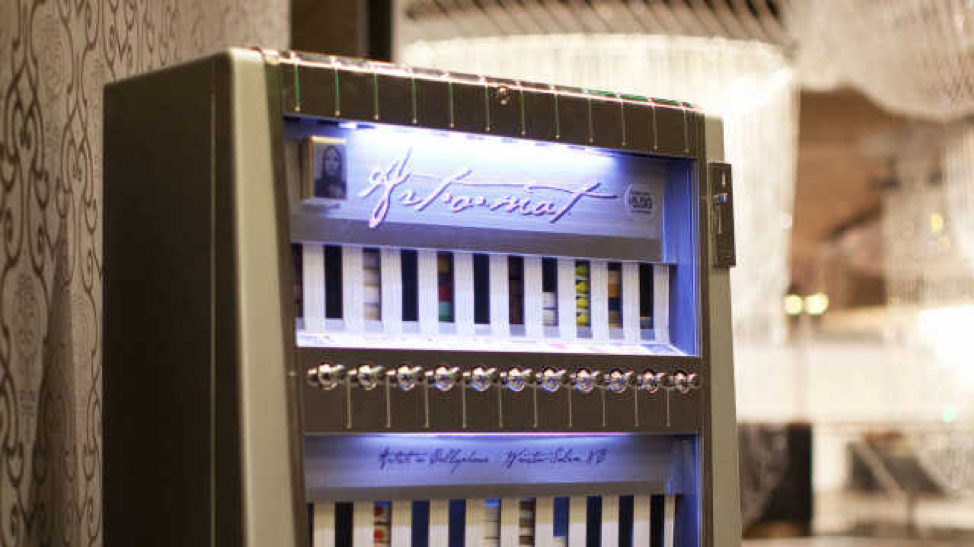 Pictured: The Art-o-mat at The Cosmopolitan of Las Vegas. Artwork via a pull-knob dispensing mechanism.
So much to do, so little time
There's so much to see and do at The Cosmopolitan of Las Vegas. In fact, there's almost too much in the time you'll have outside of our keynote sessions (with an amazing Closing Keynote Speaker, Dr. Robert Ballard), breakout sessions, training tracks, Acumatica Marketplace, and more focused on Acumatica's cloud-based ERP solution. This guide will help you decide what you want to do and see in the time you have.
We want to help you get the thumbs-up to attend Acumatica Summit 2020, that's why we've put together some details to help you justify your trip. If you haven't yet registered, I hope you'll do so right now.
Acumatica Summit 2020 is designed to help you better collaborate with peers and partners, innovate your business goals and processes, and accelerate your trajectory to success, and I can't wait for it to begin.  Any questions you may have about our event can be answered by our wonderful Summit planning team.
In the meantime, I'll leave you with a few more resources to make your trip the best:
ARIA express: An automated tram to get around the west side of The Strip
Network in Vegas: Tips for business travelers headed to The Cosmopolitan
Trip Advisor: Get tips on other place to eat and other things to do
Yelp Cosmopolitan: Reviews on the Cosmopolitan's dining options
Acumatica Summit 2020 Activities: A look at Summit-sponsored activities
By creating an exciting and open environment for all to explore new ideas and strategies, this Summit will undoubtedly be the new standard. Join us.