Acumatica's Event Marketing Director thinks Acumatica Summit 2020 is our best cloud ERP event yet and has a few unique reasons why he feels that title is already in the bag.
I love Acumatica's yearly Summit.
Does that seem like too strong a feeling for a professional event? The thing is, it's fun and I enjoy our community. We have a chance to reconnect and have a good time, but more importantly, we gain incredible insights on how Acumatica's cloud-based ERP solution extends the efficiency and profitability of every business that implements it, and I believe Acumatica Summit 2020, happening January 26-31, 2020 in Las Vegas, Nevada, is shaping up to be even better than last year's event…and last year wasn't too shabby.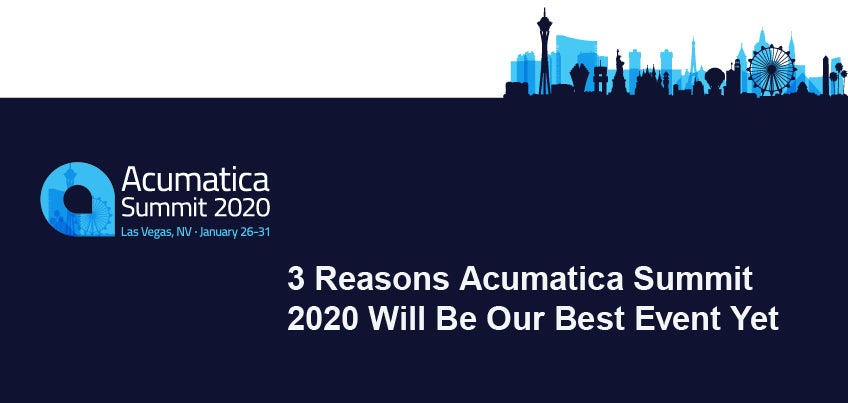 The unique reasons Acumatica Summit 2020 is our best event yet
If you aren't registered for our annual cloud ERP event, then the reasons to attend match the reasons Acumatica Summit 2020 is the best Summit ever, but please don't assume you know what I'm going to say.
Yes, the knowledge you glean during the Keynote, breakout, and training sessions is impressive. Yes, you'll get to hear from experts who know all about Acumatica's cloud ERP software as well as from our inspirational speaker, Dr. Robert Ballard (e.g. the man who discovered the Titanic!). And, yes, as Acumatica CMO Todd Wells pointed out in a recent interview, Acumatica's green/sustainability initiative to positively impact the environment during the Summit will be an exciting initiative to be a part of.
However, I have some more, shall we say, unique reasons Acumatica stands out from those that came before.
1. The Attendee Celebration Party is going the way of Vegas
Every Monday night of our annual cloud ERP event is set aside for our much-anticipated Attendee Celebration Party. In 2018, we had three live bands at the Country Music Hall of Fame. In 2019, we secured an entire floor of the House of Blues Houston and jammed to live music. And in 2020, we're going Vegas-style.
Hakkasan Las Vegas is a premier nightclub located in the MGM Grand Hotel. You can anticipate an edgy, electrifying, and energizing evening in a decadent atmosphere. With multiple floors to choose from, attendees can be in the middle of the action and dancing to the DJ or find a quieter spot to network with new and old friends.
From the Ling Ling Lounge and Pavilion to the Ling Ling Club, Main Room, and Mezzanine, this year's Attendee Celebration Party is the complete nightclub experience you won't want to miss.
2. Our venue is one-of-a-kind
Two words I've used to describe our Acumatica Summit 2020 venue are "glitz" and "glamour". That's what The Cosmopolitan of Las Vegas has in spades. It also has the space we need to accommodate our growing numbers.
In fact, I'm very excited about one particular meeting space out of the hotel's 100,000 square feet of meeting spaces: The Chelsea.
It's a beautiful, 40,000-square-foot theater with two levels. The hotel describes it as a "combination of industrial grit and artistic glamour." It also says The Chelsea "features cast glass chandeliers, a vintage lobby bar, private VIP opera boxes, and a decorative grand staircase." You'll learn all about Acumatica's cloud ERP software surrounded by the glitz and glamour I described.
Additionally, our Solution Exhibitor Showcase, which opens Sunday, January 26 at 5 pm featuring 88 ISV partners exhibiting their innovative third-party applications, will be in one space, unlike past Summits.
The Cosmopolitan delivers a high-impact event.
3. Surprises are coming
That's right. The Acumatica Summit 2020 planning team has a few surprises up our collective sleeve.
Keeping the Summit fresh and exciting year-after-year is a fun challenge, and we can't wait for you to experience what's coming…and I'm not going to tell you what it is. However, I can guarantee that you won't want to miss out on what we have planned.
Acumatica Summit 2020: set to be the best
Did I tell you that Acumatica Summit 2020 is going to be our best Summit yet? I think the reasons I've listed support my claim, and I hope you have or are planning to register.
For more details, check out the agenda and additional activities and please feel free to contact our Summit event team with any questions.