Acumatica Summit 2020 and The Cosmopolitan of Las Vegas are coming together to make a new cloud ERP event standard. Attendees can look forward to luxurious learning.
Glitz and glamour. Two words not often (or ever) used in the cloud ERP space, but Acumatica Summit 2020 is about to change that. Coming January 26-January 31, 2020, our annual event is scheduled to take place at The Cosmopolitan of Las Vegas, a luxury resort and casino located on the Las Vegas Strip.
With registration live for Acumatica Summit 2020, you'll want to sign up right away. The sooner you do, the sooner you can begin anticipating the benefits of attending, including growing relationships, learning from experts, and connecting your business all while enjoying our spectacular venue.

The Cosmopolitan of Las Vegas
This year, we're anticipating more than 2,000 customers, partners, and industry analysts. Our Acumatica Summit 2020 venue needed to accommodate our growing numbers, and we wanted to find a place that could provide amazing conference facilities while simultaneously giving our attendees an experience that transcends the traditional.
The Cosmopolitan in Las Vegas, Nevada suited us to a 'T' and here's why.
Location
Let's first start with Las Vegas, the largest city in Nevada. The city, dubbed "Sin City" as well as the "City Without Clocks," is a magnet for millions of visitors from around the world every year. Its concentrated focus on entertainment, from casinos to live shows and from grand hotels to international cuisine, has made it one of the most visited cities in the United States.
Getting there is as easy as booking your flight into McCarran International Airport (LAS). Only three miles from The Cosmopolitan, you have several transportation options to get you to the hotel, including Ride Share through Uber or Lyft, taxi service, or by rental cars (either through the McCarran Rent-A-Car Center or through an offsite rental car agency). More details about transportation from the airport is provided at Acumatica Summit 2020 travel.
The Cosmopolitan itself sits in the "heart of the Las Vegas Strip." Though free time during Acumatica Summit 2020 isn't excessive, you'll have an opportunity to sample the cities many delights, all easily accessible from the hotel.
Guest Rooms
One of the benefits of registering early is securing a beautifully appointed guest room at the discounted conference rate. Keep in mind, there are a limited number of rooms available at this rate, so acting now is in your best interest.
Each room is designed for a calm and comfortable stay. Many include sliding glass doors leading to private terraces with either Las Vegas Strip or mountain views. Plasma-screen televisions, entertainment systems, and high-speed wireless Internet access combined with marble-floored bathrooms (including deep soaking tubs and rain showers) guarantee an enjoyable retreat after spending your days focused on Acumatica's cloud ERP software.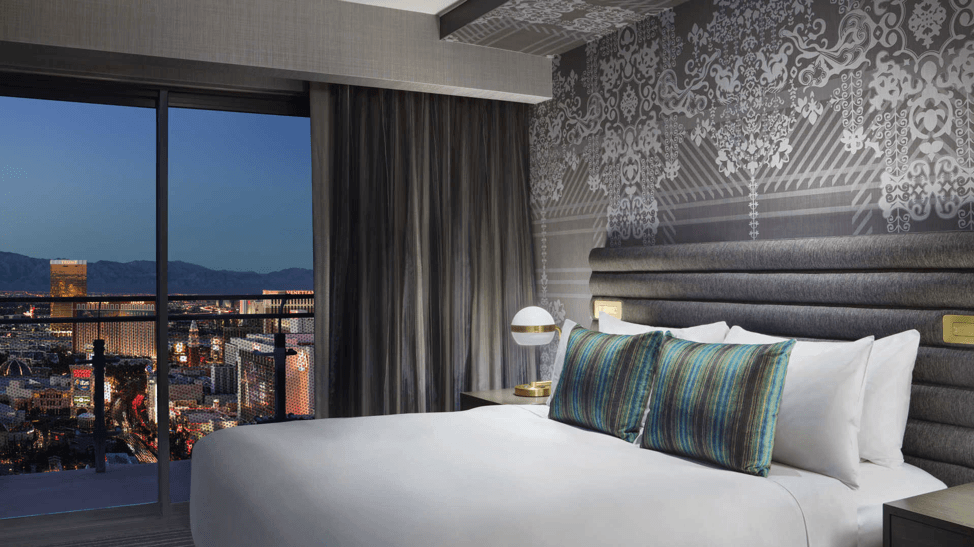 Pictured: A Terrace One Bedroom with Fountain View
The Casino
With a view of the Las Vegas Strip from its floor-to-ceiling glass walls, the hotel's 100,000 square-foot casino is an exciting addition to our annual cloud ERP event. Slots, video poker, classic table games, and sports watching and wagering are all on the menu.
Spa, Salon, and Fitness
Taking time out from your professional commitments may help improve your overall experience. The Sahra Spa, Salon & Hammam offers you a variety of services, including Hammam, a combination of body detoxification, steam treatments, and a cooling bath. As always, these self-care treatments require reservations. The Cosmopolitan also provides two state-of-the-art fitness centers open 24 hours.
Pool District
You read that correctly. Pool District. The Cosmopolitan has three pools: Boulevard Pool, the Chelsea Pool, and the Marquee Dayclub Pool—each one providing a different atmosphere for you to choose from.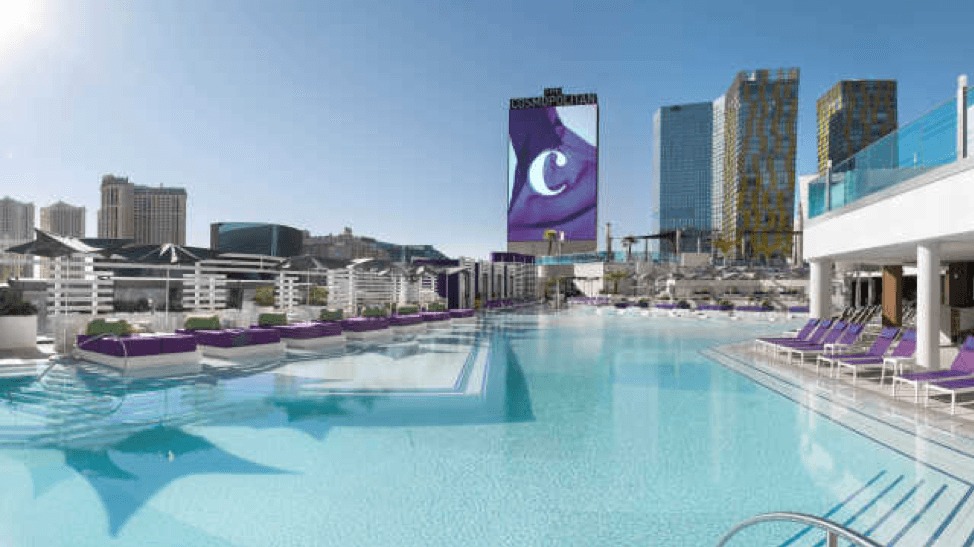 Pictured: Boulevard Pool
Join us in Vegas, baby
There's a lot to do and see at The Cosmopolitan of Las Vegas, and we haven't even touched on the dining, entertainment (including our popular Monday night Celebration Party taking place at the Hakkasan Nightclub at the MGM Grand), and shopping options available to Acumatica Summit 2020 attendees. This is in addition to the intense cloud ERP software training and networking that takes place all week long in the hotel's massive and unique conference space (100,000 square feet of it). One of those spaces is The Chelsea, a 40,000-square-foot concert and event venue with glass chandeliers, a vintage lobby bar, and a decorative grand staircase, which has been set aside for our Keynotes.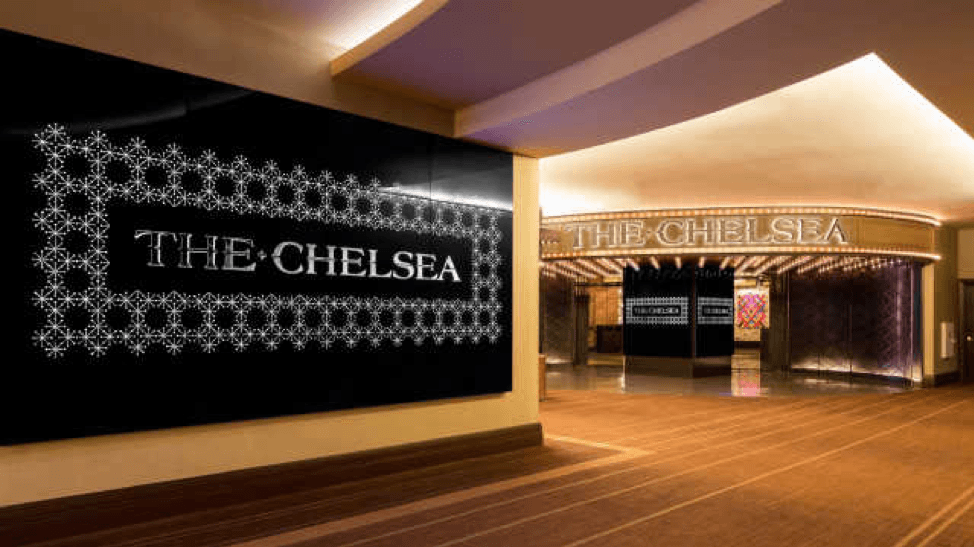 Pictured: The Chelsea
It's going to be an amazing event, and we hope you register today to reserve your spot at the Summit and your room at The Cosmopolitan. We also want to let you know that our annual Summit is a perfect opportunity to become a sponsor, putting you and your company in front of the Acumatica community.
"As the Premier sponsor at Acumatica Summit 2019, we see this event as the best place to showcase our latest products and services," says Rahul Gedupudi, CEO of Kensium.
Contact our team with any questions about the event, sponsoring the event, or Acumatica's cloud-based ERP.