We've heard from customers, partners, and developers on why attending Acumatica Summit 2020 is a great idea. Today, we get to hear the reasons a respected industry analyst attends our annual cloud ERP event every year.
With Acumatica Summit 2020 fast approaching, the Acumatica team is shifting into high gear. We are pinning down last-minute details and gearing up for an educational, standard-setting event for the over 2,000 customers, partners, developers, and industry analysts joining us in Las Vegas, Nevada at The Cosmopolitan of Las Vegas, January 26-31, 2020.
To help explain why Acumatica Summit 2020 is special, we sought out the opinion of well-known industry analyst Jon Reed, the co-founder of digonomica and self-described blogger/analyst hybrid. He has attended every Summit except the first and graciously took time out of his busy schedule to discuss his experiences.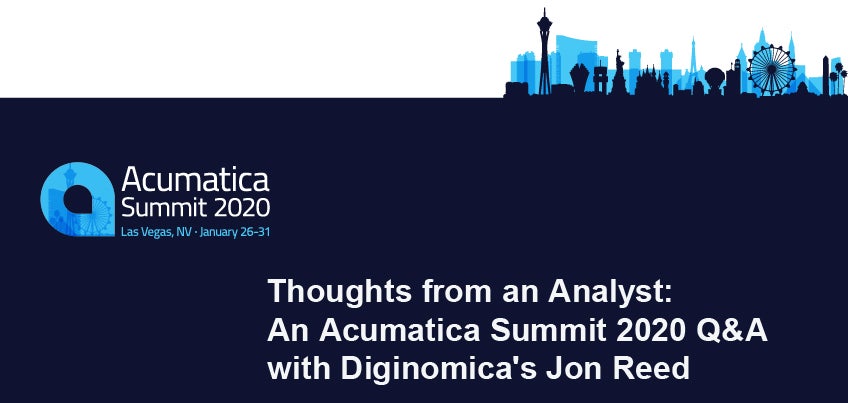 Jon talks Acumatica's annual cloud ERP Summit
Question: What have you enjoyed about Acumatica's annual Summits?
Jon: Though it's grown a lot, there is always a sense of community and a really good pace to the Summit. At some shows, it feels like the software vendor is selling too hard, or the partners are struggling, or the customers are having a hard time figuring out the message of the show.  Some vendors try so hard to entertain attendees—too hard. Entertainment is nice at times, but the heart of an event is networking and education and keeping that in focus. I don't need to hear DJs spinning records everywhere when I'm trying to talk to people. I think Acumatica understands that.
Question: What are you most looking forward to at Acumatica Summit 2020?
Jon: In my role, I have the chance to talk with Acumatica customers both informally, and in structured sessions like one-on-one interviews. I love hearing about what customers are learning on projects and how they are advancing into areas like dashboarding/analytics. This may sound really corny, but I really enjoy learning about Acumatica's latest industry editions and enhancements. Acumatica tends to move fast (e.g. construction industry), so I always like to learn what's next as I'm a big "vertical ERP" advocate.
Acumatica usually also showcases something interesting we haven't seen elsewhere on the keynote stage, usually something a team from Acumatica Labs has been working on. For example, "artificial intelligence." Yes, it's overhyped, but how can process automation, deep learning, or voice-based UIs help our projects? Acumatica tries to do next-gen demos with real world ERP implications.
Question: What sets Acumatica's annual cloud ERP Summits apart from other software vendors?
Jon: There are a few things that stand out about the Acumatica Summit. First, the keynotes are not overdone. Long keynotes, in my view, are a reflection of egos needing airtime and insecurity on the part of the vendor. A concise, customer-focused keynote gives attendees a clear direction and frees up the rest of their time for education and networking. Acumatica does this about as well as anyone.
I also like the mix of customers and partners. You need the right mix to get the right contacts.
Finally, Acumatica sets itself apart from most cloud ERP vendors by hosting a Hackathon prior to the show. Keep your eyes open for the hackathon winners. Seeing how you can build on the Acumatica platform is one crucial way Acumatica stands out.
Question: How can attendees get the most out of their Summit experience?
Jon: Preparing for a show matters. You want to know what your team members back home are looking for also and have a clear agenda on what knowledge you are bringing back for them. If you're attending the Summit with more than one team member, I recommend lunch meetings to regroup and make course corrections if schedules change.
The most important thing to leave the Summit with isn't knowledge, however. It's contacts. The best ERP professionals have the best networks. Having connections you can turn to after the show, both at Acumatica and beyond, will prove invaluable to your growth and, hopefully, your project. This applies equally to partner attendees. There is always plenty to learn about delivering more value to customers.
Acumatica Summit 2020 is almost here
A big thanks to Jon for giving his thoughts on Acumatica Summit 2020 and some great advice for attendees. And to those attendees he says, "If you see me in Vegas, pull me aside and say 'hi' or find me on the mobile app!"
We extend that same invitation. If you see me, Acumatica CEO Jon Roskill, or any other Acumatica executive during the Summit, we would enjoy the opportunity to speak with you about our cloud ERP software and to hear your feedback.
Until then, please register if you haven't yet done so. There are many reasons to attend this standard-setting, business-growing, and fun event. Contact our event planning team with any questions you may have about Acumatica Summit 2020 or contact our cloud ERP experts to set up a demonstration today.