Registration is live for Acumatica Summit 2020 and the closing keynote speaker has been announced. Dr. Robert Ballard, renowned oceanographer, explorer, writer, scientist, and more, will invigorate and inspire cloud ERP event attendees to reach not for the stars but for the bottom of the ocean.
 Every year, Acumatica's premier Summit delivers a high-impact, educational experience for thousands of customers, partners, and analysts. We scale the heights and search the depths for closing keynote speakers whose fierce drive and amazing accomplishments will inspire us to attain even greater success. Last year's speaker, Mike Massimino, transported us beyond the earth's atmosphere with tales of his space adventures (he was the first person to tweet from space). This year, Acumatica Summit 2020 speaker, Dr. Robert Ballard, the person who found the RMS Titanic, will explore the mysteries of the ocean, sharing how his expertise translates to those in the cloud ERP space.
"You can only inspire when you give people a new way of looking at the world in which they live," Dr. Ballard says.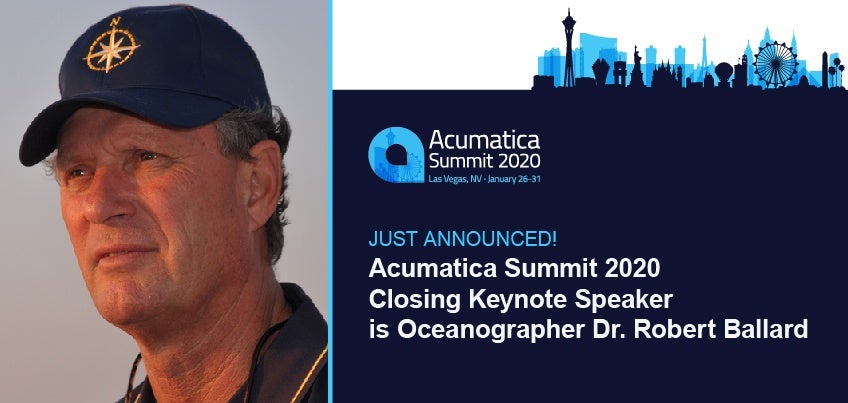 More than the person who discovered the Titanic
Though Dr. Ballard was the deep-sea explorer who finally found the Titanic in 1985, he has many other noteworthy achievements. He discovered the German battleship Bismarck, the lost fleet of Guadalcanal, two ancient Phoenician ships, four 1,500-year-old-wooden ships, and too many more to list.
It seems, however, that as exciting as these discoveries are, Dr. Ballard points to hydrothermal vents and "black smokers" in the Galapagos Rift and East Pacific Rise as his most important discoveries.
And just like his discoveries, his credentials and awards received are vast. He has a Ph.D. in marine geology and geophysics from the University of Rhode Island; he has 21 honorary degrees; he served in the Navy from 1967 to 1997 (earning six military awards); he was a Commander in the U.S. Naval Reserve; he is a National Geographic Society Explorer-in-Residence and a commissioner on the U.S. Commission on Ocean Policy; he is a Senior Scientist Emeritus in the Department of Applied Ocean Physics and Engineering at the Woods Hole Oceanographic Institution; he developed the JASON program, which allows schoolchildren around the world to witness his undersea explorations in real time; he has written books, scientific papers, and numerous National Geographic articles; he has appeared on many TV programs; and he received the National Geographic's prestigious Hubbard medal in 1996.
He is also the founder of the Ocean Exploration Trust, an organization that supports his passion for searching for the ocean's secrets on board his ship of exploration, EV Nautilus, and "pushing the boundaries of ocean engineering, technology, education, and communications," according to the Trust's Mission & Goals page. His over 110 deep-sea expeditions have afforded him plenty of opportunity to do just that.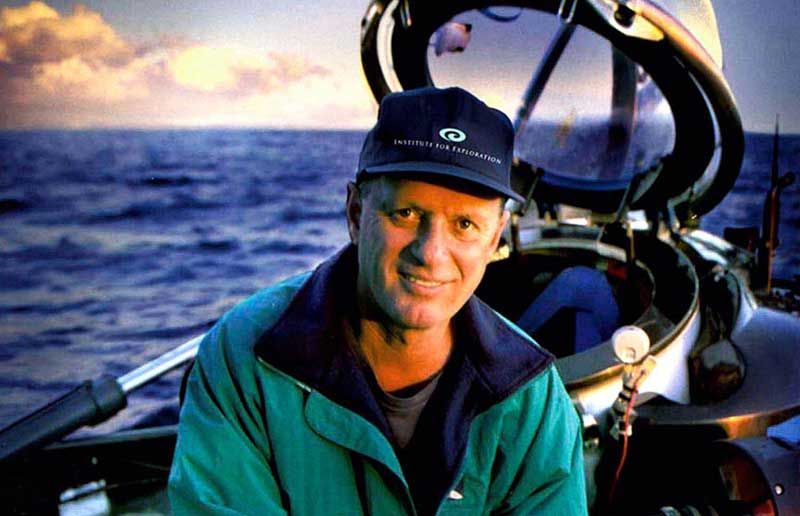 Where sea and land technology collide
Dr. Ballard's prolific work and success in ocean exploration has been bolstered by his efforts in developing deep submergence and telepresence technology. Telepresence technology is technology that virtually connects the teams involved in sea explorations, so that those who are on the seafloor, on the ship, at "mission control" at the Inner Space Center, and watching around the globe are seeing it happen in real-time.
"Telepresence…enables the development of partnerships between geographically dispersed groups who otherwise might not have the opportunity to collaborate due to cost or logistics, and ultimately allows for the most efficient use of all resources, as access to data and information between ship and shore is immediate and sustained for the duration of an expedition," states the Ocean Exploration Trust website.
What telepresence technology is to Dr. Ballard is what cloud ERP software is to small to medium-sized businesses (SMBs). Both technologies bring collaboration, efficiency, and real-life data transmission to the table, offering users the modern tools they need to compete in the marketplace.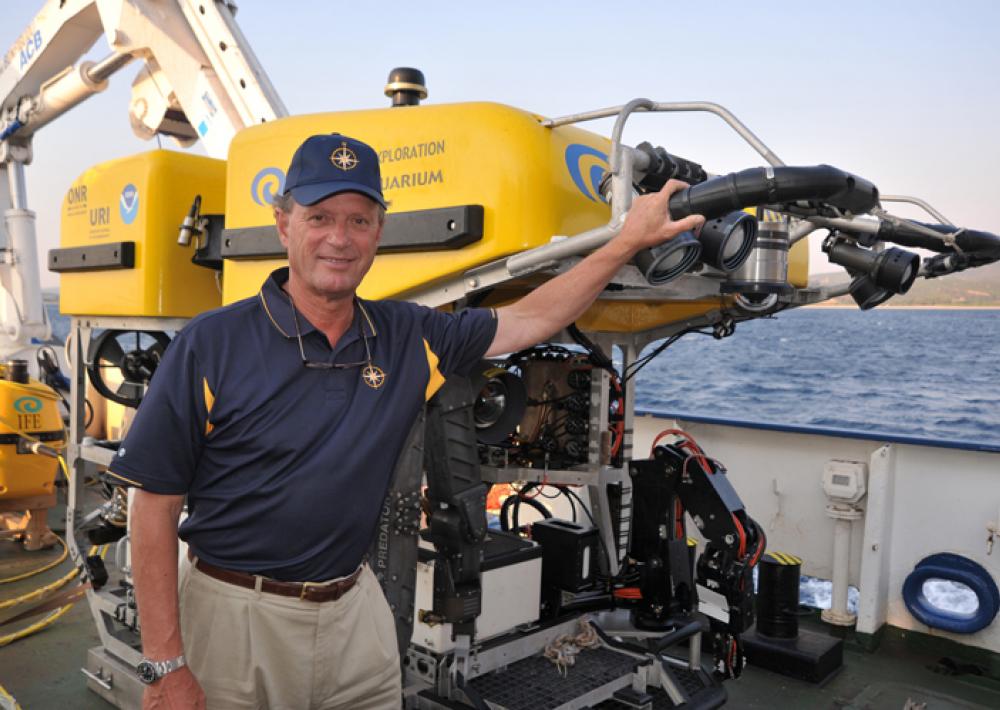 For those who join us at Acumatica Summit 2020 (January 26-31, 2020 in Las Vegas, Nevada in a luxury resort and casino, The Cosmopolitan of Las Vegas), Dr. Ballard will have a lot to say about technology as well as leadership, goal-setting, innovation, and collaboration, all from a unique viewpoint.
"Remember to always dream. More importantly, work hard to make those dreams come true and never give up," he has said. "I grew up wanting to be Captain Nemo from 20,000 Leagues Under the Sea."
Do you have questions about Acumatica Summit 2020? Contact our Summit planning team today. As a reminder, the Summit early bird special is ending in early November, so register right away to take advantage of the savings. And if you are interested in becoming a Summit sponsor, contact sponsorships@acumatica.com for details.