Some changes are coming to Acumatica Summit 2020, and we wanted to let you know what they are and how they're making our cloud ERP event even better than ever.
With Fall here and Winter on its way, the Summit planning team is keenly aware that time is marching on and that Acumatica Summit 2020, happening January 26-31, 2020, is quickly approaching. We're gearing up for what we believe will be a standard-setting cloud ERP event and have been spreading the word about early registration benefits, our luxurious venue, The Cosmopolitan of Las Vegas, and our Closing Keynote Speaker, renowned oceanographer Dr. Robert Ballard.
Now we're turning our attention to informing you of a change to the training format, one we think you'll like.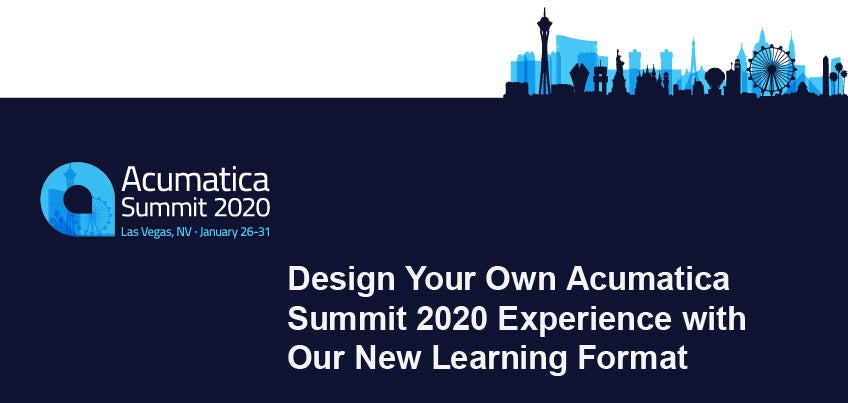 A new (old) way to experience Acumatica Summit 2020
During last year's Summit, we introduced a new training format for partners, customers, and developers. It allowed all attendees to join any Wednesday, Thursday, and Friday training track sessions they wanted or needed based on topic and level of expertise. Mixing-and-matching the Basic or Intermediate courses, attendees could have five half-day classes at the same cost.
It was a great way to offer more flexibility within the training sessions, However, we found that the attendees were not able to get as much of the details they need in the shorter class format. We listened to your feedback and decided to quickly resolve the issue by reinstating the original training format.
This format has you signing up for one class for two-and-a-half days. When you register, you can sign up for specific customer or partner sessions as well as for sessions that combine customer and partner needs.
There will also be a new session, Getting Started with Acumatica ERP, which is being offered on Sunday, January 26 from 2 PM – 4 PM that we highly recommend for those who are new to Acumatica. It will get you up to speed on how Acumatica ERP works before you join the training sessions, thereby eliminating the need for instructors to take critical time explaining the ins-and-outs of our cloud ERP software and, instead, focusing on what the training session is all about—a win-win for every attendee, whether a new or expert Acumatica ERP user.
What about the Summit Breakout Sessions?
While we decided to return to our original format for the training portion of Acumatica Summit 2020, we did decide to apply last year's flexibility to the Summit Breakout Session portion of the event.
Let me explain.
On Monday, January 27 and Tuesday, January 28, the agenda will start out the same as last year, up to and including the specific Partner, Developer, and Customer General Sessions. Attendees will now, however, be able to move between the scheduled Breakout Sessions, all of which will run concurrently. The sessions include:
Information sessions – There will be eight sessions, each one 50 minutes in length. A variety of topics will be covered, such as "Acumatica Productivity Tips and Tricks for New Users" and "Generating More Leads for your Business Through Websites and Email Campaigns."
Roundtables – There will be small group discussions, 90 minutes each. Network, learn about available resources, contribute product improvement suggestions, and share lessons learned.
Interactive Sessions – There will be Discussion, Roundtables, Workshops, and ChalkTalk groups. More information on these sessions will be coming soon.
The takeaway is that you can design your schedule as you see fit (and based on availability), joining sessions that you feel will increase your cloud ERP software knowledge.
How to design your Acumatica Summit 2020 schedule
To simplify the schedule designing process, we've provided you with the Summit Event App. Downloading it is fast and easy. Instructions will be sent to you via email from support@crowdcompassmail.com once you've registered (if you don't receive it, please contact eventcs@acumatica.com).
The mobile app is where you'll build your personal agenda based on the sessions you either want or need to attend. You're not limited by your partner, customer, developer, or analyst title.
You may also design your schedule when you register online.
Acumatica Summit 2020 is a team event
The improvements we've made to Acumatica Summit 2020 will greatly benefit every customer, partner, and developer within the Acumatica community. Whether you're a company leader, manager, or sales, product, and marketing professional, you and your team members will be positively affected by our changes.
It's an ERP journey for your whole team, providing real life, business-growing takeaways and deep insights not available anywhere else. You'll interact and learn with your co-workers, industry peers, and cloud ERP experts in a setting that encourages growth, education, and connection—and this isn't even the best part. Your journey doesn't end when the Summit ends, it's just beginning.
You'll take your new—or enhanced—cloud ERP software knowledge and put it into action, accelerating your business' success in the cloud. You'll continue to make better decisions based on your ability to fully utilize Acumatica's cloud-based ERP solution all year long.
We're looking forward to an amazing Summit and hope you'll join us. Register for Acumatica Summit 2020 today and design a personalized agenda. You're welcome to contact our team with any questions. And if you need to explain to your management team why attending is important, visit Justify Your Trip for some helpful advice.