Why should Acumatica customers, prospects and partners attend Acumatica Summit 2020 in Las Vegas? Here are seven great reasons from Cindy Jutras of analyst firm Mint Jutras. This post originally appeared on MintJutras.com.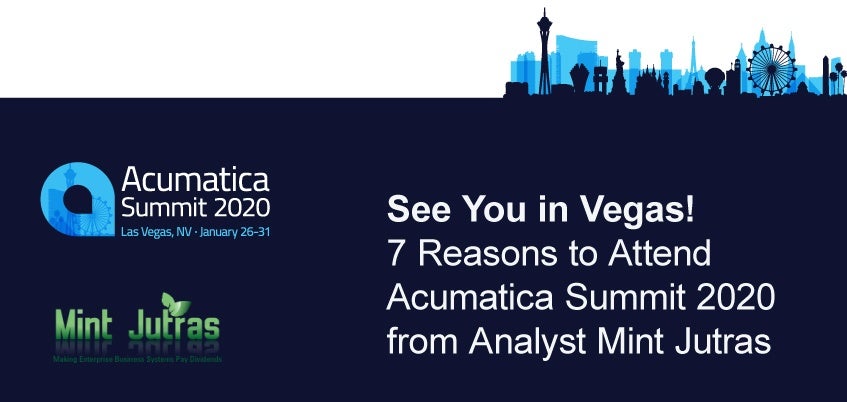 Acumatica Summit 2020 will be at the Cosmopolitan in Las Vegas, NV January 27 – 28, 2020 [the full Summit is January 26 – 31]. Those who are proud to be called "techies" can come a day early for a Hackathon, and any and all can stay longer to attend two more days of training.  As an industry analyst I have attended more conferences than I can count. Many are over-hyped and just plain boring. But I have to admit, this is one I actually look forward to each year. Here's why.
Timing
First of all, the timing is right. Most of these events are held in the spring or fall, which means I am (usually) on the road eight or nine out of nine or ten weeks at a time, sometimes attending one or two events a week – once in a while hitting three in a single week. No wonder most just tend to blur together. And it's not just me. Attendees are juggling their kids' school and sports activities, and maybe even school vacations. But by the end of January, I will have mostly been off the circuit for a couple of months. For other attendees … while nobody is taking a long winter nap, schedules aren't quite so packed. And if you live up north, like I do, you might just be ready to go someplace warm for a few days.
And… there's no football to watch that weekend. The AFC and NFC Championships will have played out and two lucky teams and their fans will be preparing for the Super Bowl the following weekend.
Access to Acumatica Top Brass
For a company that sells exclusively through partners, the top-level executives at Acumatica are amazingly accessible. That includes CEO Jon Roskill, Founder and CTO Mike Chtchelkonogov (Mike C for short), and Chief Product Officer Ali Jani. It is not uncommon for Mike C and Ali to visit customers and they love to engage directly with users. They are very approachable at the Summit.
Network with an Engaged Community
The Acumatica community is very engaged. That not only includes the Acumatica staff and its partners, but the end users as well. So, if you are looking to network, discuss ideas, offer constructive criticism or praise, the Summit is the place to do it. There's nothing like the kind of personal interaction you get from meeting others with common interests and most attendees are more than happy to share their experience.
Product Tips and News
Of course, if you just want to keep to yourself and attend sessions, the Summit is a great place to learn more about the current product, the latest innovation and plans for the future. Plus, you can get tips on implementation and getting the most out of yours.
Cool Keynotes
In addition to hearing the latest from Acumatica execs, Acumatica always has a very interesting guest speaker. Not the fluffy kind of celebrities that pretend they know a lot about running a business, (most should stick to show business) but presenters with some substance. This year you'll hear Robert Ballard, renowned ocean explorer, scientist, and discoverer of the Titanic.
Sessions for Everyone
All sorts of different people attend the Summit. There are sessions for all attendees, including some that are geared towards specific editions (manufacturing, construction, field service, eCommerce…). But there are also sessions for the developers in the crowd, including Acumatica xRP Framework Fundamentals and Web Services (and more). And there are sessions dedicated to partners on topics ranging from pricing to sales strategies, to best practices for co-selling with ISVs.
I'm Usually on a Panel
Typically, I am on a panel with other Industry Analysts talking about trends in ERP. Sometimes we're joined by customers. While I won't pretend this is the best reason for you to attend, I promise to make it entertaining!
And So
These are the reasons I am looking forward to Acumatica Summit 2020. And if you are an Acumatica customer, or thinking about becoming one, or if you are an Acumatica partner, you just might want to attend as well. I'll see you there!