It may be hard to believe, but it's time to register for Acumatica Summit 2020. We enjoyed every minute of last year's Summit, and we're creating another stand-out cloud ERP event. We hope the Acumatica community will take advantage of early registration.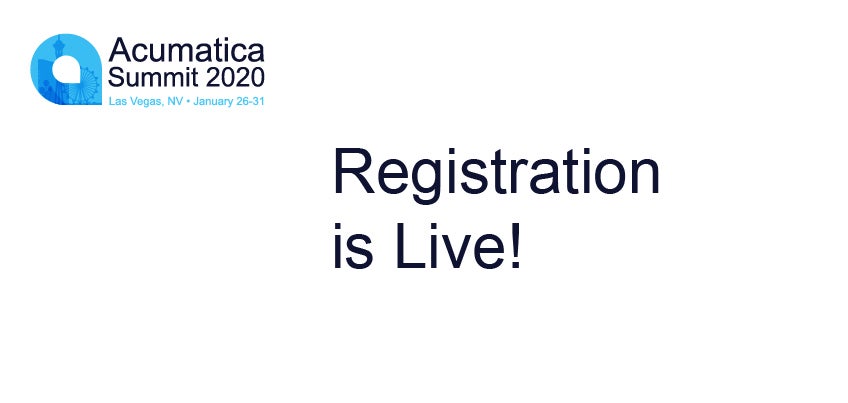 "Acumatica Summit is about so much more than just Acumatica. Join me in Vegas next year for Acumatica Summit 2020 and experience everything Summit has to offer, from what's new in the world of ERP to making critical business connections that will accelerate your business," writes Graham Gardner, Director of Marketing at Strategies Group, in his recap of Acumatica Summit 2019 .
We couldn't have said it better ourselves. The Acumatica team has already begun the monumental (but thrilling!) task of planning Acumatica Summit 2020, and we're excited that our premier cloud ERP event will be taking place in Las Vegas, Nevada at The Cosmopolitan, a luxury resort in the heart of the Las Vegas strip with amazing conference facilities to ensure an incredible experience from start to finish.
By creating an exciting and open environment for all to explore new ideas and strategies, this Summit will undoubtedly be the new standard. Summit 2020 will take place during the week of January 26-January 31, 2020. And, as hard as it is to believe, the time has come to open registration.
With over 1,500 customers, partners, analysts, and employees in attendance last year, and far more expected this year, we have good reason to recommend signing up sooner than later. In addition, there are some benefits only those who choose to sign up early receive.
Register early for Acumatica's annual cloud ERP event and reap the benefits
Just as those who rise early receive the benefit of a beautiful sunrise, so too do those who register early for Acumatica's highly anticipated cloud ERP event of the year—except, instead of a sunrise, they get more practical benefits.
One such benefit is our early-bird registration special. The early-bird rates, especially in comparison to our regular Summit rates, are a very good deal. Take a look:
Summit Only: $795 versus $995
Summit & Training: $1,895 versus $2,495
Training Only: $1,595 versus $1,895
Another benefit is of course getting a room at our amazing venue, The Cosmopolitan of Las Vegas (providing over 240,000 square feet of conference space within a spectacular setting—stay tuned for more on our venue coming soon). Every year, we negotiate a conference rate for a certain amount of rooms. Once they're gone, the rate is gone, too. Why wait to register?
And remember, the sooner you book your flight, the better the airfare.
The benefits keep on coming
Financially, the first two benefits are spot on. We want your experience to be both affordable and educational, which leads to another benefit: an assured spot in our limited-seating training courses. We're always striving to have enough space for any attendees who want to join us, especially regarding our certification courses, but there may be some classes that are more popular than others. It would behoove you to sign up now, so you don't miss out on a course you want or need.
Lastly, registering early ensures that you and your staff are fully prepared for the experience. This means blocking out the dates on your calendars, setting up offsite meetings with customers and partners, and putting together a list of questions you may have for the Acumatica executive team or for the ISVs during the Solution Showcase.
You may also want to think about the feedback you'll want to share about our cloud-based ERP solution, both what is working for you and what is not. Your experience with Acumatica's cloud ERP software heavily influences our bi-annual releases and product roadmap.
Early registrants from past years praise Acumatica Summit
Shawn Slavin, EVP, CS3 Technology, was one of the first registrants for Acumatica Summit 2019 and says this about his Summit experiences. "Acumatica Summit has become my favorite publisher conference of the year. The pace of the product growth is exhilarating, and the energy of the participants is infectious. Management goes out of their way to make themselves accessible to the channel and customers. The management team has kept true to the original purpose of the conference by keeping the focus on product education and sharing Acumatica's vision for the future. It is always time well spent."
He goes on, "I look forward to learning how Acumatica is embracing the technology of the future while both expanding the product into new industries and expanding the current features capabilities. Touring the ISV solution showcase is educational, and I always walk away with new options for providing more value for our customers. I also love reconnecting with friends in the industry and making new connections."
Randy Forkner, President of Collins Computing, Inc., was another of the first to register last year. He says, "Every year I look forward to the Summit as a time to learn new things. For example, the next great things coming out of Acumatica in future product releases and what new industry solutions are available from the growing list of certified 3rd party vendors. The biggest benefit of attending this event is being able to sit down face-to-face with friends and colleagues that I normally only get to talk with on the phone. Getting face time with the folks that impact my business and sharing experiences that help us grow together as a true partner community."
Both Shawn and Randy benefitted from registering right away, and we hope their reasons for attending resonate with you. From information-packed Keynotes to inspiring speakers, and from an extensive Solution Showcase to educational training tracks (check out our Acumatica Summit 2019 recap), Acumatica Summit 2020 will provide the latest and greatest in technology and expertise in the cloud ERP space. And, it's a lot of fun. More on that to come.
Finally, we provide a generous range of options for our sponsors to ensure a comprehensive and immersive ways to engage with our attendees and deliver your message. Acumatica is focused on delivering high impact and relevant experiences for all attendees. Interested in being a sponsor? Learn more by emailing the team at sponsorships@acumatica.com.
Register for Acumatica Summit 2020 today. The ongoing theme for our Summits is "Collaborate. Innovate. Accelerate." That's our promise to every Acumatica community member. And so is doing what's right with our new green initiative.

We hope to see you! For any questions about the event or about Acumatica's cloud ERP software, contact our team at any time.