Waiting to register for Acumatica Summit 2020 promises only one thing: a higher price tag. Don't delay!
This is it—my last chance to urge you to register for Acumatica Summit 2020 (January 26-31, 2020 in Las Vegas, Nevada) before our special early bird pricing ends on Friday, November 8, 2019 at 11:59 pm PST. If you missed my previous post on registering early, let me briefly fill you in on what you'll miss if you decide to register after this date.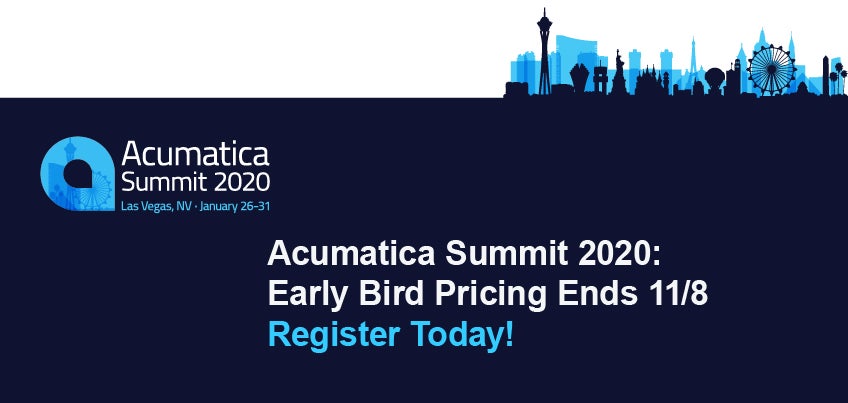 Waiting to register = paying more, staying somewhere else, and missing out
First, whenever a discounted rate for any product or service passes, you're guaranteed a higher price. The same holds true when you wait to register for the Summit. The thing is, we're not talking about saving a few dollars here. We're talking about hundreds of dollars left in your corporate wallet if you register for Acumatica Summit 2020 by or before Friday, November 8, 2019.
Here are the early bird rates vs. the regular Summit rates:
Summit Only: $795 (or pay $995)
Summit & Training: $1,895 (or pay $2,495)
Training Only: $1,595 (or pay $1,895)
You see what I mean, right?
You'll have the same cloud ERP experience but with a lower price tag. Additionally, once you've registered, you'll want to arrange your transportation, and if you're flying, the earlier you book your flight, the better the rate. A win-win situation.
Secondly, we've booked a luxury resort and casino on the Las Vegas Strip. This is important for several reasons. One, The Cosmopolitan of Las Vegas is steps away from its own casino, three beautiful pools, and a Spa, Salon, and Fitness center—not to mention that it's in close proximity to live shows, other grand hotels, and amazing restaurants. Two, it's steps away from the hotel's 100,000 square feet of conference space, where you'll be spending most of your time learning about Acumatica's cloud ERP software. Third, and most importantly, you can book a guest room at the conference rate and experience everything I've just listed at a cost that makes sense. But, as with the early bird pricing, the rate and the guest rooms are limited, so booking now is imperative.
Finally, the Summit is the place where you can grow relationships by networking and connecting with thousands of attendees, learn from product experts in more than 60 sessions, and connect your business as you reach out to potential customers and visit with ISVs about their business-enhancing solutions. You can't get this anywhere else, especially with the savings you'll receive through our early bird pricing.
Early bird registrants give props to Acumatica's Summit
By getting in early, you'll have an affordable and guaranteed front-row seat to what I believe is the biggest and best Summit around, but don't take just my word for it.
David Eichner, CEO, ICAN Software Solutions, was one of the first eight registrants for last year's Summit, and he says, "It's an awesome event when it comes to seeing the constantly improving product features and cutting-edge technology that Acumatica continues to build into their platform. Acumatica's platform removes the chains, the barriers, the limitations that have held back many organizations on other platforms."
And Shawn Slavin, EVP, CS3 Technology, another past attendee who registered early, says, "Acumatica Summit has become my favorite publisher conference of the year. The pace of the product growth is exhilarating and the energy of the participants in infectious. Management goes out of their way to make themselves accessible to the channel and customers. The management team has kept true to the original purpose of the conference by keeping the focus on product education and sharing Acumatica's vision for the future. It is always time well spent."
It really is time well spent, and you might as well spend it economically. Register today (or for sure by or before Friday, November 8 at 11:59 pm PST) for Acumatica Summit 2020 and benefit from the early bird pricing. More than a cloud-based ERP conference, we feel it's an exciting and accelerating cloud ERP experience.
Questions about the Summit? Contact our event team at any time. And email our sponsorship team at sponsorships@acumatica.com if you're interested in taking your business to a whole new level by becoming an Acumatica Summit 2020 sponsor.