Have you heard? Acumatica Summit 2021 is on, and our annual cloud ERP event is going to be better than ever. Today, Acumatica's Bob Clancy shares the three things he's most excited about.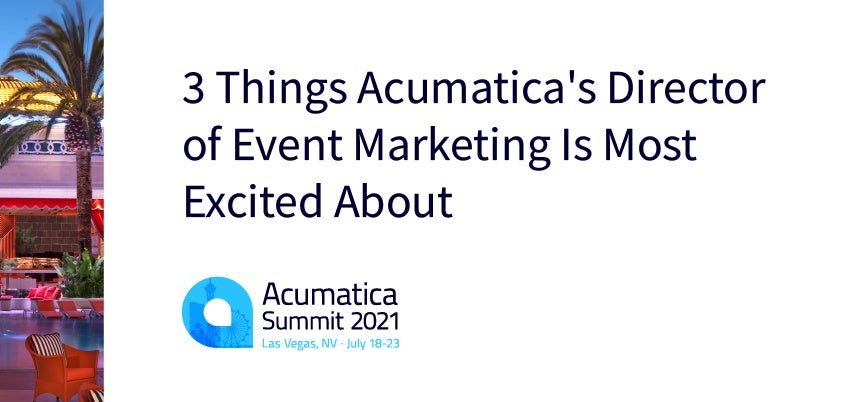 I'm always excited for Acumatica's annual cloud ERP event. This year is no different—except that it is. New venue, new time of year, and new considerations are making Acumatica Summit 2021 (register today!) one-of-a-kind, and that's just the way I like it.
3 (of many) exciting things about Acumatica Summit 2021
As the Director of Event Marketing, I'm involved in every aspect of the planning for Acumatica Summit 2021, which means I'm privy to all of the exciting things we have in store for our attendees. Here are my three favorites:
1. New venue
As we head to the Wynn Las Vegas, attendees can be assured that the five-star resort is committed to providing every guest with a once-in-a-lifetime experience. The Wynn's premium amenities, luxurious guestrooms, and great location delivers on their promise. They're also delivering on their health and safety measures during the COVID-19 pandemic.
In a recent post on making Acumatica Summit 2021 safe, I explained that the Wynn took three months and worked with health professionals to create a thorough and effective Health and Sanitization Plan. When the planning team and I visited, we felt confident that all precautions that could be taken were taken.
We were required to wear masks in all public places, thermal cameras scanned us and other guests as they entered the property, and cleaning and sanitization protocols were meticulously followed. Additionally, our guest rooms were sealed with a disinfection sticker to show that, once the room was cleaned, we were the only other person or persons to enter. If we ordered room service, attendants left the carefully prepared dishes outside our door to reduce the number of touch points.
Beyond the health/safety requirements and the beauty of the venue itself, the Wynn has a newly constructed 300,000 square feet meeting space to accommodate our keynote, general, breakout, and technical training sessions. Even with the new meeting space, we still need to utilize an additional ballroom for the Acumatica Marketplace where Acumatica's ISV partners can safely discuss their third-party applications that seamlessly integrate with Acumatica's cloud-based ERP solution. For anyone interested in sponsoring the Summit, now is a great time to let us know.
Attendees should come with high expectations of enjoying their surrounding while simultaneously increasing their Acumatica cloud ERP software knowledge.
2. New time of year
With the pandemic a factor, we knew early on in the spring that there was a very good possibility that the January Acumatica Summit 2021 wasn't going to happen. As businesses slowly began to re-open and interest in having face-to-face meetings began to rise, we began the process of investigating what it would take to have a Summit in 2021 and keep all of our attendees safe.
We spent weeks working with the Wynn on a deep dive into what it would take to pull off the Summit—as well as confirming we would be able to abide by Nevada's COVID-19 guidelines. With all of this, we made the decision to set the NEW Summit date for July 18-23, 2021.
It's the perfect time to enjoy the many activities Las Vegas and the Wynn have to offer, specifically the Wynn's championship 18-hole golf course and their beautifully appointed pool with poolside food, beverage, and gaming.
And, because our annual Monday Night Attendee Celebration Party is one of the most anticipated events during our Summits, we're excited that this year's celebration can be held outside. Wynn's Encore Beach Club features a three-tiered pool complex, 'lily pad' water lounges, cabanas and eight two-story bungalows. Don't worry, you don't need to wear a swimsuit to attend. Just come ready to have a fantastic experience.
3. New friends (and old)
I'm not the only one at Acumatica who looks forward to getting our community together every year. Across the board, Acumatica executives and employees look forward to connecting with the Acumatica community. Whether you're a customer, partner, developer, or industry analyst, your guaranteed to meet new friends and reconnect with old ones.
Ajoy Krishnamoorthy, Vice President, Platform Strategy, even compared it to a "family reunion" in a post about Acumatica Summit 2019. He wrote, "It's a type of family reunion but on a much larger scale."
Ajoy also quoted Christian Lindberg, Vice President, Partner Solutions, who wrote in a similar Summit post, "Every year, I'm struck with the sense of community and family that pervades our premier cloud ERP event. It's a unique experience for those who have attended other technology conferences."
It really is a warm, welcoming atmosphere. While I'm aware that with COVID-19  we will have to put measures in place that alter how we interact to a certain extent, I am very confident that we can provide the same connection we experience year-after-year at our annual Summits.
Acumatica Summit 2021 will be safe, educational, and fun
There's obviously a lot of new things to consider—and to be excited about—as we roll ever closer to Acumatica Summit 2021, but one thing that doesn't change is our desire to further the success of every member of our ecosystem with our award-winning cloud ERP solution. It's a powerful motivator, and we can't wait to get everyone together in one place, at one time once again.
Register for Acumatica Summit 2021 today. It will be a safe, educational, and fun experience, and you won't want to miss it. For any questions, please contact our planning team at eventcs@acumatica.com and don't forget to check out our sponsorship opportunities.