Is procrastination ever a good idea? Not very often, so if you've put off registering for Acumatica Summit 2021, then you may want to get on it before early bird pricing ends.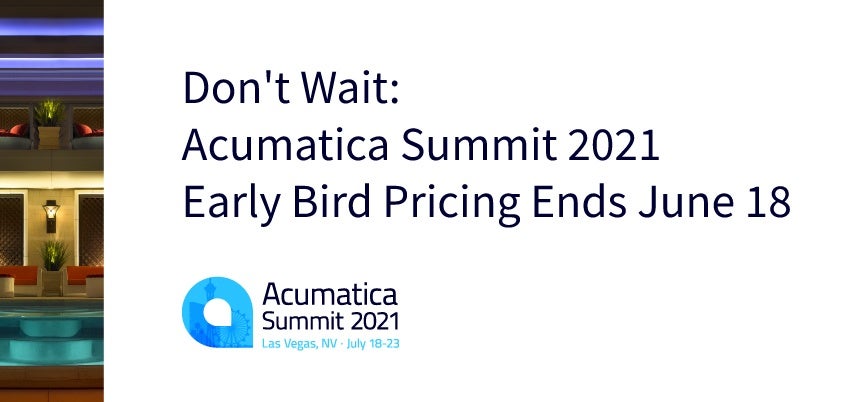 Is this year flying by for anyone else? I can't believe that Acumatica Summit 2021 is only a few short months away (July 18-23, 2021 in Las Vegas, Nevada). If you're thinking of or planning to attend our annual Summit, you should know that time is flying for another reason: early bird pricing ends June 18, 2021 at 11:59 pm PST.
Why pay more when you can pay less?
Not to sound like a commercial, but why pay more when you can pay less?
How much more would you pay if you waited? Here is a breakdown of the prices:
—   Summit Only: $795 vs. $995
—   Summit & Training: $1,895 vs. $2,495
—   Training Only: $1,595 vs. $1,895
As far as I'm concerned, there isn't a good reason to put off registering…unless you aren't planning to attend. If that's the case, then let me provide you with a few reasons I hope will change your mind.
3 (more) reasons to attend Acumatica Summit 2021
There are many great reasons to attend Acumatica Summit 2021. In fact, I wrote about a few of them (three, to be exact) in a recent post. There is a little overlap of these reasons in the reasons I share today, but it's because they're so good.
1. Location
The Wynn Las Vegas is a five-star resort located near the north end of the Las Vegas Strip. It offers guests premium accommodations and a plethora of amenities.
While the majority of our time will be spent learning about Acumatica's award-winning cloud ERP software, there will still be opportunities for Summit attendees to enjoy everything the Wynn and Las Vegas has to offer, including:
Can you see why location is number one on my list of reasons to attend? Maybe it should come after my second reason, but it's hard to beat a luxurious resort and a sunny climate no matter how great Acumatica's cloud ERP solution is (and it is). Quick note: Just as I am urging you register for the Summit now and not after the early bird pricing ends, I urge you to make any reservations for golf or the Spa in advance as appointments may go fast.
Also, I would be remiss if I didn't reiterate the fact that staying at the Wynn is the safest experience for you during the COVID-19 crisis. I can say this because I've experienced their stellar safety precautions myself during the Summit planning trip.
The resort's Health and Sanitization Plan, developed over three months and with the assistance of leading medical and public health officials, is bar none. From face coverings in all public areas, a comprehensive cleaning and sanitization program, and non-invasive thermal cameras to guestrooms sealed with a disinfection sticker and over 300 hand sanitizing stations throughout the property, the Wynn has you covered.
And, the cherry on top: The Wynn Las Vegas is one of the first resorts to become Sharecare Health Security VERIFIED™ with Forbes Travel Guide.
2. Learning
As with every Summit, Acumatica Summit 2021 is filled with relevant, up-to-date cloud ERP information geared towards the needs of our customers, partners, developers, and analysts. No one is left out.
The Summit will feature:
Two full days of general sessions followed by three days of technical training (Agenda)
Keynote presentations and live product demonstrations
Insights to product roadmap and direction, company priorities, and channel development
Interaction with Acumatica executives, product, and engineering experts
Meeting space at the Wynn will easily accommodate our expected 2,000+ attendees. The keynote and general sessions will be held in half of the 81,000 square foot Cristal Ballroom—plenty of space to spread out, stay safe, and learn exactly how Acumatica can help your business succeed in the new digital economy.
3. Networking
In the time of COVID-19, being able to gather with people in a safe and healthy environment is a big deal. I'm excited to have the chance to make new friends and meet up with old friends in a fun and beautiful location.
Official networking opportunities will abound, including during the Welcome Reception and annual Partner Expo (the Acumatica Marketplace) where Acumatica's partners will be able to safely share their third-party applications and attendees can ask questions.
The Monday Summit Celebration Party, one of our most anticipated events every year, will also be a perfect place to network, both personally and professionally. It will be held outside this year at the Wynn's Encore Beach Club, which features a three-tiered pool complex, 'lily pad' water lounges, cabanas and eight two-story bungalows. Come ready to enjoy time well spent.
Check registering for Acumatica Summit 2021 off your to-do list
Life is filled with many tough decisions but making the decision to register for Acumatica Summit 2021 before the early bird pricing ends isn't one of them. Take care of it right now!
To learn more, check out the Acumatica Summit 2021 Event Page and/or email the planning team at eventcs@acumatica.com. The entire Acumatica team is excited to see you in Las Vegas this July, and we anticipate the location, learning, and networking will make this event one to rave about.