Don't love packing? Don't worry, we've put together a handy packing guide to make getting ready for Acumatica Summit 2021 a breeze.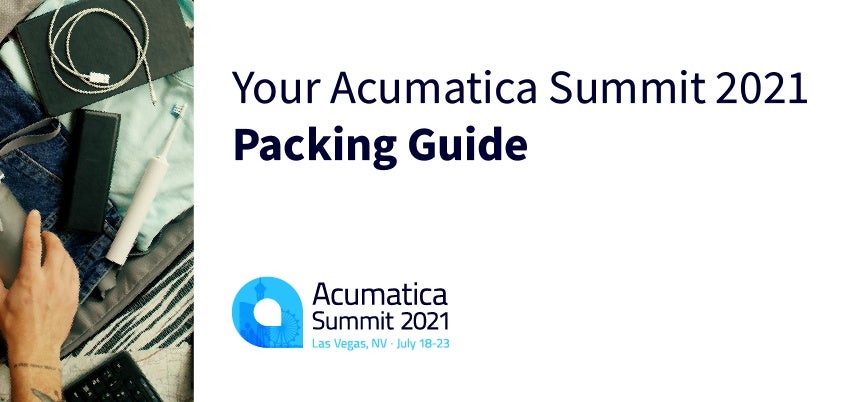 Acumatica Summit 2021, heading to Las Vegas July 18-23, 2021 at the five-star Wynn Las Vegas, is an event packed full of cloud ERP information, networking, and fun. Something else that gets packed? Your bags, and they won't do it themselves. Our handy packing guide will help take the pain out of the necessary—and sometimes painful—chore.
Acumatica Summit 2021 + Las Vegas in July = Fun in the sun
Last year in What to Pack for Acumatica Summit 2020, we noted that Las Vegas in January is not like Las Vegas in July. Little did we know then that we would actually get to experience Las Vegas in the middle of summer, and we couldn't be more excited. According to Weather Spark, the daily high temperature hovers around 104 degrees Fahrenheit with a low around 80 degrees, give or take a few degrees, and it rarely falls below 71 degrees.
With this in mind, we've taken a look at our list from the previous year and updated it based on the almost 45-degree temperature increase. We've also broken the items we suggest into categories for easy reference.
Clothing
Acumatica Summit 2021 is a business casual event. The list includes everything you'll need for Summit sessions as well as for time on your own.
Make sure to pack:
Branded shirt or polo: Acumatica shirts and/or polos shirts from the Acumatica eStore will be worn by the Acumatica team during this year's event. Branded items are also a great idea for you to consider, especially if you haven't seen the community in a while or are new to it.
1 Suite skirt/slacks and jacket
1, 2, or 3 dress/collared shirts (One shirt per nights staying)
1 Cardigan/blazer (Speaker)
1 Light coat/sweater (Air conditioning!)
1 Dressier outfit (For Monday Night Attendee Celebration Party at the Wynn's Encore Beach Club)
1 Pair of jeans
1-2 Pairs of shorts
1-2 T-shirts
1 Workout outfit (Yoga/Fun Run)
1 Swimsuit/cover up
1 Sleep outfit
Personal care items
Shoes
For all attendees, the word to keep in mind when packing shoes for the conference is 'comfortable.'  Between the Summit sessions and checking out Vegas during your free time, you'll do plenty of walking, and you'll want to make sure you have shoes that make it a pain-free experience.
One thing you can do to reduce some of the walking is by staying at the Wynn for proximity to the meeting space…and to the pool. Plus, they have award-winning COVID-19 safety measures in place, so you can enjoy your stay in a safe and healthy environment.
Make sure to pack:
1 Pair of sneaker tennis shoes
1 Pair of flip flops (Did we mention the pool?)
1 Pair of loafers or business-appropriate shoes
1 Pair of flats and a pair of heels (for the ladies)
Miscellaneous supplies
No trip would be complete without the miscellaneous items that always seem to be forgotten.
Make sure to pack:
Electronics: Laptop, chargers
Travel coffee mug
Phone & charger
Business cards
Water bottle
Reading glasses
Sunglasses
Notebook and training prep work
Hat
Day bag
Sunscreen
COVID-19 reminders
The Wynn Las Vegas has award-winning COVID-19 safety measures in place, so you can enjoy your stay in a safe and healthy environment. The hotel will provide masks daily to those who need them and have hand-sanitizing stations throughout the resort, but you may want to pack extra masks and hand sanitizer for the times when you're out and about.
Before and after Acumatica Summit 2021
Now that you know what to pack for Acumatica Summit 2021, there are a few things we recommend you do every year to make sure you get the most out of your time learning about Acumatica's cloud ERP software and networking with 2,000+ other customers, partners, developers, and industry analysts.
For example, as we suggested last year, make a list of attendees you want to connect with by downloading our mobile app and start networking, review the Acumatica Summit 2021 agenda and decide which training and sessions you need, and make a plan for communicating with your team members who won't be attending (e.g. have them check Twitter for Acumatica's tweets during the event, #AcumaticaSummit). The app will be used for easy and safe on-site registration at Summit. Instructions on downloading the app will be provided once you've registered for Summit. If you don't receive the instructions, please contact eventcs@acumatica.com.
When the event is over, reach out to the people you connected with during Acumatica Summit 2020, schedule a meeting with your team and go over the practical and educational insights from our cloud ERP event, and complete your certification requirements.
"What happens here, only happens here"
In case you haven't heard, Las Vegas' motto is no longer "What happens in Vegas stays in Vegas." Their new motto is "What happens here, only happens here." Las Vegas is definitely a one-of-a-kind place, and we're anticipating this year's Summit to be one you won't forget, from the cloud ERP learning and fun to hanging out in the city that never sleeps.
If you haven't yet registered for Acumatica Summit 2021 and reserved your guestroom at the Wynn Las Vegas, now is the time. Any questions about the week-long event can be emailed to our planning committee at eventcs@acumatica.com, and any questions about Acumatica's cloud ERP solution can be directed to our cloud ERP experts.