With Acumatica Summit 2021 on its way, the planning team is working hard to make it a memorable event. They're also making sure it's a safe event by ensuring extensive COVID-19 precautions are in place.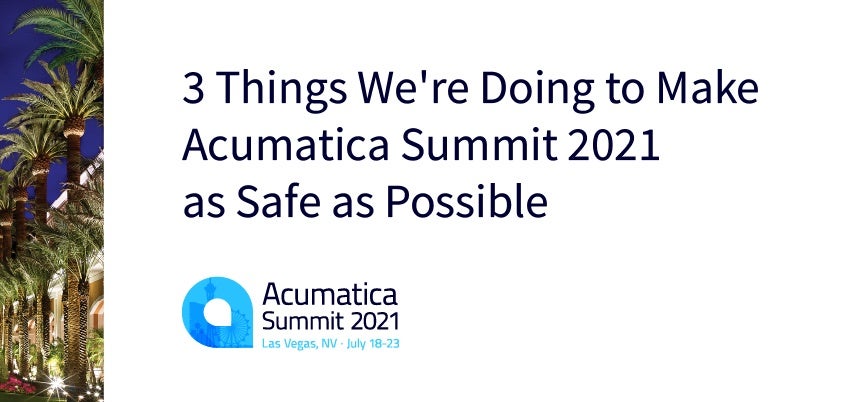 The countdown to the start of our highly anticipated cloud ERP event of the year has begun, and registration for Acumatica Summit 2021 is now open. However, the excitement we're feeling about gathering the Acumatica community together July 18 – July 23, 2021 at the Wynn Las Vegas is tempered by the reality of COVID-19.
We understand that there are concerns about health and safety, so we're sharing the three major things we're doing to make Acumatica Summit 2021 a safe and healthy event.
#1 Venue
One of the main requirements of any event, especially an event that will host a group as large as the Acumatica community, is location. The venue must have the appropriate guestroom and meeting space (more on that in a moment) as well as amenities and services that address the needs of a diverse audience.
The Wynn Las Vegas not only meets these expectations, it exceeds them. More importantly, it's exceeding the safety and health requirements we expect during the pandemic. Their Health and Sanitization Plan is the result of three months of working closely with medical and public health officials, and it is clearly laid out on their website for every guest to read before they arrive.
The hotel's safety plan covers every COVID-19 concern, including:
Requiring all guests and employees to wear face coverings in public (complimentary face coverings provided daily)
Non-invasive entry screening with thermal cameras
Increased cleaning and disinfecting in all public spaces, especially on "high-touch" surfaces
Sanitization protocols for hotel guest elevators, restaurants, guestrooms, the casino, golf clubs, and more
Over 300 hand sanitizing stations throughout the property
And so much more
The Wynn's CEO, Matt Maddox, wrote about his vision for the city's comeback during and after COVID-19 in a guest opinion for the Nevada Independent. "Wynn was one of the first to produce a detailed reopening plan in April that is now the foundation for similar plans across many industries, not just hospitality. We reopened with top-notch health and safety protocols: stringent employee testing, a dedicated contact tracing team, and rigorous sanitation plans."
According to Matt, he and his team are also working with University Medical Center (UMC), Georgetown University, and leading labs in California and New York to "study technology that can rapidly and rigorously test thousands of people in a matter of hours." They're going even further by building an onsite lab at the hotel, with the help of UMC, to deploy these rapid tests on a daily basis, utilizing "FDA approved 'gold standard' PCR technology." They hope to have the lab up and running before Thanksgiving.
Matt and his team's dedication to keeping their guests safe while also ensuring the recovery of Las Vegas' economy is inspiring and should assure Acumatica Summit 2021 attendees that they are in the absolute best place to hold an event of our size and caliber. Watch this video to hear more safety information directly from Wynn staff.
#2 Meeting space and meeting etiquette
As noted earlier, the venue must have the space to accommodate our size of group. The Wynn Las Vegas delivers, boasting 300,000 square feet of event space.
Our keynote and general sessions will be held in the Cristal Ballroom. Correction, they will be in a little over HALF of the 83,000+ square foot ballroom. With about 42,000 square feet, we will be able to seat thousands of customers, partners, developers, and analysts while easily maintaining the proper social distancing. We will also monitor the number of people in the ballroom via a digital board to ensure we are following all Nevada state COVID-19 guidelines and will live stream our two keynotes as we've done every year.
Our Acumatica Marketplace is taking place in the Wynn's Lafite Ballroom. With over 50,000 square feet at our disposal, Acumatica's partners will have plenty of space to safely discuss their third-party applications that extend the functionality of Acumatica's cloud ERP solution.
Within these sessions and our many breakout and technical training sessions, we will be incorporating a meeting etiquette protocol. Each attendee will be asked to evaluate their comfort level with networking when they check in. Depending on how he or she feels, he or she will be provided with a red, yellow, or green indicator. Red means "I'm being cautious and am maintaining my distance"; yellow means "I'm being cautious but will chat if needed"; and green means "I respect other people's concerns but am ready to chat if you are."
#3 Monday Night Attendee Celebration Party
Our Monday Night Attendee Celebration Party is a highlight of our annual Summit. Whether you choose to work or to just relax with good food, beverages, and dancing, the Attendee Party is enjoyed by everyone.
With COVID-19 a factor, we will be hosting the event at the Wynn's Encore Beach Club, which will allow us to be outside. Attendees can comfortably distance themselves while still mingling.
(Bonus) #4 Business continuity
The COVID-19 crisis threw every business in every industry into a tailspin. Being forced to turn their onsite workforce into a remote one, organizations either fast tracked their digital transformation plans they already had in place or they watched their business flounder as they desperately searched for technology that could get them back up and running.
Those running their businesses on Acumatica's cloud ERP software, however, experienced business continuity, easily connecting employees through Acumatica's mobile technology and using Acumatica's cloud-based ERP solution as their single source of truth. Our service commitment to our customers is providing non-stop support and operational capabilities, something you can learn more about at Acumatica Summit 2021.
Acumatica Summit 2021 promises to be a safe, educational, and fun event
As you can see, we are 100% committed to protecting our Acumatica Summit 2021 attendees while also ensuring that our attendees can grow their businesses with Acumatica's award-winning cloud ERP solution—even in uncertain and unprecedented times.
Register today and expect to have a safe, educational, and fun time at Acumatica Summit 2021. If you have questions, please contact our team today.