Members of the Acumatica community requested more Acumatica Summit 2021 training track choices and longer sessions. They're getting both in the better-than-ever Mix-and-Match training format.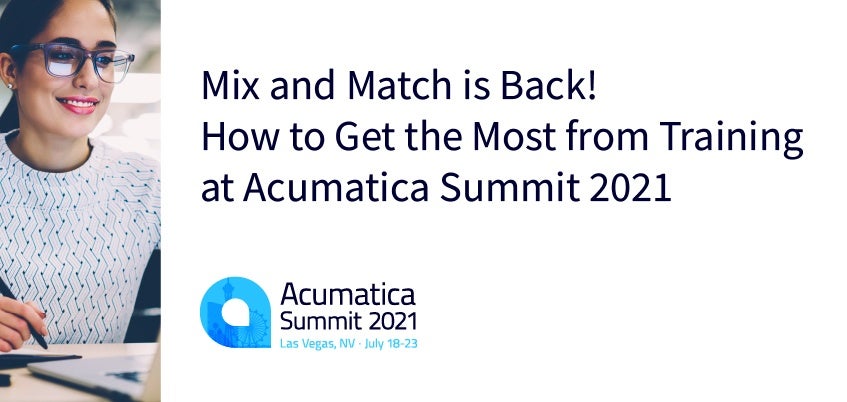 Acumatica Summit 2021: Mix and Match is back and better than ever
After Summit 2020 (where the original training format of signing up for one class for two-and-a-half days was reinstated), we checked in with attendees to see how it went. While you appreciated sessions filled to the brim with cloud ERP software insights, you said you wanted a choice of several training tracks as well as wanted the sessions to be longer so that you could have more time to get as many details as possible.
Based on this feedback, we decided that bringing back the Mix-and-Match format from Summit 2019—with improvements—was the best way to go. The better-than-ever plan is as follows:
Each Mix-and-Match session will last eight (8) hours on Wednesday, July 21 and Thursday, July 22 and four (4) hours on Friday, July 23.
You can select up to three (3) training tracks based on the topic you're interested in.
These Mix-and-Match sessions are for customers only. The two-and-a-half-day sessions from last Summit will still be available for both customers and partners. The Acumatica Summit 2021 agenda clearly designates which training sessions are for customers, partners, or both.
Prerequisites (e.g. completing the A150 Getting Started with Acumatica ERP course), course descriptions, dates/times, CPE information, and how many spots have been filled are also noted for each session. Make sure to review the description and required experience before signing up for the class so that you know what to expect.
Please note that laptops are not provided, and they will be required to complete lessons in the class.
Are there changes for the Summit Breakout Sessions?
If you're wondering if the Summit Breakout Sessions will be affected by the changes, we're making for Acumatica Summit 2021, the answer is no.
The agenda for Monday, July 19 and Tuesday, July 20 will follow the pattern set in previous years. Attendees will be able to move between the Breakout Sessions (broken down as Information sessions, Roundtables, and Interactive Sessions) as they desire.
Day One will kick off with the Opening Keynote followed by different Customer, Developer, Manufacturing, Marketing, Sales, Distribution, Retail, and Core Platform Breakout Sessions along with the Partner, Developer, and Customer General Sessions. Day Two's Keynote and Breakout Sessions (no General Sessions this day) will end on a high note with renowned speaker, author, and advisor Mike Walsh.
The Summit Event App will help you with the scheduling process. You will have access to your personalized Summit agenda, be able to view featured speakers, and more. You will also use the app for easy and safe on-site registration at Summit. Instructions on downloading the app will be provided once you're registered. If you don't receive it, please contact eventcs@acumatica.com.
Acumatica Summit 2021: A learning, fun-filled, and safe cloud ERP event
With an anticipated 2,000+ attendees and over 80 sessions in a 6+ day timeframe, we believe Acumatica Summit 2021 will be a fantastic learning, fun-filled, and safe cloud ERP event, especially with a venue like the Wynn Las Vegas. We're confident that the resort has taken every precaution to secure the health and safety of every attendee with an award-winning Health and Sanitization Plan.
We're also confident that you'll walk away from your Summit experience with practical, real-life insights on how to ensure resiliency and business continuity in challenging times. If you haven't yet registered for Acumatica Summit 2021, this is the perfect time. Our early-bird pricing has been extended to June 18. Take advantage of the savings and secure your spot today.
For any questions, contact eventcs@acumatica.com.