Acumatica Summit 2021 is heading to the luxurious, five-star Wynn Las Vegas. Attendees will think they've hit the jackpot.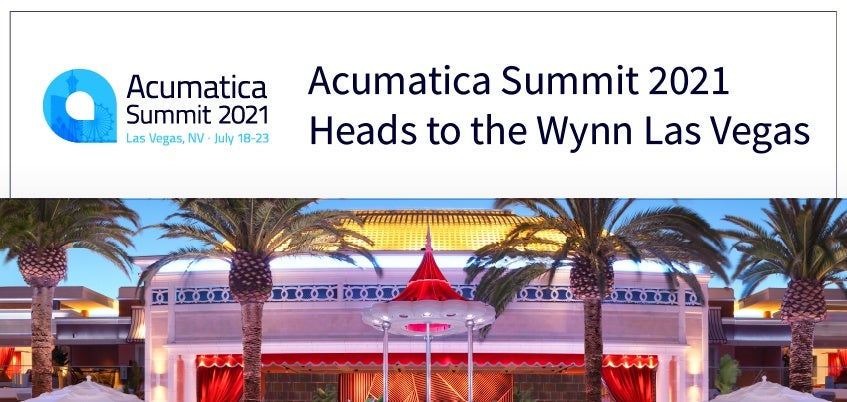 With Acumatica Summit 2021 scheduled for July 18 – July 23, 2021 in Las Vegas, Nevada (registration is open!), the planning team had two major questions: How do we ensure the health and safety of our attendees during the COVID-19 pandemic, and where can we go that provides a spectacular setting our attendees can enjoy while learning about Acumatica's award-winning cloud ERP solution?
We were able to answer both questions with one solution: the Wynn Las Vegas.
The Wynn Las Vegas
Acumatica Summit 2021 will be our second Summit held in Las Vegas. Customers, partners, developers, and industry analysts who attended last year experienced a standard-setting event. However, we're determined to raise the bar and the stunning, five-star-rated Wynn Las Vegas is helping us do it.
Here's how:
Health and Safety
Though we address this extensively in a recent Acumatica Summit 2021 health and safety post, we want to once again assure all attendees that the Wynn Las Vegas has gone above and beyond in their safety protocols. They are meticulously following the directives set for all events in Las Vegas, including limiting the number of people (including staff and entertainers) to 250 people per room.
Their comprehensive Health and Sanitization Plan was created with the help of medical and public health officials, fine tuned and perfected over a three-month time frame. The video below shows what you can expect to experience during Acumatica Summit 2021 at the Wynn, while also highlighting the luxurious meeting space we'll be enjoying soon.
As you just saw, the Wynn is doing everything right. Wynn's incredible efforts on the behalf of their guests (e.g. masks required for all visitors/employees, thermal cameras screening every visitor, sanitization of every space in the hotel, and much more) combined with our determination to help your business succeed is the perfect Acumatica Summit 2021 formula.
We guarantee this event is happening, and we guarantee that attendees can confidently embark on their cloud ERP software journey without concerns for their health and safety.
Location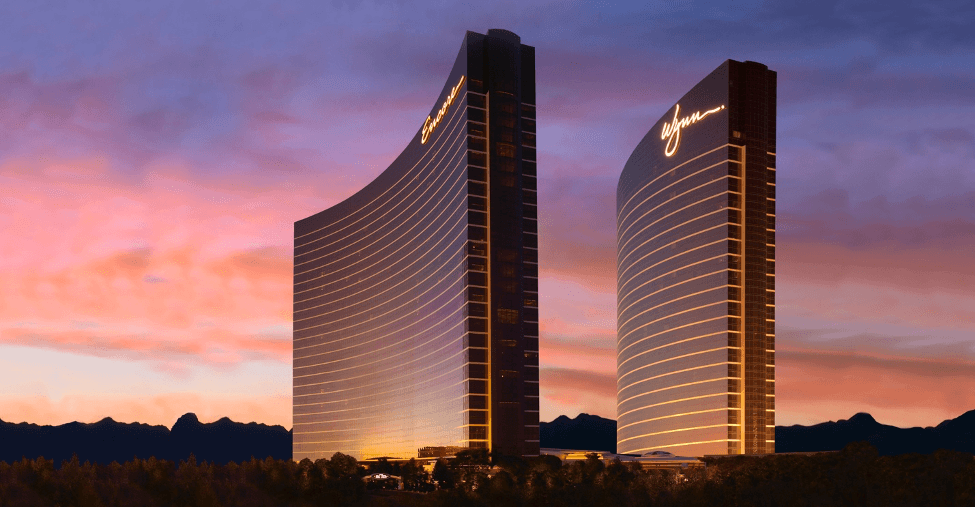 Pictured: The Wynn Las Vegas
Located near the north end of the Las Vegas Strip, our luxurious venue is within walking or bus-ride distance from all that Las Vegas has to offer. Acumatica Summit 2021 will be packed full of learning sessions and networking opportunities, but in your free time, you'll want to check out the dining, entertainment, and sightseeing options right outside the Wynn's front doors.
Like last year, getting there is easy. Book your flight into McCarran International Airport (LAS) and arrange a Ride Share through Uber or Lyft, taxi service, bus, or by rental cars (either through the McCarran Rent-A-Car Center, which is just over five miles from the hotel, or through an offsite rental car agency).
Guest Rooms

Pictured: Encore Salon Suite Bedroom
Every guestroom at the Wynn Las Vegas is designed to provide guests with a "serene and stylish retreat." Floor-to-ceiling-windows in the hotel's view rooms offer spectacular Las Vegas Strip or Las Vegas valley vistas.
The over-600-square-foot rooms come with pillow-top Wynn Dream Beds; touch-screen curtain, lighting, room service, and privacy controls (both as a standard offering and part of their COVID-19 protocols); a 55" 4K UHD television; and lavish, amenity-filled bathrooms.
Please note that we have a limited number of guestrooms reserved at the special Summit rate. Once they're gone, they're gone, and attendees will then be subject to the hotel's nightly guestroom rate, which varies.
The Casino

Pictured: The Wynn Las Vegas Table Games
Featuring table games, slots, high-limit salons, poolside gaming, state-of-the-art sportsbook, and "Las Vegas' preeminent poker room," the Wynn Las Vegas Casino offers their guests a one-of-a-kind gaming experience. The opulence of the casino is only eclipsed by the service provided by their experienced dealers and staff.
The Pool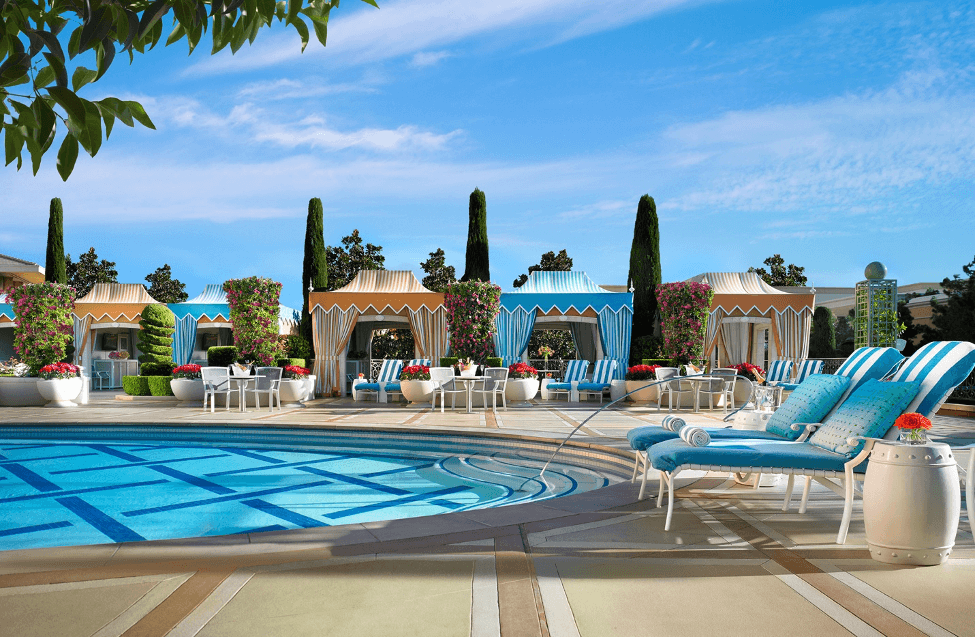 Pictured: Cabana-end of the Wynn Las Vegas pool
The hotel's heated pool is open 9 a.m. – 6 p.m. daily. Time and weather permitting, attendees can relax and soak up the tranquil and tropical surroundings in one of the abundant lounge chairs or in a private cabana. Guests will also enjoy poolside cocktails, food service, and gaming.
Spa and Fitness Center
Pictured: The recently reimagined Spa at Wynn
As always, our Summit venue provides the very best in the way of amenities. The Spa at Wynn offers a range of treatments, including classic massages, specialty therapies, their exclusive "good luck ritual," and a hydrating collagen booster facial. Making spa reservations in advance is recommended.
The Wynn fitness center is open 6 a.m. – 8 p.m. daily and is located on the spa level. In addition to daily fitness classes and the availability of certified personal trainers, guests can utilize their state-of-the-art equipment, such as Cybex treadmills, elliptical trainers, recumbent and upright bikes, and strength equipment.
Acumatica Summit 2021 heads to Las Vegas
In addition to the amenities listed above, the Wynn provides a championship 18-hole golf course, the Wynn Golf Club; the Wynn Plaza Shops for an exclusive shopping experience; fine dining options ranging from contemporary Mexican to Italian and from Japanese to Chinese (and everything in-between); and nightlife and entertainment options galore (all dependent on Nevada's phased COVID-19 re-opening schedule).
These amazing amenities are echoed by Wynn's amazing 300,000 square feet of event space. Acumatica Summit 2021 will be filled with informative general sessions, technical training, live presentations, and networking with Acumatica executives and peers—all focused on Acumatica's cloud-based ERP solution
The hotel's Cristal Ballroom will be home to our keynote and general sessions, where we'll be utilizing about half of the 81,000 square feet to seat thousands of customers, partners, developers, and analysts while easily maintaining the proper social distancing. The Acumatica Marketplace, our annual Partner Expo, is taking place in the Wynn's Lafite Ballroom. With over 50,190 square feet at our disposal, Acumatica's partners will have plenty of space to safely discuss their third-party applications. And our much-anticipated Monday Night Attendee Celebration Party is set at the Wynn's Encore Beach Club, which will be the perfect outdoor location for a July party in Las Vegas.
Register now for Acumatica Summit 2021. It's the perfect time to reserve your guestroom at our luxurious venue. It's also the perfect time to consider becoming a sponsor, which is a prime way to showcase products and services to the Acumatica community.
Questions about Acumatica Summit 2021, becoming a sponsor, or our cloud ERP software can be emailed to our planning committee at eventcs@acumatica.com. Check out our FAQ page for even more information.