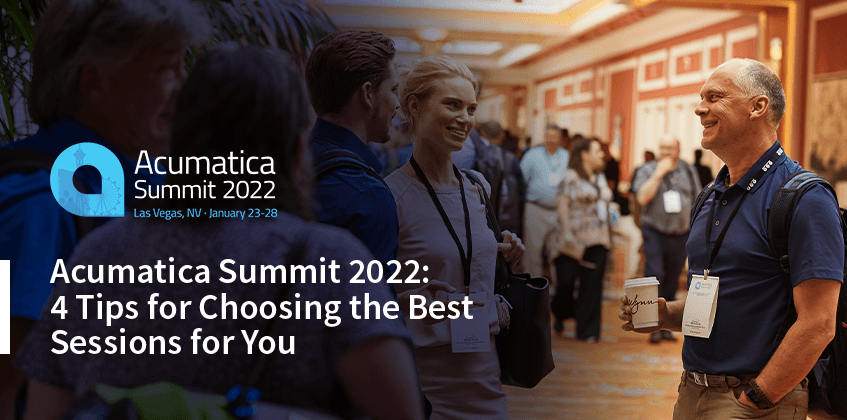 Acumatica Summit 2022 (January 23-28, 2022, at the Wynn Las Vegas) draws customers, partners, developers, and industry analysts eager to connect with each other and determined to accelerate their success in today's digital economy using Acumatica's award-winning cloud ERP solution. Part of the connecting and accelerating takes place during our insightful training sessions on the Wednesday, Thursday, and Friday of every event.
Training Sessions at Acumatica Summit 2022
Last year, we reinstated the Mix & Match format for these training sessions, and it was well received. Thus, the format of the training sessions for Acumatica Summit 2022 will remain the same:
Regular, 2.5-day sessions for partners and customers. Select one session for all three days.
Mix & Match sessions will be for customers only. Customers can select the Mix & Match format and enroll in up to three sessions: one-day sessions on Wednesday and Thursday and half day session on Friday.
The Acumatica Summit 2022 agenda clearly designates which training sessions are for customers, partners, or both.
Tips on How to Select Sessions
Attendees come to our annual cloud ERP event with certain expectations, and our goal is to ensure that those expectations are met. With this in mind, we have some tips on how to select the right session for each attendee.
Identify your relationship with Acumatica. Are you a partner (VAR, ISV, OEM) or a customer? In the diagram below, sessions for partners are highlighted in light blue, customers are in light green, and partners and customers both are in light orange. Select the one that applies.
Identify the area of Acumatica Cloud ERP you are interested in. If you are a partner, are you interested in product implementation or obtaining soft skills? If you are a customer, are you interested in Finance, CRM, or any other functionality of Acumatica ERP? Select the area you are interested in and view the sessions available for this area.
Identify your experience with Acumatica Cloud ERP. Are you new to the system or are you an expert? The Summit Agenda page provides a detailed description of the session you selected. Each session has the Acumatica ERP Experience Required section. Make sure you match the experience criteria.
Verify that the session scope is what you need. Read the Course Description section of the session you selected to fully understand what is going to be covered.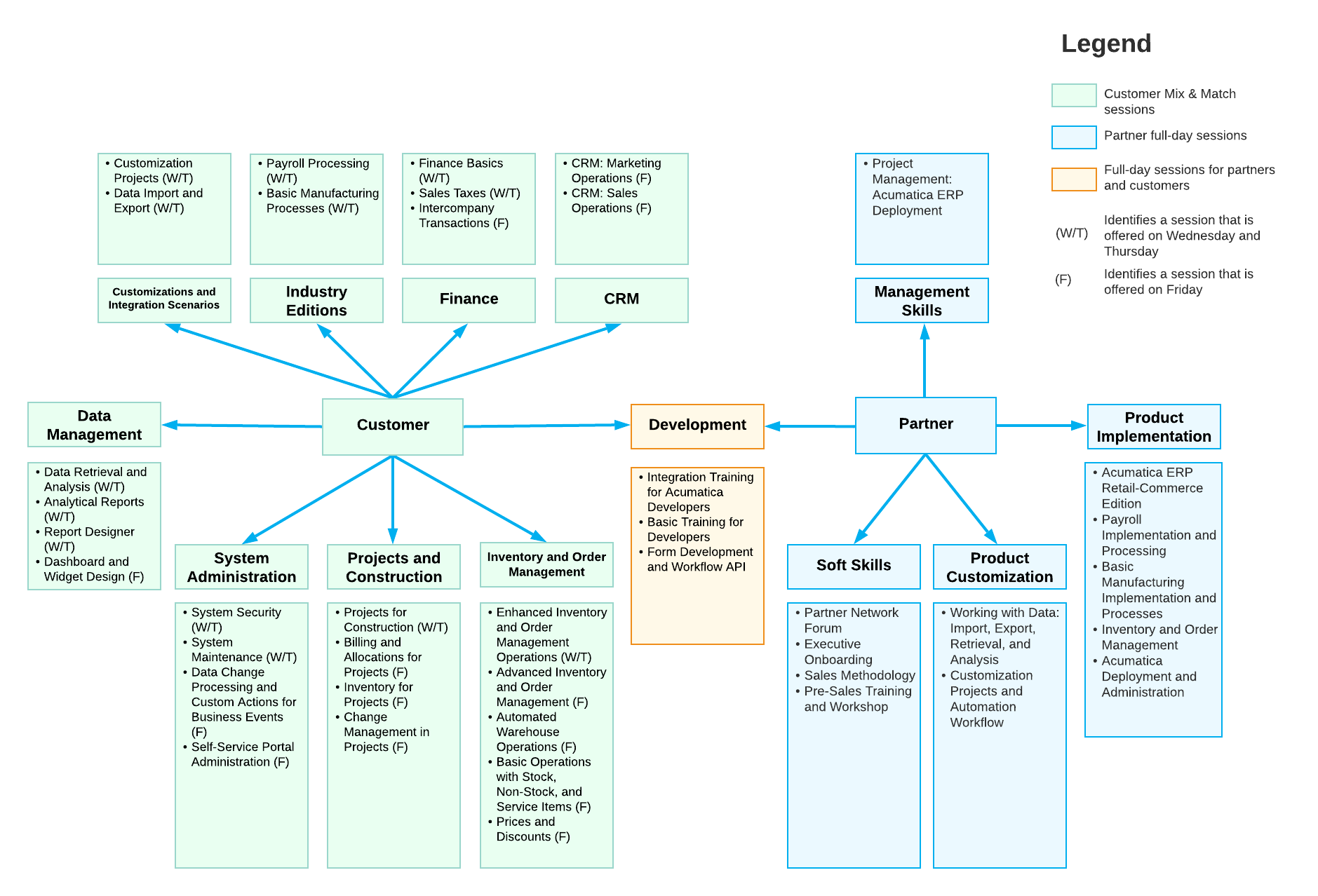 What Else You Should Know
Before selecting the session(s) you will attend, carefully read the Prerequisites section (in the session descriptions) to find out the additional requirements. These requirements might take some time to accomplish, so the earlier you start, the better.
For some partner sessions, attendees will automatically receive the related badge. To know which badge can be earned on the session, we recommend that you get acquainted with the Partner Program section of the session descriptions.
We will provide virtual machines for the developer session and the Acumatica ERP cloud instances for all Mix & Match sessions so you will have an easy start on the training.
We provide CPE credits for all training sessions conducted from Wednesday through Friday, except for the Partner Network Forum. Attendees can earn up to 20 CPE credits if they participate in training all three days.
The fields of study include:
Communications and Marketing: Executive Onboarding, Sales Methodology, Pre-Sales Training and Workshop
Computer Software and Applications: All other training sessions
Please note: We will not provide any laptops. You will need to bring your own laptop to be able to complete the lessons from the training guides.
Sign Up for Acumatica Summit 2022 Today
The Acumatica Summit 2021 training sessions were very successful, and we met many partners, customers, and Acumatica employees from different countries. We anticipate Acumatica Summit 2022 training sessions to be just as successful with even more participants than ever before.
If you haven't yet registered, today is the day. Note that early bird pricing ends Friday, December 17th (12:59 PM Pacific Time). When you register, the Summit Event App will help you with the scheduling process. You will have access to your personalized Summit agenda, be able to view featured speakers, and more. (You will also use the app for easy and safe on-site registration at Summit. Instructions on downloading the app will be provided once you're registered. If you don't receive it, please contact support@acumaticaevents.com.)
Remember, review the training sessions, determine which courses will meet—and exceed—your expectations, and sign up before they get filled. For any questions about the training sessions or about Acumatica Summit 2022, contact support@acumaticaevents.com.
And if you would like to learn more about Acumatica's award-winning cloud ERP software, our experts are standing by.