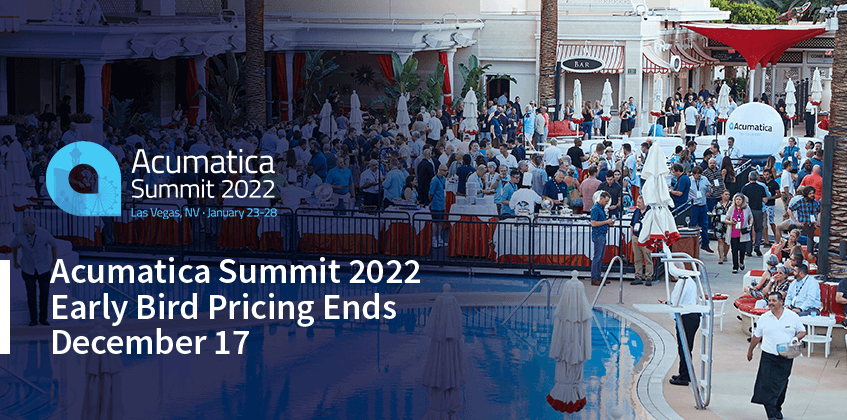 Acumatica Summit 2022 is almost here. To be more specific, it's January 23 – 28, 2022. If you haven't yet registered, then you're in danger of losing out on our early bird pricing, which ends December 17, 2021 (11:59 pm PST).
Early Bird Pricing, Plus Why You Should Attend Acumatica Summit 2022
Like the early bird that gets the worm, attendees who register after December 17th will not be able to take advantage of these savings.
Summit Only (Sun – Tues):$795 versus $995
Summit & Training (Sun – Fri):$1,895 versus $2,495
Training Only (Wed – Fri):$1,595 versus $1,895
Clearly, signing up now versus later is an economical choice. Even so, you may still be debating the pros and cons of attending our annual cloud ERP event.
Here are a few items for the Pro column:
1. Luxurious venue 
The Summit is returning to the Wynn Las Vegas, a five-star resort at the north end of the Las Vegas Strip. In addition to its well-appointed rooms, the Wynn offers premium amenities, including the Wynn Las Vegas Casino, the heated Wynn Las Vegas Pool (with poolside cocktails, food service, and gaming), the Spa and Fitness Center at Wynn & Encore, the Wynn Golf Club, the Wynn Plaza Shops, and many Fine Dining options.
Though there won't be much free time to enjoy the amenities,  Summit agenda is filled with cloud ERP learning and training, including two full days of general sessions, keynote presentations, live product demonstrations, the Acumatica Marketplace, and networking at social events, followed by three days of technical training.
2. Learn about becoming a connected business
During Acumatica Summit 2022, you'll learn how Acumatica's cloud ERP software helps you become a successful, connected business. A connected business is one that has its people, processes, and technology under a single pane of glass—something that is only possible by implementing a cloud ERP solution with open APIs. The result is the seamless integration of multiple applications, which enhances a company's efficiency, streamlines data, facilitates the adoption of new technologies, and more.
 3. Plan for the future
The future is always an unknown, but companies relying on Acumatica Cloud ERP are able to easily adjust to ever-changing circumstances. Jose Garrido, VP Financial Systems, Confie, says, "[Summit] is where we get a lot of the cutting-edge information on Acumatica where we actually find out how we're able to adapt Acumatica for the future and actually get the best training that you can get for Acumatica."
Time to Register for Acumatica Summit 2022
As I said in "Registration Is Open for Acumatica Summit 2022!," the Acumatica Summit is an innovative, affordable, educational, and enjoyable experience for all attendees. Register NOW and join the Acumatica community at a beautiful, luxurious venue for the sole purpose of accelerating your cloud ERP knowledge and your business' success. Rest assured, the health and safety of our attendees will continue to be a priority.
It's time to register for Acumatica Summit 2022. If you wait until after December 17, 2021, you'll miss out on our early bird savings, and we don't want that to happen. To hear from other customers on why they consider Summit to be an important event here, click here.
For any questions about the Summit, contact the event team at support@acumaticaevents.com. For any questions about our cloud-based ERP solution, contact our team today.