As Acumatica's new Channel Chief, Geoff Ashley has already made major contributions to our Acumatica Partner Program, so we're excited – but not surprised – that he has been recognized on CRN's Channel Chiefs List. Read on to learn about Geoff's passion for encouraging partner channel success.
Value Added Resellers (VARs) bring Acumatica's cloud-based ERP platform and products to market. Being 100% channel driven means our success rests on the success of our VARs, and we're committed to continually investing in our Partner Program. Part of this investment included hiring Geoff Ashley in October 2017 to head Acumatica's channel operations. Today, we have the honor of celebrating him recently being named to CRN's 2018 Channel Chiefs List.
"The executives on CRN's 2018 Channel Chiefs list stand out for their exceptional leadership, vision and commitment to the channel," said Robert Faletra, Executive Chairman of The Channel Company. "These individuals deserve special recognition for their development and support of robust partner programs, innovative business strategy and significant contribution to the overall health of a vigorously growing channel."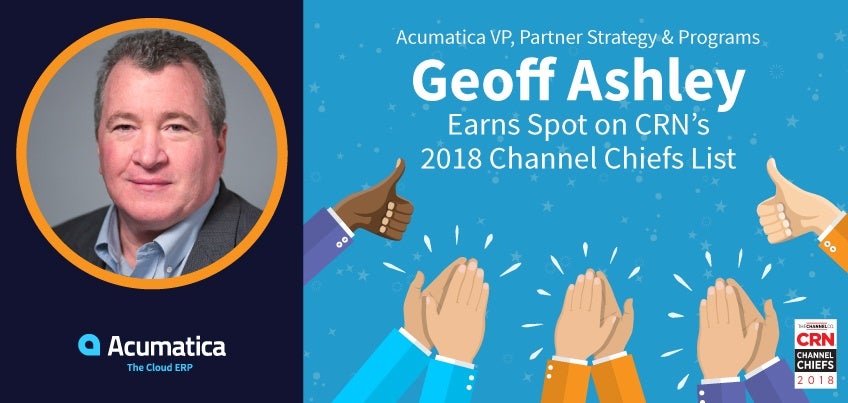 More about Acumatica's new Channel Chief
"I'm really looking forward to this set of challenges and opportunities. Balancing Acumatica's channel capabilities with their runaway success in the marketplace is just a great problem to have," Geoff said about joining Acumatica as Channel Chief.
Geoff's partner channel curriculum, used successfully by leading companies in the ERP industry for years, is all about supporting and advancing the partner community. His experience with transitioning companies profitably to modern ERP technology as well as his affirmation of Acumatica's commitment to customer satisfaction has proven him to be a perfect fit for our company.
Here's what CEO Jon Roskill had to say about Acumatica's new Channel Chief: "Geoff has the channel-centric views and abilities that perfectly align with our business practices."
As Acumatica's Channel Chief, Geoff oversees our entire VAR partner program. This includes any of our recruitment and enablement programs, such as our new Partner Recruitment Referral Program–currently offered to new and existing Acumatica partners–which incentivizes Acumatica resellers to refer other resellers to our program. Another program is the Campaign Factory, which offers our partners a comprehensive, turnkey marketing campaign for a nominal fee. They can customize their Campaign Factory program to meet their specific goals with Acumatica's resources and support; the result is increased productivity and new leads generated to fuel their growth.
Join Geoff and Acumatica as a member of our VAR team
Are you interested in becoming an Acumatica VAR? Contact us! Geoff and the Acumatica team provide unmatched support and training, and we never compete with our channel. Instead, we feed it with high quality leads and programs.
The benefits of becoming an Acumatica VAR include entrance to our Partner Portal, where partners can access training videos and resources, marketing information, competitive insights, and pricing info plus our online university at any time of day or night. We also offer a comprehensive enablement program, assistance with landing and implementing your first deal, free technical support, a monthly newsletter; and an annual Summit, where the community comes together to foster success in the cloud.
Congratulations again to Geoff for being named to CRN's 2018 Channel Chiefs List; it's a well-deserved honor! 2018 is looking bright for Acumatica and our partner community.