We are delighted to be the winner of several Quality Awards from K2 Enterprises, the leaders in continuing education for accounting and financial professionals. Gaining recognition for something we see as essential to our success – happy and satisfied customers – is an amazing bonus. From the very beginning, our team at Acumatica has listened to what consumers say they require in a midmarket cloud ERP and have worked hard to deliver it.
K2 Enterprises announced their 16th Annual K2 Quality Award Winners for 2017 and stated: "The award winners represent the best of the best of both products and support. If you are considering a solution in an award category we have named, you'll definitely want to consider the vendor or product that has won"—Randy Johnston, Executive VP, K2 Enterprises.
We're thrilled that our midmarket cloud ERP received two awards that perfectly fit who we are and what we do: Customer Satisfaction and the Reseller Channel awards.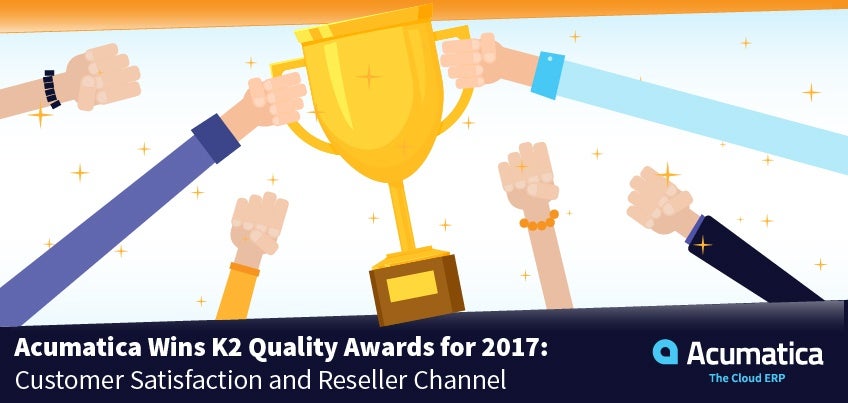 About the K2 Quality Awards
"Our team of instructors spends hundreds of hours each year learning about the latest features of every kind of technology used by accounting professionals.  We believe that no other organization in the world spends as much time studying and educating active members of the CPA profession about the entire landscape of accounting technology, and it's our privilege to honor the technology providers who are leading our profession into the future," said Brian Tankersley, CPA.CITP, Director, Strategic Relationships, K2 Enterprises.
A panel of judges selects the K2 Quality Awards, which K2 Enterprises' notes are the longest running and most valued in the Accounting Industry. The judging panel consists of their instructors who offer consulting services and continuing education for accounting and financial professionals all over the US and Canada on the latest technology features used by the accounting market.
They base their votes on their own experience in the industry as well as by the feedback they receive from their attendees. And they get an earful.
Val Steed, CEO of K2 Enterprises, says, "Each year, our teaching team is in front of tens of thousands of accountants and we hear the good, the bad, and the ugly."
Acumatica's two 2017 K2 Quality Awards
Though Steed points out that K2 Enterprises isn't as large an organization as PCMag, he says that winning one of these awards is "no easy feat."
With this in mind, Acumatica's first of our two K2 Quality Awards is the Reseller Channel award. This award underscores the fact that Acumatica is 100% channel-driven and that our midmarket cloud ERP relies on our VAR (Value-Added Reseller) community. The benefits of using VAR Partners are vast and include making cloud ERP more affordable for the midmarket, providing objective and local IT advisers, ongoing training and support, no channel conflict, and so much more.
If you sell client/server or cloud ERP software applications in the midsize market, we invite you to consider adding Acumatica to your product offerings; we'd love to have you as a Partner! Please take a moment and check out our VAR Reselling Overview.
Our second Quality Award is the Customer Satisfaction award. Feedback from you helps us in our efforts to continuously improve our midmarket cloud ERP product. We know we've done our job when you're satisfied. However, just as technology is constantly evolving, so are customer expectations; we're determined to not only anticipate and meet those changing needs but exceed them, as well.
Here's what one of our satisfied customers, Dr. David Gnad, Veterinarian and Partner at Nebraska Vet Services, has to say about our cloud ERP: "For the first time in years, everything is reconciled and up-to-date. We were never fully reconciled with the old system. Now, with Acumatica, we can see accurate information for our whole business, it's always up-to-date and we only have to look in one place. This change has already had a positive impact on our business and our staff."
There's more to their experience with Acumatica, their VAR Partner, and the implementation process; read Nebraska Vet Service's case study to get the whole story.
Check out Acumatica's award-winning midmarket cloud ERP solution for yourself
As with the other awards we've won this year (including the 2017 Best SaaS product for ERP from the SaaS Awards and a PCMag Choice Award for our Enterprise Accounting Software, to name a few), we're excited to be recognized for our commitment to providing our customers – including our potential customers – the best midmarket cloud ERP solution. We believe our support through our reseller channel and our focus on meeting customers' expectations are unparalleled.
A great way to check out our midmarket cloud ERP solution and experience it first-hand is by attending Acumatica Summit 2018 coming January 28 through February 2, 2018 in Nashville, Tennessee. We create a fun and educational environment where you'll have the chance to attend multiple training sessions, hear inspiring keynote speakers, interact directly with our leadership team, and visit our amazing EXPO along with enjoying fabulous meals and entertainment. Don't wait! Register now to get early bird pricing.
And don't miss out on Acumatica 2017 R2. Our latest release (along with our Manufacturing Edition) launched this month, and it has your business' need for continuing growth and enhanced productivity in mind. Sign up today for our Acumatica 2017 R2 Roadshow coming to a city near you and see what's happening for yourself. We hope to see you there!