If you've attended one of our yearly Summits, you probably already know how much cloud ERP networking, collaborating, learning (and fun!) goes on there. If you haven't yet attended, then coming to Acumatica Summit 2018 should be the number one thing on your to do list.
As a member of the Acumatica Marketing Team, I was thrilled to be given the "task" – or, as I call it, the awesome opportunity – to write about why attending Acumatica Summit 2018 (January 28 through February 2, 2018) is a great idea. I helped orchestrate some of the behind-the-scenes activities at last year's amazing Summit, which means I know a lot about our premier, invite-only event. This also means I have a lot of reasons why you'll want to make attending it in 2018 a priority.
In fact, I urge you register today for Acumatica Summit 2018. If you do, you'll get our early bird pricing as well as first pick of the sought-after and limited-seating trainings.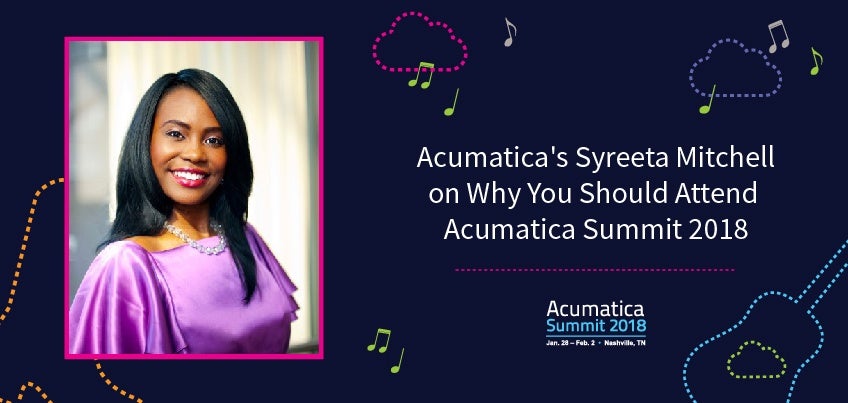 Acumatica Summit: a powerful experience
I can define my time at the Summit last year in one word: electric. It's a strong word, but it was an exciting and powerful experience.
Having come out of a completely different industry (non-profits), entering the cloud ERP universe was a revelation. This was an entire world I didn't even know existed until I joined Acumatica. And attending last year's Summit opened my eyes to Acumatica's intense desire to provide its customers and partners not only with the best cloud ERP solution but also the support needed to take full advantage of its benefits. It made me feel like what I was doing had purpose.
An example of Acumatica's impact on its customers was meeting Thomas Finney, the Director of IT at SHOEBACCA, and his team. Their company was being showcased in a video about Acumatica's new Commerce Edition, launched in partnership with Magento.
The SHOEBACCA story is like a fairy tale. Within five short years of its conception, the business – which sells name-brand athletic shoes and focuses on community service – became a full-scale ecommerce company. This led to the kind of problem every company wishes for: phenomenal growth requiring integration of their distinct ecommerce, warehouse management, and business intelligence reporting systems. The solution was Acumatica's integrated ecommerce ERP and they've been growing with us ever since. You can check out SHOEBACCA's story and video yourself; it's inspiring and worth your time!
Are you starting to see why this experience energizes me? I can't wait to once again have the chance to meet more customers face-to-face at Acumatica Summit 2018.
I also find it exciting to meet industry analysts, like Jon Reed of diginomica. He is, in my opinion, an amazing storyteller and a great example of the high quality, subjective analysts that attend Acumatica Summit and who get down to the nitty gritty of what we do for the community.  They take time to speak with our customers and partners, learn about their businesses and their experience with Acumatica, and then spread the word about what we're doing to change the landscape of the cloud ERP universe.
But wait – there's more!
Every year, attendees engage with Acumatica's leadership team, leading ISV providers, and industry peers and analysts; they experience live demonstrations, a large Partner EXPO, two full days of breakouts, three days of certification training sessions by Acumatica developers, and hands-on technical training courses. Partners, customers, and industry analysts came from around the world for this opportunity to hear about Acumatica's latest products and solutions, to learn from experts, and talk all things cloud ERP.
Acumatica Summit 2018 is shaping up to be a spectacular year with a full agenda.
A few more reasons to attend Acumatica Summit 2018
I'm from the South – Dallas, Texas to be exact. This is not one of my reasons to attend Acumatica Summit 2018, but it's an important piece of information because this year's event takes place in Nashville, Tennessee. I know all about southern hospitality, food, and entertainment, and these three things are possibly reason enough to attend.
But here's another reason: the venue for the Summit is the award-winning Omni Nashville Hotel. It's a beautiful location, large enough to accommodate our conference needs, and literally connects to the Country Music Hall of Fame and Museum. I've also had the chance to personally visit the Music City, and I can attest to the fact that it's live music, museums, restaurants, and other entertainment options are bucket-list worthy.
I really could go on, but I think I've already given you a lot of reasons to attend Acumatica Summit 2018. For me, happy customers and partners who are thankful they chose Acumatica as their cloud ERP solution are the type of people I want to be around, and hundreds of them happen to be at our Summit.
Register for Acumatica Summit 2018 today – it would be a shame to miss what I anticipate will be the best year yet! And did I mention the fact that we're celebrating Acumatica's 10 Year Anniversary?
It's going to be a massive celebration and learning experience rolled into one – I hope you'll join me!