Acumatica customers from all over the world attend our premier cloud ERP event for many different reasons, including training, networking, product certifications, and more. Customer Nicholle Pereira of Maxtec lays out her reasons for embarking on a long trip to attend Acumatica Summit 2018 and why she thinks the effort is worth it.
With so many different ways to learn and collaborate (webinars, podcasts, and online education courses, to name a few), some people may decide attending conferences isn't necessary. However, Acumatica customer Nicholle Pereira, Business Analyst at Maxtec, recognizes the many benefits of in-person, hands-on training. In fact, she's traveling all the way from South Africa to attend Acumatica Summit 2018 to do just that.
Today she shares with us about Maxtec's Acumatica experience and the current and future benefits of attending our exclusive cloud ERP event. Acumatica customers Sono Bello and Bell and Co. have also shared in previous posts their reasons for attending our Summits. I encourage you to check out their stories and learn how registering for Acumatica Summit 2018 can benefit you, too.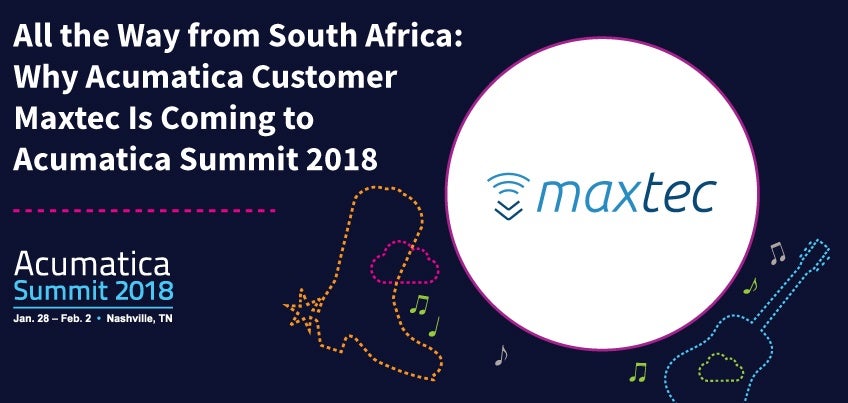 Maxtec on choosing Acumatica: price tag, implementation, customization, and KPIs
Maxtec is a complete IT equipment, services, and solutions provider to technology users in a variety of industries. In 2015, the company was part of a management buyout and in February of 2016, the team began looking for an ERP system that could integrate the loosely built business systems they had in place.
"We really shopped high and low and had about eight or nine companies come to us. We eventually decided on the final three," Nicholle says. "While these companies were presenting to us, out of the blue, somebody told us about Acumatica. When they made their first presentation, we immediately put the process on hold with the three frontrunners and asked Acumatica to present not only to our management team, but also to a couple of key individuals in various departments in our company."
They chose Acumatica.
"First of all, the pricing was very, very reasonable compared to NetSuite [one of their top three frontrunners before Acumatica]. The cost was very attractive to us," Nicholle says. "Also, just the way system worked – it presented us with a workflow that we could design very easily and very quickly."
A quick implementation was also on their agenda. She and other members of the team attended last year's Summit and when they returned home in February, they – along with help from local companies One Channel and Lorge – implemented Acumatica. They went live April 1, 2017.
"What we've heard with other ERP system time frames, looking at Sage X3, that implementation may have taken six months and NetSuite probably three-to-four months. This [Acumatica] was literally done in two months. We obviously used a lot of the out of the box features but we had to adapt," Nicholle says.
She explains that Maxtec, located in South Africa, must not only work with their currency but be able to trade in other countries' currencies, as well. "We had to do a lot of customizations, and also as a distributor, we have various price lists from vendors across the U.S., Europe, and Israel. It's not that the two-month implementation indicates that we took the out of the box solution, we actually did some customization as well in that time frame!"
Nicholle's many years working in different positions at Maxtec gave her much needed insight into the company's processes and aided in the ease of implementation. She also pointed to Acumatica's customer portal as a great implementation tool. "That did help a lot because they go into specific detail on what's what in each module."
Right now, Nicholle says she's in the process of building their Acumatica dashboards. Acumatica's cloud ERP solution has opened the door to really analyzing their business data for the first time and showing each department their specific KPIs.
"What we want to do is expand upon those dashboards. We want to specifically expose our data so it can be used on Microsoft BI; we very much look forward to analyzing our business going forward. The initial day-to-day stuff has been taken care of with the initial go live. Now we have the power to look into our data and analyze what it is that we're selling," Nicholle says.
She goes on to say, "How much is our business new business? How much of our business is renewal business? And because we're a distributor, how much of our revenue comes from which brand? Who are the people that are responsible for the most sales? We were using four different loose-standing systems and we could never really put this data together to get this type of information."
Acumatica Summit 2018 to enhance Maxtec's experience with Acumatica
Nicholle and Maxtec's Financial Controller have plans to take advantage of the live, hands-on training Acumatica Summit 2018 offers customers and partners. "I think now that we've actually worked within the system for the past couple of months, we have a better understanding and can ask better questions. If we can speak to Acumatica, especially for technical queries that we're experiencing at the moment, that's the main thing. I'd like to learn more about certain modules and how we can use them to our best functionalities."
Enhancing what has already been started with their Acumatica implementation, Nicholle is building the company's customer portal and will use Acumatica Summit 2018 as the place to decide if they stick with the out of the box features or to perhaps partner with a business like Magento.
As to the location of this year's Summit, Nicholle is excited – for the most part. "This will be the first time I go to Nashville. I'm not looking forward to the cold – it's during our summer so that's the only disappointment! Other than that, I'm really looking quite forward to it."
With live music during our Monday night celebration party, great activities throughout Nashville to entertain during down time, and savory food to sample, Acumatica Summit 2018 offers a full week of cloud ERP training and fun.
Register for Acumatica Summit 2018 right now and, like Nicholle and Maxtec, take full advantage of hands-on, effective training that will enhance your skills and accelerate your success in the cloud!