Acumatica Summit 2018 begins just a few weeks after we usher in the New Year. Acumatica wants to start your year off right, so we've secured an amazing and inspiring speaker to close out the Summit. Her message will energize you and your business.  
Acumatica Summit 2018 closing speaker, Carey Lohrenz, is one that has never failed to motivate and influence her audience. You won't want to miss what she has to say, so if you haven't yet registered for Acumatica Summit 2018 – coming January 28-February 2, 2018 – now is the time!
You also won't want to miss out on our myriad of breakout sessions, live demonstrations, networking opportunities, certification training, and more. In addition, this year's location in Nashville, Tennessee is outstanding both as a conference setting and a place offering a crazy number of fun activities for your free time.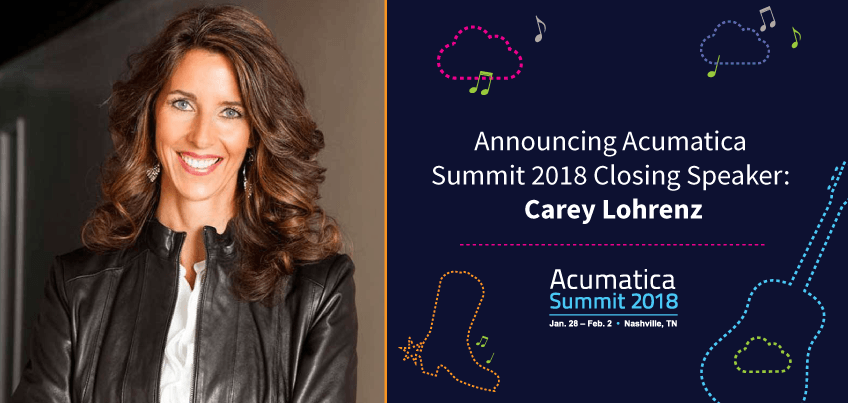 Who is Carey Lohrenz?
Carey Lohrenz is not just any retired Navy Pilot –Lohrenz was the first female F-14 Tomcat Fighter Pilot in the U.S. Navy!  What do you do after reaching such a fantastic milestone? Now She spends her time using her skills consulting as a Leadership Expert, speaking at business conferences (for such companies as AT&T, State Farm Insurance, and Kimberly Clark, to name a few), and working on her Master's in Business Administration in Strategic Leadership. She also wrote a book, Fearless Leadership, which became an Amazon Bestseller.
I'm excited for you to hear Lohrenz talk about how the challenges she faced – and overcame – in the Navy connects to the challenges we face in the business world, such as evolving technology, rapidly changing markets, and increasing customer demands. In her talks, Lohrenz explains that flying was just a part of her job as a pilot; she also managed squadrons of up to 300 people with assets valued at ~ one billion dollars. As you can imagine, her experience as a leader in a high stress, fast moving environment has equipped her with the kind of insight our cloud ERP community can utilize in running a high performing business.
She also mentions that she used to catapult off the aircraft carrier going from zero to over 200 mph in under two seconds flat. Wow. She says in one of her seminars, "Speed is life in my world and the same is true in yours. We need to be able to make good, sound decisions very, very quickly as the competitive environment is constantly changing beneath our feet. If you lose sight, you lose the fight. So we need to stay focused on what matters."
Does this resonate with you? Lohrenz believes every business in every industry must adapt to constant changes and focus on the big picture. We at Acumatica believe the same thing, and as a leader in innovative technology, we also believe in introducing new ideas and strategies that may be useful to others.
"Playing small serves nobody. In fact, not taking a risk is one of the biggest risks you can take," Lohrenz stated at another event. It's really true.
Her personal triumph as a female aviator in the U.S. Navy gives her a unique perspective and her story of how she got there is awe-inspiring. I won't spoil it by giving you the details before Acumatica Summit 2018, but I will say this, she didn't allow the barriers she faced to stop her from reaching her goals!
Gain fresh inspiration at Acumatica Summit 2018
You won't want to miss Acumatica Summit 2018, you'll be able to directly interact with our leadership team while learning more about how cloud ERP can improve your business management processes. Carey Lohrenz will inspire us all for a fast start in 2018!
Register for Acumatica Summit 2018 today! I already mentioned the many fun activities you'll need to check out while in Nashville, but I want to point out that you'll be able to sample some amazing food and learn more about Music City's history when you attend.
I can't wait for the Summit to get here – join me and the entire Acumatica team as we collaborate, have fun, and envision the future as a team!