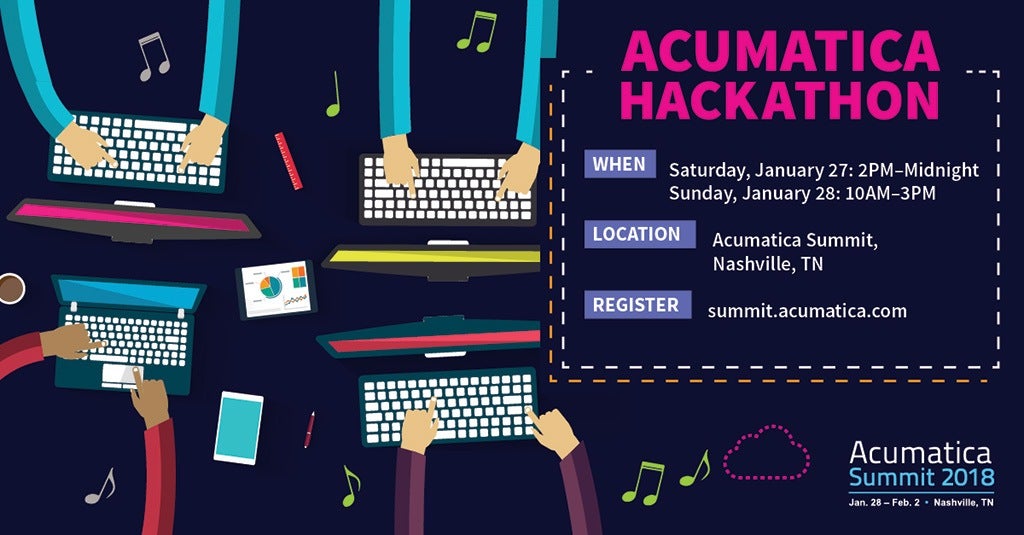 Last year we hosted Acumatica's first-ever hackathon at our Summit in San Diego – a smashing success on all accounts.  We are again excited to announce we will be hosting a greatly expanded edition at our next Summit in Nashville on  Saturday, January 27th – the first official event to kick-off.
As was the case last year, we expect a large number of partners participating – developers and non-developers alike – forming several teams, working together on delivering a number of real-world business solutions.  Each team will be assigned an Acumatica subject matter expert (SME) as a mentor/adviser.
To get an overview & recap of last years event, go here. To get a detailed read about one of the winning solutions, please go here.
Hackathon Agenda
SATURDAY
SUNDAY
2:00 PM
 Start of Hackathon
10:00 AM
 Group Presentation Preparations
6:00 PM
 Dinner Break
Noon 
 Lunch Break
Midnight
 Conclusion of Day One
1:00 PM
 Team Presentations
3:00 PM
 Judging & Awards
We'll get started at 2 pm local time breaking at Midnight and reconvening on Sunday at 10 am to allow all the teams to tidy up their code and prepare to present to the group and judges. After lunch at 1 pm, we'll begin the team presentations.  By 3 pm, we'll present awards to the winning teams, concluding the hackathon.
The best and most viable solutions presented will be highlighted in one of our Keynote sessions.  Prizes will be awarded and we will make the source-code available for use by our partners and customers on Acumatica's GitHub account.
*Register for the Hackathon today via the Acumatica Summit 2018 registration site here.
We had a lot of fun last year and look forward to your participation in making this event even better!
---
*Registration Instructions:  After clicking on the  registration link, enter your personal information and additional information, then select next.  Then select your Ticket Type andTrack Registration. Then select the Next button… Then add the  Hackathon session (the  first agenda item to choose from in the list) and any others you are interested in attending.  Continue to complete your registration by choosing your travel options, etc. Please make sure you add the Hackathon Session before completing your registration.