It is safe to say that there are clouds in the forecast of virtually every business today. Multiple types of cloud computing environments and deployment options exist, from private cloud to public clouds to combinations of the two, or hybrid clouds. Different cloud deployment options (see the previous post in this series for more info) allow businesses to select the option which best provides the computing capabilities they need.
However, each cloud deployment option has different accessibility characteristics and capabilities, different Total Cost of Ownership (TCO) profiles, and even different accounting treatment. So which cloud option do companies prefer for deployment of ERP solutions?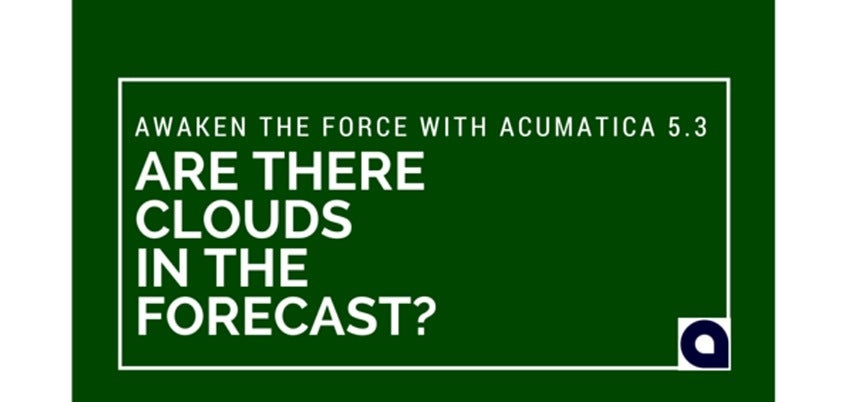 In a recent survey conducted by Mint Jutras and discussed in Part 3 of the series, "Can Next Generation ERP Awaken the Force?", 28% of respondents cited the "access any time, from anywhere" capability as their principle justification for moving ERP to the cloud. However, 39% of companies in the survey went beyond just accessibility to prefer a "real SaaS solution", citing anticipated benefits including lower TCO, reduced cost/effort of upgrades, ease of remote access, faster innovation, and more. Companies considering cloud SaaS ERP must heed this warning: "All SaaS is cloud computing but not all cloud computing is SaaS". What does this mean? Read on.
While most ERP solutions can be accessed through a "cloud", how that access is accomplished may vary with important ramifications.  In the Mint Jutras survey, less than half of respondents reported that their web applications were fully accessible without the need to install software on the devices used to access the ERP applications. This may mean that users, who are on the road or at home, might not have 24/7 access to ERP and other applications. As a result, those users may not have access to important messages or notification regarding business conditions or the applications needed to execute actions to address those conditions.
Acumatica's ERP and CRM solutions are fully accessible for any browser-based device. While our solutions were developed as a full, multi-tenant solution, they may be configured in single-tenant or multi-tenant SaaS configurations, as well as an on-premise private cloud or hybrid cloud deployment models to suit the needs of each client. Our xRP platform and development tools allow the timely development and deployment of the mobile apps needed to compete in today's mobilized business universe.
If you are wondering whether there are clouds in your forecast, than you are already behind! Cloud ERP is here now. But not all cloud ERP solutions can truly be considered as part of the next generation. So how would we answer the question, "Can our ERP awaken the force?" We'll let someone else do that.
In the conclusion of her report, The Force Was Strong at Acumatica Summit 2016 , Cindy Jutras wrote, "Next generation ERP like Acumatica 5.3 is faster, more technologically enabled, and more in tune with the evolving needs of the galaxy. If you are in search of a new solution that can awaken the Force in your company, you owe it to yourself to take a look at Acumatica."