In a recent blog post, Ajoy Krishnamoorthy, General Manager and Head of the Cloud Platform Division at Acumatica, described the Star Wars franchise as a movie "platform", and explained that the success of that franchise, over decades, is directly related to its design as a platform.
More recently, Cindy Jutras, Founder of Mint Jutras, a widely recognized expert and award winning author regarding the business value of enterprise applications, agreed with Ajoy.
The platform is an important element in delivering current and future capabilities.
In fact, Mint Jutras has recently published a three part series, Can Next Generation ERP Awaken the Force? . In this series, Jutras, expands the ERP -Star Wars comparison further.  She makes the point that the futuristic technological capabilities depicted in Star Wars were more than just "cool"; they actually served a real need within the future environments depicted in Star Wars.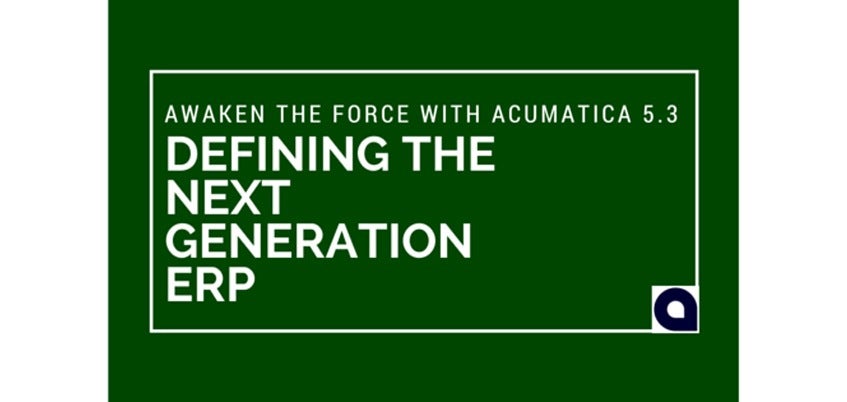 Today, new ERP software solutions, whether provided by traditional ERP vendors or newer entrants in the field, offer an incredible range of functional features.  But, "technology alone will not grow your business", Jutras warns. Business operations are still "a combination of people, process and technology". The next generation of ERP must create flexible, configurable processes, which empower people through communication and collaboration tools, and be built upon a technology platform which is capable of quickly integrating future technologies.
At Acumatica, our ERP and CRM solutions provide robust functionality available from any browser-based device. The recently announced Acumatica 5.3 release expands the base functionality of our ERP and CRM product suite and provides improved integration with mobile and web services technologies, as well as deeper integration with Microsoft Exchange and Office 365.
These capabilities are critical in light of another trend relative to the next generation of ERP. As cited in a Mint Jutras survey, an increasing percentage of senior executives "have access to and/or regularly engage" their organization's ERP systems. This represents a significant change from just a few years ago.  Additionally, while "fit and function" tops the list of criteria for ERP selection, "ease of use" has begun "running neck and neck" with it.  Could ease of use have something to do with the engagement of more and more people with their company's ERP systems?
Taken together, our software solutions and underlying xRP platform can energize your business through  planning and execution capabilities, collaboration tools, and analytical and reporting capabilities. These can empower all your people, from the executive suite, to field sales, to the back office.
Jutras describes "the force", common throughout Star Wars films, as an "energy" which could be harnessed by those who possessed it to amplify their innate abilities. Our software solutions may not give your people super human abilities, but they can super charge your planning, execution and analytical capabilities to not just awaken your potential but actually realize it.
Read this provocative and informative report regarding the next generation of ERP. You can also take a walk through our solutions here.