Every business desires a user-friendly ERP so that all employees can easily navigate and utilize the system to its full capacity. Bell and Company is no exception; they researched several integrated ERP options, selecting Acumatica for our ease-of-use, inventory management capabilities, mobility, and unlimited users ERP model.
This is the final post in our four-part series featuring Acumatica customer success stories. These customers chose Acumatica as their cloud-based, end-to-end ERP solution and grew their businesses because of that choice; we hope that reading about – and watching the videos of – these customers will inspire you as you contemplate how to grow your business in our multicloud and technologically advanced world.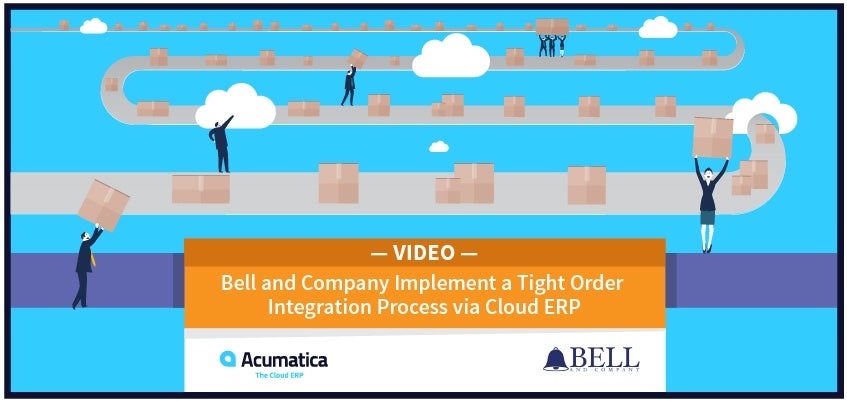 If you missed any of our previous posts highlighting our recent customer video testimonials, please feel free to go back and reference them here, here, and here.
Choosing a user-friendly, unlimited user, integrated, and cost-effective ERP
We now turn to Bell and Company, an industrial, mechanical, and marine supply company located on the Mobile River in Mobile, Alabama. The company required an integrated ERP that would give the inside sales team a complete picture of its accounting, purchasing, order fulfillment, inventory, customer service and tracking needs all in one place. The team at Bell and Company also needed a user-friendly ERP and an unlimited user ERP that everyone could use successfully and in a cost-effective way.
In the video, you will hear Dan Wilkins – not only a Partner at Bell and Company but the grandson of the company's founder – explain his reasons for choosing Acumatica, eliminating other ERP options such as SAP and Infor. He says, "What I found with Acumatica, and our partner ASI was their willingness to answer all of my questions and do multiple demos. And from the start, I really felt like they were here to fully support us."
Watch the video below to see for yourself how Acumatica fulfilled Bell and Company's desire for an ERP for inventory management as well as a user-friendly ERP.

Acumatica delivers on functionality and ease-of-use
The company is using Acumatica's Financial Management (and the Fixed Asset application), Customer Management, and Distribution Management suites. Wilkins was able to implement and configure Acumatica's software to his exact requirements. He also (like all Acumatica customers) has access to his customer data and technical documents whether he's in the office or on the road.
Wilkins has found Acumatica to be the answer to his business' end-to-end needs, from accounting to customer service to how many users he could add without additional cost.
"A lot of times you hear about the complexity of ERP systems. With Acumatica, we've got the capability of an ERP system with the simplicity to let not only me but our whole sales force work within the system and use the full capability," Wilkins states.
We'd like to do the same for you and your business. If Bell and Company's success story – along with the stories of our other spotlighted customers – encourages you to check out Acumatica as your integrated ERP choice, contact us and we'll get all of your business' systems integrated, supporting you throughout the entire process and fostering growth along the way.